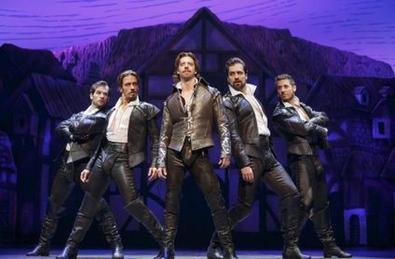 Prolific director-choreographer and former actor Casey Nicholaw is poised to launch another smash hit on Broadway. Having just come off working on the musical "Tuck Everlasting" in Atlanta, the director is heading back to the Big Apple to begin rehearsals on "Something Rotten!," a brand-new musical written by Grammy Award winner Wayne Kirkpatrick, Golden Globe nominee Karey Kirkpatrick, and bestselling author John O'Farrell.
A three-time Tony Award nominee known for his show-stopping dance numbers in hits such as "Spamalot" and last year's "Aladdin," Nicholaw's co-direction of "The Book of Mormon" won him one of the show's nine Tony Awards. As with that wholly original musical, which has gone on to become one of the best-performing shows on Broadway since its 2011 opening, Nicholaw finds himself at the helm of "Something Rotten!" as director and choreographer. The musical centers on Nick and Nigel Bottom, two playwright brothers in the 1590s who are desperate to move out from under the big quill of William Shakespeare. When a fortune teller predicts that theater in the future incorporates song and dance, the brothers attempt to write the world's first musical.
"I feel like it's people in real situations that could happen now but set in a different time," Nicholaw says. "It's Shakespearean, so that's the visual aesthetic we're going for, but keeping it a light version of Shakespeare's time so it feels like a musical but a little contemporary. I think everyone can relate to wanting to create a hit [like the Bottom brothers do], so it's pretty relevant to anybody."
The production was originally set to run at Seattle's 5th Avenue Theatre, but after a lab conducted in October 2014, Nicholaw and the musical's creative team decided the production was fit for a straight shot to the Great White Way.
"We're all sort of picking up where the lab was," he says when asked about the production's current cast. "We did two readings and then we did a lab and basically we hired people to do the readings and continued with those people. We didn't really have to audition people and we got a dream cast."
That cast now includes Broadway vets like Tony nominees Brian d'Arcy James ("Shrek the Musical") and John Cariani ("Fiddler on the Roof") playing the Bottom brothers, Tony winner Christian Borle ("Peter and the Starcatcher") starring as Shakespeare, and Tony nominee Brad Oscar ("Big Fish").
Nicholaw will reunite with Tony-winning producer Kevin McCollum ("In the Heights")—with whom he worked on the show that launched his career, "The Drowsy Chaperone"—for "Something Rotten!," which he began workshopping with the Kirkpatrick brothers nearly three years ago.
"They said, 'I have this show that's going to be perfect for you,' and they hadn't written it yet," he explains. "[McCollum] had Karey and Wayne Kirkpatrick and I over to his house in the country and we spent three days together. They played two songs and had two scenes and I was totally hooked." He's been with the show, working alongside the cast and creative team to develop the comedic storylines, ever since.
"It's just so great working with actors who contribute so much and are funny people and have a good comedic sense," Nicholaw says. In addition to his obvious choreography chops, the director is skilled at jumping between playing to his actors' strengths, incorporating their various talents into the show, and adding to their skill sets.
"We make them all tap dance," he says about his cast. "If it's not everyone's strength now, it will be! There are five tap numbers in this show. Karey and Wayne really wanted this show to be tap-heavy because they love it. Plus, that's my favorite thing to do!"
Inspired by this post? Check out our Broadway audition listings!