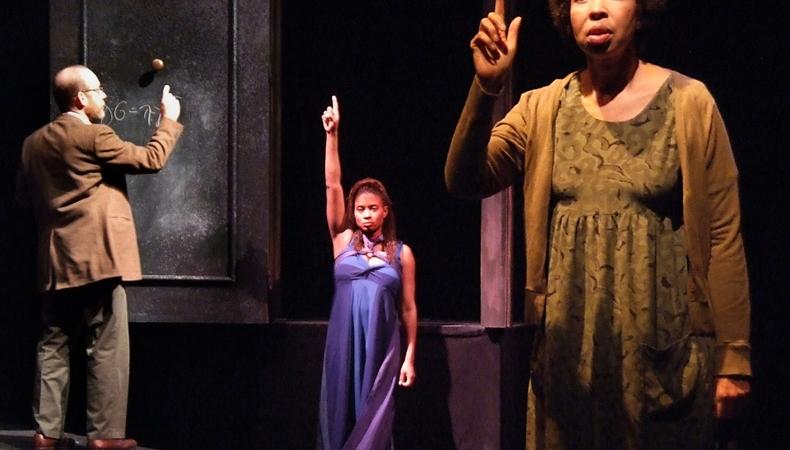 One needn't be a big believer in slim odds and probability to take something away from "Cassiopeia," David Wiener's haunting new play that seems to have come to the Theatre @ Boston Court from the heavens. But the power of possibility—ah, that's something else again.
Part dream drama, part choreo-poem, the 75-minute three-character work, directed by Emilie Beck, charms both the brain and the senses. Angela Bullock and Doug Tompos beautifully inhabit two hugely different people who should never meet, much less touch, and PaSean Wilson—as a scene-setting narrator known as the Voice—is an essential third instrument of this symphony in miniature. Lighting designer Jeremy Pivnick and sound designer and composer Jack Arky also do luminous work, bringing the earth and the heavens into the intimate Boston Court.
Somewhere aboard an airplane that is experiencing a spot of turbulence, a theoretical physicist with an unparalleled mind and no social skills is interrupted in his napkin drawings by the woman seated beside him. A black Southern maid named Odetta, she is terrified that the aircraft will fall out of the sky and needs him to talk to calm her nerves. His mind occupied by more-important matters, the physicist doesn't want to engage and doesn't care that he's being rude. But Odetta is persistent; she thinks the two have met before.
She may be right. Once on the ground, Odetta and the scientist—who is fittingly named Quiet—lay out key parts of their biographies in overlapping monologues. Both are from the South and live on opposite sides of a (possibly metaphorical) river. Said river flows to life via a garment that Wilson slowly unfurls across the divide of Stephen Gifford's set.
Beck has cast her production shrewdly. Bullock, earthy and plain, her eyes never without hope, establishes Odetta as our grounding character, while Tompos' bottled-up scientist clearly belongs up near the constellations. It's possible that via his work on "The Big Bang Theory" Jim Parsons has shattered the mold for characterizations of brilliant, socially maladroit men of science. Still, with his focused frustration and the delicate way he cracks open Quiet's human needs, Tompos shows why the dramatic possibilities of closed-off men are endless. Wiener has saddled Wilson's narrator with an opening monologue that spells out too much, but the actor's fill-in character work and river building nicely enable the flow of the drama. When her Voice breaks out in rich gospel rumblings, the effect is electric.
The déjà vu mystery behind the Odetta-Quiet connection may be easily resolved, but Wiener's questions about time, inevitability, and what we do and don't know are worthy of consideration long after "Cassiopeia" has dimmed its last light.
Presented by and at the Theatre @ Boston Court, 70 N. Mentor Ave., Pasadena. Jan. 26–Feb. 24. (626) 683-6883 or www.bostoncourt.org. Casting by Julia Flores.
Critic's Score: A-