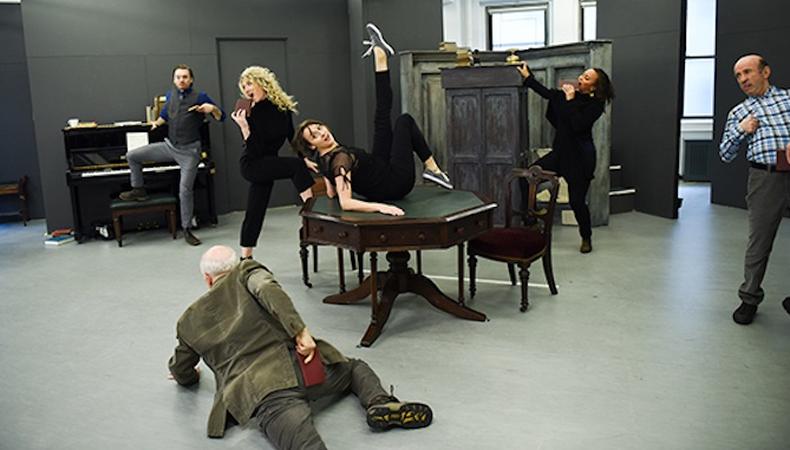 After a rapturously received run ON London's West End, Tom Stoppard's raucous comedy "Travesties" has made the leap across the pond and will open at Broadway's American Airlines Theatre on April 24. Tom Hollander leads the Roundabout Theatre Company run and is reprising his role, as is Peter McDonald. And the rest of the ensemble, though new to this piece, has also cut their teeth on stages both here and there.
Just as rehearsals for the Patrick Marber-directed production began, the cast spoke with Backstage about the differences between performing on U.K. and New York stages, and what they hope Broadway audiences will take away from the storied piece.
Tom Hollander:
"In my memory of it, audiences in New York are much more voluble in their appreciation, so I'm hoping the laughter will be as loud, if not louder. The role is a big ol' role, and I never found it boring before, so I think it's unlikely I'll find it boring this time. In one sense, it's putting on an old sweater, but it's also completely different; we're on two different journeys. There's a kind of discovery going on, which is very exciting. It's a great privilege to play the part, so I'm looking forward to doing it again and [sharing it] with the new audiences."
Peter McDonald:
"I don't really worry about [the differences]. The piece is the piece and whatever the interface is with the audience is what it will be. And that's the nature of theater. If I was to expect it to be the exact same as the West End audience, it would be boring. I want them to laugh at things that maybe they didn't laugh at at home. But the world is such a global place now, our cultural differences have become smaller and smaller so I'm really interested to see how they react to the different characters."
Scarlett Strallen:
"Yes, in a word, audiences are [different]. What's going to be interesting with this play in particular (because I know how crazy they went for it back home) will be to see whether that's true here—and I have a feeling it will be. It is not actually a usual thing for a British audience to go crazy about something, so I'm hopeful that they're just gonna go ballistic about this here. I find audiences here very, very generous. The Brits are a little more reserved, you know, in all ways. We just like to be dainty with our responses. New York audiences, they're not afraid to show their appreciation."
Seth Numrich:
"I do think there are differences. There are differences as, you know, any culture is gonna be different, but also every audience night by night is different. And that's what's so beautiful about what we do: On any given night, it's really about however many people are in that room in the larger sense, and what are we all going to experience together? I'm just excited to get to the point where we can give it up to whomever wants to come and see it."
Opal Alladin:
"I think there are certain things in the play, certain references in the play, that a U.K. audience might get a bit more than some American audiences, but I don't think that's gonna stop them from having a fantastic time. Once you go into a Tom Stoppard play, you fully know that you're not gonna get every single idea that he's throwing out because his ideas are just huge and they're so rapid fire and layered. I think it will be really fun and entertaining and moving."
Patrick Marber (Director):
"I think that people are people, whether they're in New York or London, and theatergoers are theatergoers. I've always found New York theater audiences very sophisticated and very warm, and as we say in England, 'up for it.' "
Wherever you are, check out Backstage's theater audition listings to book a gig!