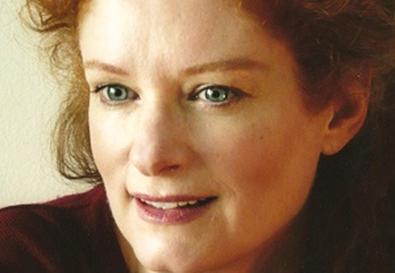 As a high school senior in the 1970s, Lisa Pelikan knew slightly more than nothing about acting when, still recovering from major leg surgery, she hobbled on crutches into the administration office of the Juilliard School of Drama, simply on a fact-finding visit to see the facilities, with no plans to enroll. An administrator gazed over her desk at the petite redhead and said coldly, "I don't know what makes you think you could ever get into our school." For some actors, a career is born from one simple action, and that rude dismissal was the spark that ignited a career of hit films, award-winning plays, and dozens of TV-show appearances.
The latest theater foray for Pelikan is with Rogue Machine's U.S. premiere of writer-director Phyllis Nagy's "Never Land" at Theatre/Theater in Los Angeles. First performed in 1998 at London's Royal Court Theatre, "Never Land" is a three-act tragicomedy about a family of three living in the south of France whose patriarch, Henri, is an Anglophile who wants to work and live in England. His wife, Anne, is an alcoholic, and their 30-something daughter wants to marry an African-American casino employee. The play has been translated into 20 languages, but Nagy refused offers from American companies to produce it until she was persuaded by Rogue Machine artistic director John Perrin Flynn to bring the play here. And when Flynn suggested company members for Nagy to audition, the short list included Pelikan.
"I met Lisa when she became a presence out here in the 1970s at the same time I had taken a detour into television," Flynn says. "Then we worked together when I was an executive director of 'Strong Medicine' and directed an episode she was on in 2003. When we started Rogue Machine, we started doing a lot of play readings, and Lisa started coming to all of them. She told me she liked what we were doing, and I was thrilled."
Showing up for readings was hardly Pelikan's covert plan to land a starring role in a Rogue Machine production. She simply was following her edict of remaining active between jobs. She meets with a group weekly for voice exercises she learned from vocal expert Patsy Rodenburg. "I think actors should be working on a scene or monologue every day," Pelikan says. "I once audited an acting class, and the teacher asked how many students worked on their bodies at the gym every day. Everyone raised their hand. Then she asked who worked on their acting every day, and not one hand went up. And I thought, 'Oh my God, there it is. That's what's wrong with the mentality of acting in Los Angeles.' "
For Pelikan, preparing for a role borders on obsession. She received the "Never Land" script a week before meeting with Nagy. Flynn suggested her for the role of Englishwoman Heather, whose husband owns a chain of bookshops where Henri plans to work. Pelikan read the play with Heather in mind, but the actor took the time to connect with all the quirky characters before meeting with Nagy. "I find it to be true of other European directors [Nagy is American but lived for several years in England] that much more respect is given to the actors," Pelikan explains. "First there is a meeting before a reading. I sat with her and talked about the play. And at one point she asked me which character I most responded to, and I heard the name Anne come out of my mouth. The thing is I had been told the part had been cast with a name actor and that it was not available. I wanted to be in this production no matter what part I played, and I thought by saying Anne that I had lost the chance. But, unknown to me, that name actor was unavailable, and Phyllis said yes."
Nagy recalls being impressed by how well Pelikan was able to speak intelligently about all of the characters. "Lisa never once judged the character of Anne Joubert in our discussions about the part," the director says. "That impressed me immensely. It is very easy to take the view that this family is in some profound way disturbed or unhappy. And Lisa resisted then, and has continued to resist now, the temptation to take the easy road with Anne. She is fearless in many ways, which makes working with her exciting."
Cast in April, Pelikan has focused squarely on Anne and "Never Land" leading up to rehearsals. "The more time I have, the better I can do with a role," she says. "I dream on her. I think on her. It's all about the role settling into my bones." While preparing for a part, Pelikan still recalls her process before Juilliard—before she had any formal training. All she knew was from the book "The Magic If," which teaches the Stanislavsky method to children, urging them to think what they would do if they were a certain character.
Card-Carrying Actor
Born in Italy, Pelikan also lived in Japan and France as a child, the result of her father's work as a financial attaché for the U.S. government and minister-counselor to the Organisation for Economic Co-operation and Development. While Pelikan was living in Maryland as a teenager, her mother connected her with a local theater company director, who allowed the teen to spend the summer before her senior year assistant-directing plays and appearing in the musicals as a dancer.
And then came the surgery. A tumor was discovered in the marrow of Pelikan's left leg. It was removed successfully, but she was forced to lie in bed for months in a hip-to-toe cast that also meant the end of her dance career. With all that time to think, Pelikan decided directing would be ideal—as a hobby—along with rock climbing, to round out her life's work in the field of either math or science. So she decided to look into colleges with acting programs that were located near mountains. She visited New York a few months later, while still in a cast, to get advice from the only acting professional her parents knew. He suggested she visit Juilliard to check out its facilities. And that's when the rude administrator unwittingly took a potential scientist and turned her into an actor.
"When she kicked me out of her office, I was stunned," Pelikan says. "I thought, 'You don't know me.' She sent me with a kind assistant who was to show me around. I asked if I could have an application. I took it home and filled it out." Where the application asked for acting experience, Pelikan—who had dance, one talent show, and a summer as an assistant director to her credits—listed all of the plays she had seen or read, well-aware it may be misconstrued as productions in which she had appeared. She was invited to audition. Up to that point, the only teacher she had was "The Magic If," but her mentor at the Maryland theater company helped prepare two monologues, gave her last-minute coaching, and insisted she prepare index cards with information about the scenes to hand out at the audition.
"My cast had barely been off, and there I was in the same place I had been four months earlier," Pelikan says. "I went down [off the stage] and started handing out my cards. They had never seen anything like it before." Despite the awkward start—and having no idea until she started getting laughs that the monologues were comedic—she earned praise from John Houseman. A week later, she was in—and with a full scholarship. Without the scholarship, Pelikan says, most likely she would have enlisted in the Army to pay for school. Despite being the youngest student in her class and having way less experience than her classmates, she wound up with an agent before her freshman year was over. And in 1974, during her first summer break, she appeared in the Hallmark Hall of Fame TV movie "The Country Girl." "It wasn't until then that I realized I had no idea what I was doing, and that I wanted to know," she says.
School taught her about vocal work, breaking down text, and other mechanics. But Pelikan says one of the best lessons she still uses when preparing for a role came not from Juilliard but from acting teacher Mira Rostova, who died in February at 99. Rostova taught Pelikan to be aware of her intention with every sentence she speaks onstage. "Whenever I am struggling, I think, 'What am I "doing" with this sentence?' " says the actor.
Pelikan made her feature film debut in "Julia" in 1977. She soon followed that with the cult horror movie "Jennifer," as well as a steady stream of appearances on the big and small screens. Her Los Angeles stage debut came in 1985 with "Blue Window," which transferred from South Coast Repertory in Costa Mesa to Santa Monica's Mayfair Theatre. She has in the last decade shifted more of her focus to theater. "It's a difficult time in my career to get film and television work that is fulfilling," she says. "But there is wonderful theater here. And I am in love with this play."

"Never Land" is presented by Rogue Machine at Theatre/Theater, 5041 W. Pico Blvd., L.A. Oct. 8–15. Thu.–Sat., 8 p.m.; Sun., 2 p.m. (323) 960-7774. www.roguemachinetheatre.com.
Outtakes
- Is starring in the Web show "10,000 Days," which Pelikan hopes will be online at the beginning of 2010
- Sees the acting process differently from her ex-husband Bruce Davison, noting: "We were in a play together at the Long Wharf Theatre, and when we left rehearsal I wanted to talk about the play and the characters, and he said, 'We're not in rehearsal. This is off time.' "
- Loves playing comedic roles: "The first time I got a laugh, I was hooked."