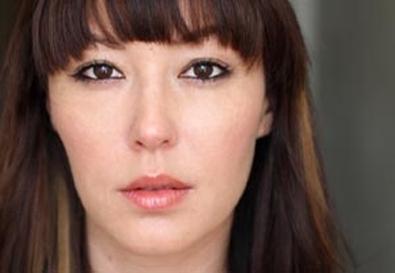 I'd been acting for many years, and had reached the point where
something
had to give. Not only was the pavement pounded—it was ground to a fine powder.
I was willing to make one last big effort, and go out with a bang, so to speak. More like the Big Bang—giving birth to something huge—than "Bang Bang, You're Dead." Making a feature film could be just that: One that I wrote and in which I appeared as the lead.
I've made some short films. Now I'd finally written a feature-length screenplay, "
The Things We Carry
." I hadn't intended to write such a personal story. It started out as one thing, and by the time I was done with it—years later—it had morphed from a narrative casually influenced by my experiences to one that was unequivocally inspired by my life.
While there's still plenty of fictionalization and dramatization, this tale of two sisters who deal differently with their mother's addiction is uniquely mine. Some would think this was a major challenge, exposing myself—and this intense, dark part of my history—to a bunch of strangers. But the truth is, years of training and work as an actress have opened me up as a human being.
My main initial concern was how my family would take the whole thing. Being comfortable exposing our history to make this movie has been an ongoing process for them. Nonetheless, they showed up and threw down from the get-go to support me. Literally. My sister produced the project, and my father ultimately executive produced.
So I had a starring role that I was perfect for, in a feature that I was producing with my sister, financed mainly by family. Casting myself should've been easy-peasy. It was, in the sense that
I already had the part
.
The biggest challenge: I didn't know if I deserved it.
I'm pretty confident in my talent. I'm also a perfectionist, so I have the occasional doubts (usually following a botched audition). Throughout the making of this movie, any and all fears would be exposed and examined under a magnifying glass. The pressure would be fierce because I'd written this great script (don't mess it up!), and I had so many of my dearest friends and supporters on the team, working on the movie and putting their money where their mouths were.
And it wasn't just an acting gig. It was a starring role. First billed.
In every scene
. Face on the poster. All the way. I've had success here and there, with short films, commercials, and theater. But I'd never come close to carrying a feature film.
Early on, the script received wonderful feedback, not only from friends and peers, but also from respected industry people.
"The Things We Carry" placed as a quarterfinalist in the prestigious Academy Nicholl Fellowships screenplay competition. A well-known production company gave great coverage on both the script and the writer. Another highly regarded coverage service gave major kudos. As a writer, I was getting accolades left and right, it seemed. Remarkable!
And somehow, unseen, the good press added just a bit more pressure. I was now in a strange sort of competition with myself: I'd been confirmed as a writer. Would I be able to deliver as an actress?
As an indie venture trying to secure financing, we went to every networking event we could find, and talked to anyone we could about our project. This meant telling everyone that I, Alyssa Lobit of Pringles commercial fame, was going to
star in
this movie.
The first time I pitched "The Things We Carry" it took about twenty minutes, and by the end of it, I was standing there sweating and laughing spastically, staring into the most dead and bored eyes you can imagine. Most of my awkwardness stemmed from selling myself as the lead. Even after I rehearsed the pitch down to under a minute, I always focused on the merits of the script, because that was tangible. Certainly more concrete than
Trust me. I'm a good actress, I just haven't been given the opportunity yet
.
In the course of development, people would ask if it was a deal-breaker for me to play the lead. We were approached by a production company that was very interested in taking the script, but would make it more mainstream and cast someone with name value.
Opportunities to have the script optioned without me attached as an actress forced me to ask myself: Was I the best choice for the part?
Was
this a vanity project? Was I even a good actress? All of my training, studying, and experience were tantamount to shadowboxing. In the ring, what would happen? I knew, deep down, that I was the best actress for this part, and that this story, which sprang from my life and my heart, should be told by me. And I had to remind myself of that daily.
Of the many people who would eventually work on the movie, only about four had ever really seen my acting work. And those were friends and relatives who had seen me perform in local theater. People got behind the script, me as a person, and then me as an actress, on faith.
As the project came together, we assembled a talented, amazing crew, with many accolades of their own. A seasoned director. An Oscar-winning cinematographer. A casting director with huge movies under his belt. People wanted to help us make this movie because the script was that good and the team behind the project was that passionate.
In effect, now I'd not only been confirmed as a writer, but as a producer. We had a shooting schedule, locations and crew! But I still had one more role to play.
I felt an overwhelming joy and simultaneous pressure to make good. From where I stood, all of these people were working long and hard in the hopes that I could actually
act
.
I was getting more and more in my head about it. Sleepless nights and a couple of private freak-outs forced me to stop and get real with myself. I knew I was going to be showing up to set in a matter of days and I needed to be on point. This is what I wanted all along! What was wrong with me?
That's when I realized that this stress was the same kind of pressure I'd already felt in my career. Even before I wrote a script and cast myself in it, my perfectionism led me to question everything. I was giving
myself
this anxiety.
So I made a choice. I decided to let others do the daily lifting of filmmaking. I was going to have to return to my core and just be an actress. I had to stop doing everything so I could do one thing well.
My sister and the other producers agreed. From that moment, I was just an actress. Then the process became much easier.
My head cleared. Of course I could deliver. I could do my job. Do my homework, learn my lines, and
show up
. I was lucky to be able to focus solely on acting, and that's what I did.
I approached this role the same way I would've if I hadn't written the script. I got rid of my nerves or worked through them, the same way I would've if someone else had given me the opportunity to star in
their
movie.
As with any other acting job I've worked, sometimes there were nerves, sometimes there weren't. Sometimes I messed up, other times I couldn't have been more sharp and
on
. But from that moment, I was on familiar ground, doing my job.
************
At the end of our first six-day week, a few of us stragglers were having a little late night re-cap. Our director, Ian McCrudden, said something I will cherish forever.
He said, "
This
is what you should be doing. Starring in movies. You don't seem phased at all."
******************************
Written by and starring Alyssa Lobit, "The Things We Carry" also stars Alexis Rhee ("Crash"), Catherine Kresge ("Ball Don't Lie"), Daniel Zacapa ("Se7en"), Ilene Graff ("Mr. Belvedere") and Johnny Whitworth ("CSI: Miami"). The film was directed by Ian McCrudden and produced by Athena Lobit, Jessica Schatz, Camille Mana, and Melissa Davis. For more information, visit www.thethingswecarry.com.

"The Things We Carry" will be screening this week in New York City as part of two festivals. At the Asian American International Film Festival, you can see the film on Sunday, July 18 at 2:45 p.m. at Clearview Chelsea Cinema (260 West 23rd Street, between 7th and 8th Ave., New York, NY) and on Saturday, July 24 at 12:00 p.m. at the Flushing Library (41-17 Main Street, Flushing, NY). For tickets, visit www.ovationtix.com. The film will also be shown at the Manhattan Film Festival on Thursday, July 22, 2010 at 7:45 p.m. at the Leonard Nimoy Thalia at Peter Norton Symphony Space (2537 Broadway at 95th Street, New York, NY). For tickets, visit www.symphonyspace.org.

Actress, writer, and producer Alyssa Lobit has performed in short films that have won awards at festivals across the country, as well as several commercials. She co-wrote and acted in a TV comedy pilot, "Star Names Only," directed by Brian Austin Green. She made her debut as producer-director with "One Man's Trash," which won the 2004 Los Angeles Flickering Image Film Fest and was a finalist in the IndieProducer Contest in 2005.

On stage, Alyssa was acclaimed for a "standout performance" in the world premiere of "Slow Boat," and received an L.A. Weekly nomination for her performance in "Night Coil." She is a founding member of the Los Angeles-based filmmakers collective Game On, directing, producing and editing nine shorts during the series. She graduated cum laude from UCLA with a B.A. in English. Alyssa can be reached at ttwc2009@gmail.com.