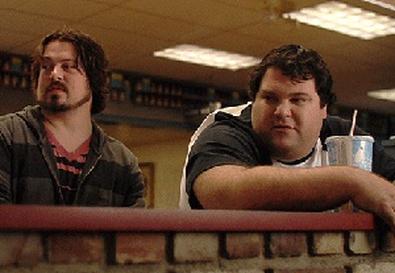 As a director, I LOVE casting. For me, it's magical. It's where I get to see all the crazy characters I've only imagined in my head come to life for the very first time. Often in ways I never pictured. Our film, "Worth the Weight," is about a guy trying to lose weight while searching for love. Being an indie romantic comedy, we would live or die by the performances. We didn't have anything blowing up and for the most part everyone keeps their clothes on (bummer, I know), leaving the actors as our sole source of fireworks. We also had the additional pressure of making a believable love story between a 413 pound ex-football player and a 100 pound trainer.
I personally like to look at every actor submission that comes in, which for "Worth the Weight," was a little more than 5,000. I do this for every project I direct, always hoping to discover a unique look that'll break my preconceived notion of what a certain role should be. If I had someone else narrowing down the headshots, I might miss out on that moment of inspiration. A good example of this is British version of "The Office." Gareth Keenan (the character known as Dwight in the U.S. version) was originally written as a built ex-military type. But when they came across the skinny and gaunt Mackenzie Crook, they discovered how they could get so much more out of the character if Gareth just thought of himself as a buff ex-killer when in reality he's a skin and bones wuss. Brilliant!
When first looking through submissions, I'm rather brutal. I judge in less than a second on whether I'm going to investigate an actor further based solely on their headshot. It's a blood bath. I knock out a little more than three quarters of the submissions this way. Next I visit the reels. If they didn't submit one, I'll search online (creepy, I know) or I request one (not as creepy…or fun). I don't really care about quality, production value, editing style or length; I just want to see what they look like moving. This process cuts the pool down by half, and from there I invited those actors to come in and read. I do on occasion glance at resumes, but for the most part I don't really care about credits. Let's face it, acting is a very unique business where even if you're the far superior "talent" you could lose a role to someone who "fits" the part better. Take, Philip Seymour Hoffman. No matter what amazing performance he gives me, I'm still not casting him as Rocky, I'm casting Sylvester Stallone. But who's the better actor?
This reminds me of Albert Einstein's famous quote: "Everyone is a genius. But if you judge a fish on its ability to climb a tree, it will live its whole life believing that it was stupid." I feel an actor cast in the perfect role will become a "genius." And that's my number one goal as a director, casting the perfect actor for the role. Although, through "Worth the Weight," I've learned there's another important factor, which I'll get to in a moment.
So now I've gone from 5,000 to about 500 actors for seven main speaking parts. At this point, my producer Kristina Denton, who also happens to have a wicked eye for casting, stepped in and helped read everyone. It was here, in this first round of auditions, that we made our first major change to the movie. Our lead female role, "Cassie," was written as a bubbly go-lucky blonde. But for some reason, during the selection process, I was drawn to this brunette who had a rather moody look. When she read, she was different than everyone else - not only in looks, but she also had this badass east coast vibe. I didn't think she was perfect for the role, but I did think that direction was perfect for the movie. I went back through all the submissions and looked for darker choices. Again, this is why I love casting! The discovery process you get to go through. It's hard for me to picture "Cassie" being played by a bubbly blonde now. Jillian Leigh, who we cast as Cassie, is so perfect…a true "genius"!
I mentioned there was another part to casting besides just fitting the perfect actor into the right role, and that's making sure all the individual parts add up to a whole. Casting a boy and girl in love is rather easy, but casting a group of people (seven in our case) and having them all feel authentic as friends (or enemies) with complex relationships and chemistry between them, is exponentially harder. Now I'd love to say I knew exactly how to achieve this, but we kind of just stumbled onto it, and it's probably the single greatest thing we did for the movie.
We had a GIANT chemistry read! This was done somewhat out of necessity. For callbacks, we had a list of 3 to 4 people for each major part, but only a few hours to see everyone. So instead of doing a bunch of one-on-one scenes, we picked one big scene, with six characters in it and put one big group up on the stage. We would run the scene and then swap out various actors and run it again. What a revelation! You could really see how certain people connected to the group and how others, although great performers, just didn't click or look like they belonged. I know for a fact that if we had not done this big, "chemistry" read, I would have cast two parts differently and the movie would not have been as good. As it is, I really think I got seven "geniuses": Robbie Kaller, Jillian Leigh, Tommy Snider, Constance Reese, Bryan Bellomo, Jacquelyn Umof and Jess Allen.
Ah, dumb luck, sometimes it's really great. I can say this, from now on, if I'm afforded the luxury, I will always be doing the biggest chemistry read possible!
"Worth the Weight" will play on Saturday, June 30 at 7 p.m. at Hunter College, 695 Park Ave., NYC, as part of the Manhattan Film Festival. For tickets and more information, visit www.worththeweightthemovie.com.

"Worth the Weight" is Ryan's first feature, but he has had prior successes with short films including "Withstand One Night," winner of the Audience Award at both the LA Comedy Festival and the Laugh Out Loud Film Festival. He also produced and edited the short film, "Boutonniere" starring Wendy McLendon-Covey (Bridesmaids) and Zachary Quinto (Star Trek). It premiered at Sundance and went on to play 20 other festivals where it picked up a handful of honors, such as LA Shorts Fest's Best Comedy Award. Ryan also works as a promo writer/producer for ABC spending most of his time on the Emmy award winning comedy Modern Family. Besides doing the lion's share of the weekly promos, he has also directed several viral videos for the show, including the music video, "In the Moonlight (Do Me)". Ryan currently lives in Culver City, California with his wife Katherine-Marie and his two unruly, rambunctious, often unkempt, but yet somehow still loveable boys, William and Nicolas. www.ryansage.com