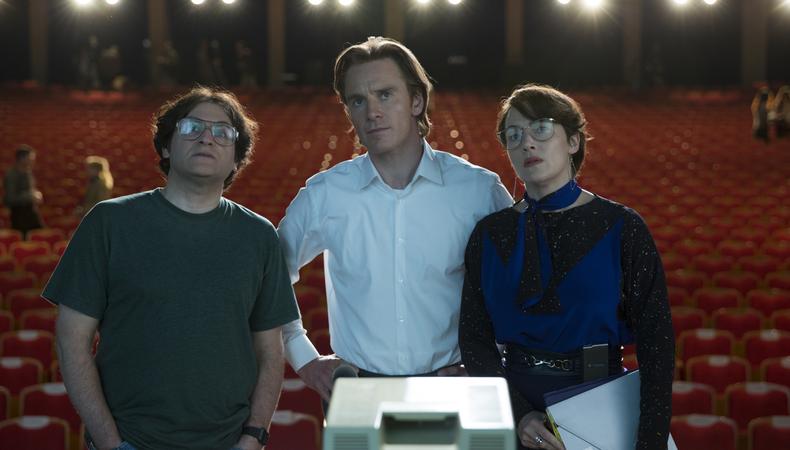 Say what you will about Steve Jobs—and people certainly have—the man was a consummate salesman. How else was he able to sell the entire world something they didn't even know they wanted?
"His gravitational pull was so powerful, he would pull you into his orbit and make you believe him," says Danny Boyle of the Apple Inc. co-founder. "That's what he was about, especially early on when he had nothing to show for it. He's trying to make people believe in something that doesn't really exist yet." Jobs was so charismatic, in fact, he had made personal computers a consumerist necessity even before the company's first Mac worked properly. "He got the whole world obsessed," as Boyle says. "It's a creationist myth, in a way."
The same could be said about the Academy Award-winning director's process of casting the biopic "Steve Jobs," opening in theaters Oct. 9. If Jobs was the god at the center of his own myth, Boyle had to become a creationist as a director, selling movie audiences an actor who inhabited that very conceit.
"Do you cast someone who looks like him but isn't a great actor?" he asks. "Or do you cast great actors and then just go for it?"
The answer is apparent to anyone who has seen the film's trailer, or followed its many casting announcements. Michael Fassbender playing Jobs has little to do with physical resemblance and everything to do with charisma, with the kind of innate magnetism that characterizes both a tech visionary and a gorgeous Hollywood star.
"You do end up feeling like you're in the presence of the person," Boyle says of his approach to casting real-life people. "In that two-hour journey you go on, you want to disbelieve reality. You know it's Michael Fassbender, of course you do. But you want to see him telling you something about somebody else. That's part of the deal. You say, 'It's no longer Michael Fassbender, is it?' "
Biographical films that opt for a superficial resemblance often "skim across the surface" of a subject, he adds. Rather than including notable highlights from an entire life, Aaron Sorkin's screenplay puts under a microscope three moments in the history of Apple: the product launches of the Mac in 1984, the NeXT computer in 1988, and the iMac in 1998. Fassbender's Jobs, cocky and uncompromising, is confronted during the tense build-up to each launch by several other prominent Apple players, including co-founder Steve Wozniak (Seth Rogen), CEO John Sculley (Jeff Daniels), and software wizard Andy Hertzfeld (Michael Stuhlbarg). Marketing director Joanna Hoffman (Kate Winslet) serves as Jobs' right-hand woman, ensuring each launch goes smoothly—and trying to keep Jobs' egomania in check.
"She took on the persona of Joanna literally on the film set," says Boyle. "She would be helping out extras, just making everything possible." Winslet booked the job after reading the script and sending a wordless email with an attachment: a picture of herself in a dark wig. "She sent this photograph of her as Joanna Hoffman," remembers Boyle. "But it didn't look like Kate at all. It was her attempt to tell us, 'Please believe I'm this woman,' rather than believe it's Kate Winslet and [everything] you know about her. It was amazing." Boyle says that kind of bold move doesn't happen a lot, "but when it does, you learn as a director to bite the hand that offers it to you.... She's an extraordinary actress."
Who else but extraordinary actors could portray the world's movers and shakers? "Steve Jobs" is a Hollywood epic of mythic proportions, using unflinching performances to elevate historic moments; it's a sleek, heightened reality that glitters like Jobs' designs. "It's taking these people who are staggeringly successful and phenomenally influential on our lives in a way that we probably don't even fully recognize," says Boyle. "And yet we musn't let them get out of sight. They're human beings; they're fatally flawed like us all."
Inspired by this post? Check out our film audition listings!