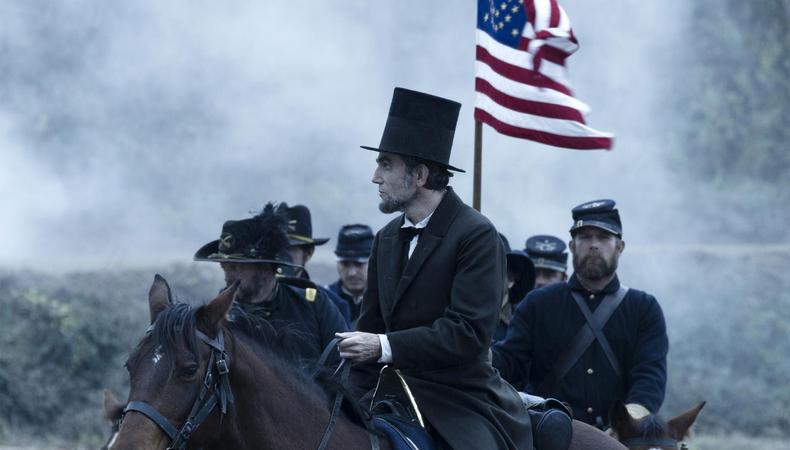 Two-time Academy Award winner Daniel Day-Lewis once again disappears into his latest role, this time as President Abraham Lincoln in "Lincoln," director Steven Spielberg's dramatization of the 16th president's final months in office and his actions to end the Civil War, abolish slavery, and unite the country. "I must say, I don't believe I've met Daniel Day-Lewis," John Hawkes, who is featured in the film as Col. Robert Latham, told Backstage earlier this year. "I spent 10 hours with Abraham Lincoln, which was thrilling in and of itself."
"Every day you get the chills thinking that Lincoln is sitting there right in front of you," producer Kathleen Kennedy told Collider during production in late 2011. Casting director Avy Kaufman says "everyone said that" of the enigmatic Day-Lewis. "He was a dream of Steven's." After Lewis signed on to star in the title role, Kaufman was hired to compile the rest of the cast. She researched the look, voice, and personality of each historical figure in Tony Kushner's screenplay, which is based in part on Doris Kearns Goodwin's book "Team of Rivals." Kaufman estimates that she cast about 200 actors in the film, which includes a cross-section of big names, recognizable character actors, and stage stars who are relatively new to the big screen.
The big names include Sally Field as Mary Todd Lincoln, Joseph Gordon-Levitt as Robert Todd Lincoln, Jared Harris as Ulysses S. Grant, and Tommy Lee Jones in a standout performance as Thaddeus Stevens. Recognizable character actors such as Hawkes, James Spader, Jackie Earle Haley, Hal Holbrook, Tim Blake Nelson, and S. Epatha Merkerson are among the faces in smaller supporting roles. "I personally think the story of Lincoln is one of the most exceptional pieces of history," Kaufman says. "Because it's a piece of history, I tried to get to the honest living person in resemblance and personality. These are all real people. I loved it. It was really hard but really exciting."
With a cast list so large, her more challenging task was finding actors to play key roles in just one scene, or even one line. "It's always very hard to cast somebody that has one line," she says. "That's really one of the hardest things there is, because to develop a character in one line without overdoing it is really tough."
Casting Director: Avy Kaufman
Director: Steven Spielberg
Writer: Tony Kushner, based in part on the book "Team of Rivals: The Political Genius of Abraham Lincoln," by Doris Kearns Goodwin
Starring: Daniel Day-Lewis, Sally Field, Tommy Lee Jones, James Spader, Hal Holbrook, Joseph Gordon-Levitt
The Pitch: A look at the last days of President Abraham Lincoln (Day-Lewis) and his fight to abolish slavery.