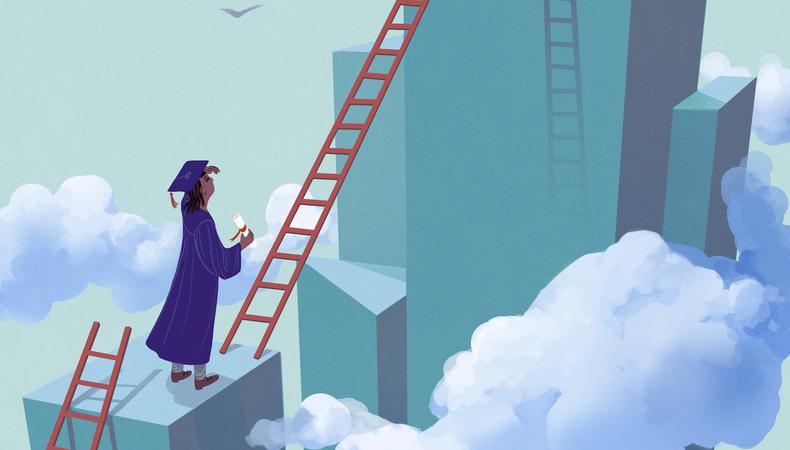 Many actors go through years of education at colleges and universities to receive some of the best training that money can buy. But—and I say this with respect for these institutions—your B.A. or M.A. in theater and film isn't going to teach you everything you need to know.
I recently spoke to my friend and fellow casting director Susan Shopmaker about her experience as a guest lecturer for seniors at SUNY Purchase's Conservatory of Theatre Arts, and how I often see graduates coming to Hollywood without a solid post-graduation plan.
"Students should not assume that the world is waiting for them," Shopmaker says. "They have the training, and now they have to learn how to get a job. Just because you have an agent doesn't mean you'll get a job. And the opposite is also true: If you don't get an agent out of school, [that] doesn't mean you won't work. All actors have to be proactive. Go anywhere you're invited so you can meet people—not people who can do something for you, but people who will become allies and friends."
Even with a degree, you need to learn the etiquette of taking a meeting and being approachable in a professional setting. When I meet actors on a general interview, I want to get a sense of who they are as a person. So when I ask, "What's going on with you?" they need to answer more than, "Nothing," unless they want the conversation to come to a screeching halt.
READ: 5 Steps to Take After Graduating
From a Drama Program
Shopmaker says that some students "do not seem to learn how to be themselves in a room. They don't quite understand that CDs and producers often just want a glimpse of who you are. That 30-second talk-about-yourself speech can be helpful. In other words: Know yourself. What do you like to do that isn't acting?"
Additionally, your education doesn't just stop because you've graduated. I always encourage my coaching clients and acting students to become a walking, talking film library. They need to watch at least a couple of episodes of every TV show out there. Buy deeply discounted theater tickets the day of the performance (when the world allows it again).
Another gaping hole in most college programs is teaching the skill of auditioning. Shopmaker agrees. "They need an audition class that is for theater and film and TV, from sign-in sheets to [how to] slate to what to wear. In this new world, they need to learn about self-lighting and where to put their camera and who their reader is if it's a self-tape."
None of this, of course, is to belittle the higher education experience. The college courses you take build the strong foundation you need as a performer. Practitioners like Stanislavsky, Strasberg, and Meisner have shown us the varied techniques to be a well-rounded actor. Movement and voice are also vital parts of the curriculum. So kudos to you if you've gone through a college program! Now get ready for the next part of your learning journey.
This story originally appeared in the Nov. 19 issue of Backstage Magazine. Subscribe here.
Looking for remote work? Backstage has got you covered! Click here for auditions you can do from home!