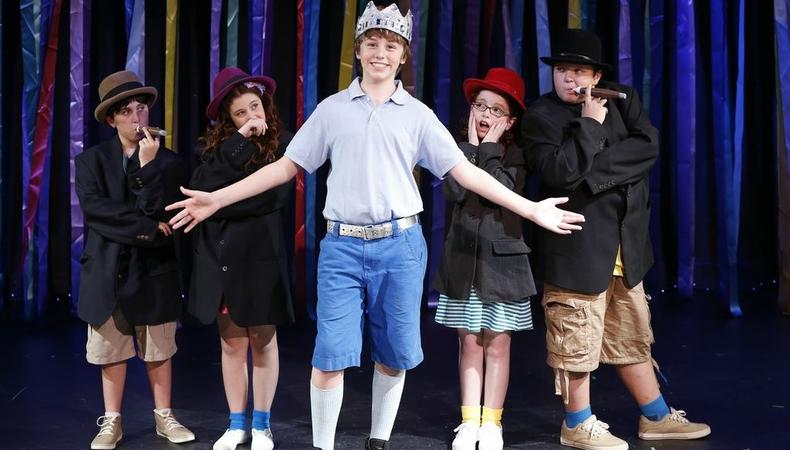 About three years ago, my assistant was away from his desk for some reason, and the phone began to ring. I picked it up and was suddenly knee deep in conversation with an incredibly intelligent woman asking me about American musical theater. She suddenly said, "My goodness, you know an incredible amount about theater. You must be a wonderful assistant. Mr. Binder is lucky to have you." I said "I am Jay Binder." That woman on the phone turned out to be playwright, producer, and Pulitzer Prize-nominated poet Sandra Hochman. That conversation marked the beginning of my journey with the musical "Timmy The Great." I found the subject matter of the show fascinating. The original book, which the musical is based on, was written by Sandra and her partner Tadeusz Danielak, and is one of the best young people's books I had ever read.
At that time, the show had already been developed at the Tribeca Film Festival. It was the first musical the festival had ever produced, and after that, it was developed at the York Theatre Company. I felt that there was more to bring out in the touching story of a kingdom dedicated to the arts, and its nine-year-old prince who assumes the throne when his father is killed by three dastardly kings from surrounding powerful kingdoms trying to take over his country. King Timmy's idea of solving the problem by giving children the same rights as adults and adults the same rights as children was a fascinating concept, which needed to be strengthened and developed. I was in luck as both Sandra Hochman, our producer and writer, and her co-author, composer and lyricist Gary Kupper, were in agreement, and we began collaborating along with my brilliant co-director and choreographer Julie Arenal.
In every show I have directed I have chosen not to cast it myself, as I need to maintain objectivity in the casting process. I chose casting directors that I have worked with in the past who share my artistic sensibilities, just as directors who would hire me to cast their shows. In this case I chose to work with Cindi Rush, a former associate at my company. She understands my taste and my needs and I absolutely love being in a room with her.
Working with child actors is always a challenge but wonderful. They are intelligent and instinctive. I treat them as if they are adults and find that is the best way to direct children. As they say "out of the mouths of babes," you never know what wonderful natural things they will bring to their roles. As a casting director I look for actors who have an innate understanding of the roles they are going to play. I believe in an open collaborative environment as long as we all share the same vision. I love actors and what they bring to the table. I believe in creating a happy loving company, which this company is to the fullest. It is wonderful to see the children and adults interact and respect each other, both as actors and as people.
Of course, all shows have their bumps along the way to production. We had and then didn't have several major investors who were interested in the show. As it happens, so many times these investors turned out to be cousins of Bialystock and Bloom. Sandra bravely moved forward as she is not one to take "No" for an answer when she believes in something deeply. She then proceeded to raise the money for our upcoming production at Theatre for the New City, which opens Aug. 15. "Timmy the Grea"t will run until September 1st Thursdays through Saturdays at 7:30pm and Sundays at 2:00pm.
This has been a remarkable journey, which I hope is only the beginning as "Timmy The Great" has a wonderfully universal story. I am blessed with a wonderful cast, a wonderful show, and having a wonderful time.
Jay Binder has cast over 70 Broadway shows including "A Gentleman's Guide to Love & Murder" (upcoming), "Nice Work If You Can Get It," "Born Yesterday," "The Miracle Worker," "Finian's Rainbow," "Brighton Beach Memoirs," "A Chorus Line," "Gypsy," "The Thirty Nine Steps," "Inherit The Wind," "Journey's End, Butley," "The Times They Are A Changin'," "Virginia Woolf," "The Miracle Worker," "Lestat," "Sweet Charity, Wonderful Town," "Movin' Out," "Urinetown," "42nd Street," "Music Man," "Charlie Brown," "Sound of Music," "Lion King," "Beauty & the Beast," "The Last Night of Ballyhoo," "Chicago," "King and I," "Damn Yankees," "Lost in Yonkers," "Jerome Robbins' Broadway," "Irving Berlins' White Christmas," "Once Upon a Mattress" and every City Center Encores! production since its inception in 1994. He's also cast the films "Hairspray," "Dreamgirls," "Chicago," and "Nine." For television, he's cast "Live from Lincoln Center's 'Carousel,' " "Great Performances: 'Passing Strange,' " "'South Pacific' in Concert from Carnegie Hall," He is a nine–time Artios Award winner.