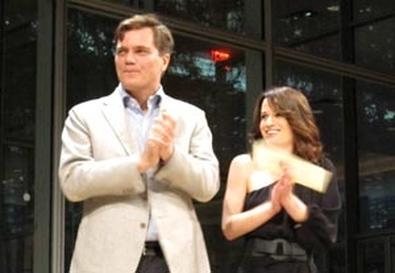 Casting directors came out from behind the curtain to be honored by their peers last night at the 25th Annual Artios Awards.

The bi-coastal awards, which were held simultaneously at the new Times Center in New York City and the Hyatt Regency Century Plaza Hotel in Los Angeles, are presented yearly for outstanding achievement in casting in theater, film, and television categories on the criteria of originality, creativity, and contribution of casting to the overall quality of a project.

Celebrity awards presenters in New York were Patrick Wilson ("Little Children," "Angels in America"), Carrie Preston ("True Blood"), Michael Shannon ("Revolutionary Road"), Jennifer Morrison ("House"), Bill Pullman ("Oleanna"), Christine Ebersole ("Grey Gardens"), Vincent Kartheiser ("Mad Men"), and Elizabeth Reaser ("Twilight"). Stanley Tucci and producer Daryl Roth presented the New York Big Apple Award to Nora Ephron and Delia Ephron, whose "Love, Loss and What I Wore" recently opened Off-Broadway to rave reviews.

The event was hosted in New York by comedian Janeane Garofalo, who admitted the stakes are a little higher when you're responsible for honoring your potential employers. "One would hope I don't fail," Garofalo said before the ceremony. "I can't imagine it would be helpful if I do poorly tonight -- unless they were casting for somebody who was failing at something. So hopefully I will not embarrass myself."

But on this night, the actors were happy to step out of the spotlight, as they were given a rare opportunity to celebrate many of the behind-the-scenes heroes who have secretly shaped their careers. These A-listers seemed genuinely thrilled to attend and show their support for the CSA members being recognized.

"The director's not going to know everybody out there," Shannon said while speaking with Pullman and Artios Award-nominated casting director Ellen Lewis ("Revolutionary Road") before the ceremony. "I mean, they're very busy doing all the things they have to do, so it's up to the casting directors to bring in the stack of photos and say, 'Think about it.' Without casting directors like Ellen, I'd just be sitting at home. It's a big deal."


---

Read Exclusive Interviews from the Artios Awards with:
-- Janeane Garofalo
-- Patrick Wilson
-- Vincent Kartheiser


---

While casting directors can be intimidating figures to the many young up-and-coming actors toiling at open calls, the night's guests shared an almost familial bond with the actors they have worked with. Both Pullman and Shannon were thankful for the faith that certain casting directors had shown them early in their careers.

"I can remember getting called back for a movie that I didn't think I was right for," Pullman said. "You know, 'artios' means 'appropriately fit' [in Greek], but I think a lot of times you want casting directors who will try and make you fit something even if you're not right for it."

"I play more against doing what people think I do," Shannon added. "You get put into a box, and casting directors help me try and get out of that and are instrumental in saying, 'You know, you might be able to do this too.'"

"I love casting," Lewis responded, "and I love actors, and I love directors, and I love trying to figure out how to create that world that the director is trying to see. You try to give a director some different ideas for how something can be played. Sometimes they're surprised by it and it does go a different direction, but it is really fulfilling. And I just think that it's great that within our own community that we have this acknowledgement of what we do."

Patrick Wilson also credits Lewis, among other casting directors, with shaping his career as an actor. "When movies come here [to New York] to shoot, they always know they're going to get great actors, even in the smallest parts, because these casting directors have such a knowledge of every actor in this city," Wilson said. He used casting director Bernie Telsey as an example: "As actors, you really reap the benefits of that because when you ask, 'Who casts for movies?' Well, the same guy who cast you in that Off-Broadway show. So New York is great that way."

Telsey, who was nominated for several Artios Awards for his work casting New York theater productions including "Speed-the-Plow," "Rock of Ages," "Blithe Spirit," and "reasons to be pretty" this year, said he was less concerned with winning an award than recognizing the work of his fellow casting directors.

"It's less about separating one from the other," Telsey said, "and it's even less about rewarding ourselves. But it's a chance to communicate and gather together, and basically truly celebrate the art of casting in all mediums, from television to daytime to musicals, plays, movies. It's really about celebrating all casting directors, rather than who wins or who doesn't win. What's important is that people recognize what it is that we do."


2009 Artios Award Nominations for Outstanding Achievement in Casting (winners in bold):

Big Budget Feature – Drama
"Changeling," Ellen Chenoweth
"The Dark Knight," John Papsidera
"Duplicity," Ellen Chenoweth
"Star Trek," April Webster, Alyssa Weisberg
"State of Play," Avy Kaufman*

Big Budget Feature – Comedy
"Burn After Reading," Ellen Chenoweth
"Confessions of a Shopaholic," Denise Chamian*
"Get Smart," Roger Mussenden
"Tropic Thunder," Francine Maisler*
"Yes Man," David Rubin/Richard Hicks

Feature – Studio or Independent Drama/Comedy
"Doubt," Ellen Chenoweth
"Frost/Nixon," Janet Hirshenson, Jane Jenkins
"Milk," Francine Maisler, Nina Henninger (Location Casting)
"Revolutionary Road," Ellen Lewis, Debra Zane
"The Wrestler," Mary Vernieu*

Low Budget Feature – Drama/Comedy
"Choke," Mary Vernieu*
"The Lodger," Donald Paul Pemrick, Dean E. Fronk
"Phoebe in Wonderland," Avy Kaufman, Deborah Aquila, Jennifer Smith
"Sugar," Cindy Tolan
"Sunshine Cleaning," Avy Kaufman

Animation Feature
"Space Chimps," Matthew Jon Beck
"The Tale of Despereaux," Debra Zane
"UP," Kevin Reher, Natalie Lyon

Short Film
"Big Days Ahead," Patrick Baca
"Bye Bye Sally," Jason Wood
"The Monday Before Thanksgiving," Randi Hiller
"Spleenectomy," Randi Hiller

Television Pilot – Drama
"Fringe," April Webster, Lonnie Hamerman*
"The Mentalist," Robert J. Ulrich, Eric Dawson, Carol Kritzer
"The No. 1 Ladies Detective Agency," David Rubin, Richard Hicks*
"Southland," John Frank Levey*
"Trueblood," Junie Lowry Johnson*

Television Pilot – Comedy
"Eastbound and Down," Juel Bestrop, Seth Yanklewitz, Craig Fincannon/Lisa Mae Fincannon (Location Casting)
"Easy Money," Gayle Pillsbury, Bonnie Zane*
"Glee," Robert J. Ulrich, Eric Dawson, Carol Kritzer, Jim Carnahan (NY Casting)
"In The Motherhood," Collin Daniel, Brett Greenstein

Television Series – Drama
"Big Love," Junie Lowry Johnson*
"Damages," Julie Tucker, Ross Meyerson
"Friday Night Lights," Linda Lowy*
"In Treatment," Alexa L. Fogel
"Mad Men," Laura Schiff, Carrie Audino

Television Series – Comedy
"Californication," Felicia Fasano
"Flight of the Conchords," Cindy Tolan
"Pushing Daisies," Meg Liberman, Cami Patton, Jennifer Lare
"The United States of Tara," Cami Patton, Elizabeth Barnes
"Weeds," Dava Waite Peaslee

Television Movie
"24 Redemption," Debi Manwiller, Peggy Kennedy*
"Grey Gardens," Ellen Parks, Robin D. Cook (Location Casting)
"Living Proof," Susan Edelman, Mark Fincannon/Lisa Mae Fincannon (Location Casting)
"Loving Leah," Lynn Kressel
"Prayers for Bobby," Shana Landsburg*

Mini Series
"XIII: The Conspiracy," Wendy O'Brien*, Lisa Parasyn (Location Casting)
"Generation Kill," Alexa L. Fogel
"Maneater," Tammara Billik, Jason Wood

Children's Series Programming
"The Electric Company," Patricia McCorkle
"Hannah Montana," Carol Goldwasser, Howard Meltzer
"iCarly," Krisha Bullock
"True Jackson, VP," Krisha Bullock, Harriet Greenspan
"Wizards of Waverly Place," Ruth Lambert, Robert McGee

Animation TV Programming
"Mighty B!," Sarah Noonan*
"The Life and Times of Tim," Ruth Lambert, Robert McGee
"The Penguins of Madagascar," Sarah Noonan, Meredith Layne
"Rick & Steve, The Happiest Gay Couple in All the World," Gillian O'Neill
"Sit Down Shut Up," Ruth Lambert/Robert McGee

Daytime Series
"As the World Turns," Mary Clay Boland
"Days of Our Lives," Marnie Saitta
"General Hospital," Mark Teschner
"Guiding Light," Rob Decina
"The Young and the Restless," Camille St. Cyr

L.A. Theater
"Crowns," Michael Donovan
"The Fantasticks," Michael Donovan
"Les Misérables in Concert," Bruce Newberg
"Man of La Mancha," Michael Donovan
"Once On This Island," Amy Lieberman

Broadway Theater – Drama
"33 Variations," James Calleri
"All My Sons," Cindy Tolan
"Joe Turner's Come and Gone," Daniel Swee
"Reasons to be Pretty," Bernard Telsey, Will Cantler
"The Seagull," Jim Carnahan

NY Broadway Theater – Comedy
"Blithe Spirit," Bernard Telsey, Will Cantler
"Exit the King," Daniel Swee
"God of Carnage," Daniel Swee
"Speed the Plow," Bernard Telsey, Will Cantler
"Waiting for Godot," Jim Carnahan

NY Broadway Theater – Musical
"9 to 5," Bernard Telsey, Craig Burns
"Billy Elliot," Tara Rubin, Merri Sugarman, Laura Schutzel, Eric Woodall, Nora Brennan
"Pal Joey," Bernard Telsey, Jim Carnahan
"Rock of Ages," Bernard Telsey, Tiffany Little Canfield
"Shrek," Tara Rubin, Merri Sugarman, Laura Schutzel, Eric Woodall

NY Off-Broadway – Comedy/Musical
"Fault Lines," Howie Cherpakov
"Happiness," Tara Rubin, Laura Schutzel, Eric Woodall, Merri Sugarman
"Offices," Bernard Telsey, Will Cantler
"The Third Story," Bernard Telsey, Will Cantler
"Three Changes," Alaine Alldaffer

NY Off-Broadway – Drama
"Boy's Life," Bernard Telsey, Will Cantler
"The Bridge Project," Nancy Piccione*
"Farragut North," Bernard Telsey, Will Cantler
"Ruined," Nancy Piccione*
"Uncle Vayna," James Calleri

Regional Theater East
"Death of a Salesman," Tara Rubin, Laura Schutzel, Eric Woodall, Merri Sugarman
"The Glass Menagerie," James Calleri
"Turn of the Century," Jay Binder*
"Unusual Acts of Devotion," Bernard Telsey, Will Cantler/Tiffany Little Canfield
"To Kill a Mockingbird," Bernard Telsey, Will Cantler

Regional Theater West
"Cornelia," Samantha Barrie
"The Little Foxes," Michael Donovan
"Our Mother's Brief Affair," Joanne DeNaut
"Pippin," Bonnie Grisan, Erika Sellin
"Stormy Weather," Michael Donovan*

SPECIAL HONOREES:

CAREER ACHIEVEMENT AWARD
Laura Ziskin

HOYT BOWERS AWARD
John Frank Levey

THE NEW YORK APPLE AWARD
Nora & Delia Ephron

(*Shared credit with non-CSA member)