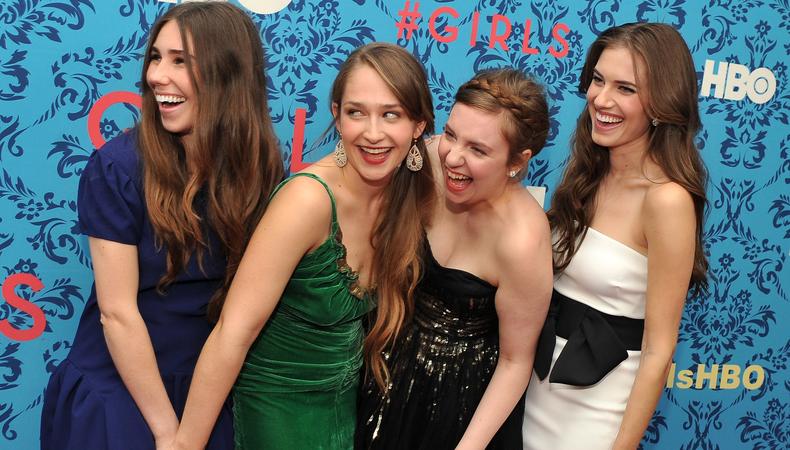 In one of the only awards ceremonies to honor casting directors, the Academy of Television Arts and Sciences presented its annual Primetime Creative Arts Emmy Awards Saturday, Sept. 15, at the Nokia Theatre in Los Angeles. The CSA members who cast HBO's "Girls" and "Game Change" and Showtime's "Homeland" were all recognized at the awards.

The Creative Arts Emmys are presented one week before the Primetime Emmy Awards to honor technical achievements and behind-the-scenes personnel such as casting directors, costume designers, art directors, editors, and animators. Awards for guest-starring actors were also given at the event.

Outstanding Casting for a Drama Series was awarded to Junie Lowry Johnson, Libby Goldstein, Judy Henderson, Craig Fincannon, and Lisa Mae Fincannon, the casting directors for the Showtime series "Homeland," starring Claire Danes, Damian Lewis, and Mandy Patinkin.

Jennifer Euston, casting director of Lena Dunham's HBO series "Girls," took home the award for Outstanding Casting for a Comedy Series. Deadline noted, "In three of the last four years, the winner in the category has gone on to win a best comedy series Emmy."

"Working with Lena [Dunham] has been the most creatively satisfying job I've ever had in my life," Euston told Backstage in May. "As a human and as an artist, she is just exceptional. It makes casting so pleasurable and so rewarding. I'm just so lucky that I get to work with her. I feel privileged." Euston previously won an Emmy in 2010 as part of the team of CDs that cast HBO's World War II miniseries "The Pacific."

David Rubin, Richard Hicks, Pat Moran, and Kathleen Chopin shared the award for Outstanding Casting for a Miniseries, Movie or a Special for casting HBO's "Game Change," starring Julianne Moore as Sarah Palin and Ed Harris and John McCain in the true story of the 2008 presidential election. (Moran was also nominated with Euston and Allison Jones for casting the HBO comedy series "Veep," starring Julia Louis-Dreyfus as the vice president.)

The awards for guest actors were distributed at Saturday night's ceremony, as well. Kathy Bates won for her work as the ghost of Charlie Sheen on the CBS comedy series "Two and a Half Men," while Jimmy Fallon was named best guest actor in a comedy series for hosting an episode of "Saturday Night Live." Jeremy Davies was recognized as best guest actor in a drama series for playing Dickie Bennett on the FX series "Justified," and Martha Plimpton won for her portrayal of attorney Patti Nyholm on the CBS drama "The Good Wife."

"I was really surprised," Plimpton, who also stars on Fox's "Raising Hope," told Backstage of being nominated as a guest star in August. "There's a lot of great actors out there and there's a lot of great work getting done, and I feel lucky to be included in the group."
Additionally, the award for Outstanding Voice-Over Performance went to Maurice LaMarche for his portrayal of multiple characters including Clamps, Donbot, Hyperchicken, Calculon, Hedonismbot, and Morbo on "Futurama." Choreographer Joshua Bergasse won Outstanding Choreography for his work on NBC's "Smash."
The 64th annual Primetime Emmy Awards will be broadcast live Sept. 23 on ABC. The full list of winners at the Primetime Creative Arts Emmys is below.

Outstanding Casting for a Drama Series
"Homeland" (Showtime) – Junie Lowry Johnson, CSA; Libby Goldstein, CSA; Judy Henderson, CSA; Craig Fincannon, CSA; Lisa Mae Fincannon, CSA

Outstanding Casting for a Comedy Series
"Girls" (HBO) – Jennifer Euston, CSA

Outstanding Casting for a Miniseries, Movie or a Special
"Game Change" (HBO) – David Rubin, CSA; Richard Hicks, CSA; Pat Moran, CSA; Kathleen Chopin, CSA

Outstanding Guest Actress in a Comedy Series
Kathy Bates as Charlie Harper ("Two And A Half Men")

Outstanding Guest Actress in a Drama Series
Martha Plimpton as Patti Nyholm ("The Good Wife")

Outstanding Guest Actor in a Drama Series
Jeremy Davies as Dickie Bennett ("Justified")

Outstanding Guest Actor in a Comedy Series
Jimmy Fallon, Host ("Saturday Night Live")

Outstanding Reality Program
"Undercover Boss" (CBS) – Eli Holzman, Executive Producer; Stephen Lambert, Executive Producer; Chris Carlson, Executive Producer; Scott Cooper, Co-Executive Producer; Sandi Johnson, Co-Executive Producer; Rachelle Mendez, Supervising Producer; Lety Quintanar, Supervising Producer; Rebekah Fry, Supervising Producer

Outstanding Children's Program
"Wizards Of Waverly Place" (Disney Channel) – Ben Montanio, Executive Producer; Vince Cheung, Executive Producer; Todd J. Greenwald, Executive Producer; Gigi McCreery, Co-Executive Producer; Perry Rein, Co-Executive Producers; Richard Goodman, Supervising Producer; Greg A. Hampson, Produced By

Outstanding Children's Nonfiction, Reality or Reality-Competition Program
"Sesame Street: Growing Hope Against Hunger" (PBS) – Carol-lynn Parente, Executive Producer; Melissa Dino, Supervising Producer; Mason Rather, Senior Producer; Kevin Clash, Producer

Outstanding Animated Program
"The Penguins Of Madagascar: The Return Of The Revenge Of Dr. Blowhole" (Nickelodeon) – Bob Schooley, Executive Producer/Written by; Mark McCorkle, Executive Producer/Written by; Bret Haaland, Co-Executive Producer; Nick Filippi, Supervising Producer; Chris Neuhahn, Supervising Producer; Ant Ward, Supervising Producer; Andrew Huebner, Produced by; David Knott, Supervising Director; Shaun Cashman, Animation Director; Steve Loter, Animation Director; Christo Stamboliev, Animation Director

Outstanding Short-form Animated Program
"Regular Show" - "Eggscellent" (Cartoon Network) – Brian A. Miller, Executive Producer; Jennifer Pelphrey, Executive Producer; Curtis Lelash, Executive Producer; Rob Sorcher, Executive Producer; JG Quintel, Executive Producer/Written by; Mike Roth, Supervising Producer/Writer; Janet Dimon, Producer; Matt Price, Writer; Jack Thomas, Writer; John Infantino, Supervising Director/Writer; Robert Alvarez, Animation Director

Outstanding Individual Achievement In Animation
"Phineas and Ferb," "Doof Dynasty", Jill Daniels, Background Paint (Disney Channel)
"Disney Prep & Landing: Naughty vs. Nice," Bill Schwab, Character Design, (ABC)
"Secret Mountain Fort Awesome," "Nighmare Sauce," Chris Tsirgiotis, Background Design (Cartoon Network)
"Secret Mountain Fort Awesome," "Nighmare Sauce," Robertryan Cory, Character Design (Cartoon Network)

Outstanding Nonfiction Series
"Frozen Planet" (Discovery Channel) – Alastair Fothergill, Executive Producer; Susan Winslow, Executive Producer; Vanessa Berlowitz, Series Producer

Outstanding Nonfiction Special
"George Harrison: Living In The Material World" (HBO) – Margaret Bodde, Executive Producer; Emma Tillinger Koskoff, Executive Producer For Sikelia Productions; Blair Foster, Supervising Producer; Olivia Harrison, Produced By; Nigel Sinclair, Produced By; Martin Scorsese, Produced By

Outstanding Variety Special
The Kennedy Center Honors (CBS) – George Stevens, Jr., Producer; Michael M. Stevens, Producer

Outstanding Special Class Program
65th Annual Tony Awards (CBS) – Ricky Kirshner, Executive Producer; Glenn Weiss, Executive Producer; Neil Patrick Harris, Producer/Host

Outstanding Special Class: Short-format Live-Action Entertainment Programs
"Childrens Hospital" (Cartoon Network) – Rob Corddry, Executive Producer; Jonathan Stern, Executive Producer; David Wain, Executive Producer; Keith Crofford, Executive Producer; Nick Weidenfeld, Executive Producer; Rich Rosenthal, Co-Executive Producer

Exceptional Merit in Documentary Filmmaking
"Have You Heard From Johannesburg" (Independent Lens) (PBS) – Connie Field, Producer; Lois Vossen, Series Senior Producer; Sally Jo Fifer, Executive Producer

Outstanding Writing for a Variety Series
"The Daily Show With Jon Stewart" (Comedy Central) – Tim Carvell, Head Writer; Rory Albanese, Writer; Kevin Bleyer, Writer; Rich Blomquist, Writer; Steve Bodow, Writer; Wyatt Cenac, Writer; Hallie Haglund, Writer; JR Havlan, Writer; Elliott Kalan, Writer; Dan McCoy, Writer; Jo Miller, Writer; John Oliver, Writer; Zhubin Parang, Writer; Daniel Radosh, Writer; Jason Ross, Writer; Jon Stewart, Writer

Outstanding Writing for Nonfiction Programming
"Prohibition – A Nation Of Hypocrites" (PBS) – Geoffrey C. Ward, Written by

Outstanding Directing for a Variety Series
"Saturday Night Live" - "Host: Mick Jagger" (NBC) – Don Roy King, Director

Outstanding Directing for Nonfiction Programming
"George Harrison: Living In The Material World" (HBO) – Martin Scorsese, Director

Outstanding Cinematography for a Single-Camera Series
"Boardwalk Empire" - "21" (HBO) – Jonathan Freeman, Director of Photography

Outstanding Cinematography for a Multi-Camera Series
"Two And A Half Men" - "Sips, Sonnets, And Sodomy" (CBS) – Steven V. Silver, ASC, Director of Photography

Outstanding Cinematography for a Miniseries or Movie
"Great Expectations" (Masterpiece) – Part 2 (PBS) – Florian Hoffmeister, Director of Photography

Outstanding Cinematography for Reality Programming
"Deadliest Catch" - "I Don't Wanna Die" (Discovery Channel) – Cinematography Team

Outstanding Cinematography for Nonfiction Programming
"Frozen Planet" - "Ends Of The Earth" (Discovery Channel) – Cinematography Team

Outstanding Special Visual Effects
"Game Of Thrones" - "Valar Morghulis" (HBO) - Rainer Gombos, Lead Visual Effects Supervisor; Juri Stanossek, Visual Effects Supervisor; Sven Martin, Animation Lead; Steve Kullback, Lead Visual Effects Producer; Jan Fiedler, Visual Effects Producer; Chris Stenner, Lead Animator; Tobias Mannewitz, Visual Effects Concept Artist; Thilo Ewers, Environment Lead; Adam Chazen, Visual Effects Coordinator

Outstanding Special Visual Effects in a Supporting Role
"Boardwalk Empire" - "Georgia Peaches" (HBO) – Dave Taritero, VFX Supervisor; Robert Stromberg, VFX Designer; Richard Friedlander, VFX Producer; Eran Dinur, VFX Supervisor; David W. Reynolds, Compositing Supervisor; Matthew Conner, Digital Matte Painter; Austin Meyers, Digital Compositor; Jonathan Dorfman, 3D Artist; Steve Kirshoff, Special Effects Supervisor

Outstanding Multi-Camera Picture Editing for a Comedy Series
"How I Met Your Mother" - "Trilogy Time" (CBS) – Sue Federman, Edited by

Outstanding Single-Camera Picture Editing for a Drama Series
"Homeland" – "Pilot" (Showtime) – Jordan Goldman, Edited by; David Latham, Edited by

Outstanding Single-Camera Picture Editing for a Comedy Series
"Curb Your Enthusiasm" - "Palestinian Chicken" (HBO) – Steven A. Rasch, A.C.E., Editor

Outstanding Single-Camera Picture Editing for a Miniseries or a Movie
"Hatfields & McCoys"- "Part 2″ (History) – Don Cassidy, Editor

Outstanding Picture Editing for Reality Programming
"Deadliest Catch" - "I Don't Wanna Die" (Discovery Channel) – Josh Earl, A.C.E., Supervising Editor; Alex Durham, Editor

Outstanding Picture Editing for Short-Form Segments and Variety Specials
2012 Rock and Roll Hall of Fame Induction Ceremony (HBO) – Bill DeRonde, Editor; Chris Lovett, Editor; Mark Stepp, Editor; Pi Ware, Editor; John Zimmer, Editor; Ben Folts, Editor

Outstanding Picture Editing for Nonfiction Programming
"Frozen Planet" - "Ends Of The Earth" (Discovery Channel) -Andy Netley, Editor; Sharon Gillooly, Editor

Outstanding Sound Editing for a Series
"Game Of Thrones" - "Blackwater" (HBO) – Peter Brown, Supervising Sound Editor/Sound Design; Kira Roessler, Dialogue/ADR Supervising Sound Editor; Tim Hands, ADR Editor/Co-Supervisor of ADR; Paul Aulicino, M.P.S.E., Foley Editor/Supervising Foley Editor; Stephen P. Robinson, Sound Effects Editor; Vanessa Lapato, Dialogue Editor; Brett Voss, Foley Editor; James Moriana, Foley Artist; Jeffrey Wilhoit, Foley Artist; David Klotz, Music Editor

Outstanding Sound Editing for a Miniseries, Movie or a Special
"Hemingway & Gellhorn" (HBO) – Douglas Murray, Supervising Sound Editor; Peter Horner, Sound Designer; Kim Foscato, Dialogue Editor; Steve Boeddeker, FX Sound Editor; Casey Langfelder, FX Sound Editor; Andrea Gard, FX Sound Editor; Pat Jackson, FX Sound Editor; Daniel Laurie, ADR Editor; Goro Koyama, Foley Artist; Andy Malcolm, Foley Artist; Joanie Diener, Music Editor

Outstanding Sound Editing for Nonfiction Programming (Single or Multi-Camera)
"Frozen Planet" - "Ends Of The Earth" (Discovery Channel) – Kate Hopkins, Dubbing Editor; Tim Owens, Sound Editor; Paul Fisher, Sound Editor

Outstanding Sound Mixing for a Comedy or Drama Series (One Hour)
"Game Of Thrones" - "Blackwater" (HBO) – Matthew Waters, Re-Recording Mixer; Onnalee Blank, CAS, Re-Recording Mixer; Ronan Hill, CAS, Production Mixer; Mervyn Moore, Production Mixer

Outstanding Sound Mixing for a Comedy or a Drama Series (Half Hour) and Animation
"Modern Family" - "Dude Ranch" (ABC) – Stephen A. Tibbo, Production Sound Mixer; Dean Okrand, Re-Recording Mixer; Brian R. Harman, Re-Recording Mixer

Outstanding Sound Mixing for a Miniseries or a Movie
"Hatfields & McCoys" - "Part 1" (History) – Stanomir Dragos, Production Mixer; Christian Cooke, Re-Recording Mixer; Brad Zoern, Re-Recording Mixer

Outstanding Sound Mixing for a Variety Series or Special
84th Annual Academy Awards (ABC) – Paul Sandweiss, Audio Director; Tommy Vicari, Orchestra Mixer; Pablo Munguia, Protools; Kristian Pedregon, Show Post Audio
Outstanding Sound Mixing for Nonfiction Programming
"Paul Simon's Graceland Journey: Under African Skies" (A&E) – Tom Paul, Sound Mixer

Outstanding Technical Direction, Camerawork, Video Control for a Series
"Saturday Night Live" – "Host: Mick Jagger" (NBC) – Steven Cimino, Technical Director; John Pinto, Camera; Paul J. Cangialosi, Camera; Len Wechsler, Camera; Barry Frischer, Camera; Eric A. Eisenstein, Camera; Susan Noll, Video Control; Frank Grisanti, Video Control

Outstanding Technical Direction, Camerawork, Video Control for a Miniseries, Movie or Special
"Memphis" (Great Performances) (PBS) – Steven Cimino, Technical Director; Paul J. Cangialosi, Camera; John Pinto, Camera; Chuck Goslin, Camera; Barry Frischer, Camera; Jeff Latonero, Camera; Len Wechsler, Camera; Susan Noll, Video Control; J.M. Hurley, Video Control

Outstanding Lighting Design/Lighting Direction for a Variety Series
"So You Think You Can Dance" - "Season 8 Finale" (FOX) – Robert Barnhart, Lighting Designer; Matt Firestone, Lighting Director; Pete Radice, Lighting Director; Patrick Boozer, Lighting Director

Outstanding Lighting Design/Lighting Direction for a Variety Special
The 54th Annual Grammy Awards (CBS) – Robert A. Dickinson, Lighting Designer; Jon Kusner, Lighting Director; Travis Hagenbuch, Lighting Director; Andy O'Reilly, Lighting Director

Outstanding Art Direction for a Single-Camera Series
TIE: "Boardwalk Empire" – "Peg Of Old," "Battle Of The Century," "To The Lost" (HBO) – Bill Groom, Production Designer; Adam Scher, Art Director; Carol Silverman, Set Decorator
TIE: "Game Of Thrones" – "Garden Of Bones," "The Ghost Of Harrenhal," "A Man Without Honor" (HBO) – Gemma Jackson, Production Designer; Frank Walsh, Art Director; Tina Jones, Set Decorator

Outstanding Art Direction for a Multi-Camera Series
"2 Broke Girls" - "And The Rich People Problems," "And The Reality Check," "And The Pop Up Sale" (CBS) – Glenda Rovello, Production Designer; Amy Feldman, Set Decorator

Outstanding Art Direction for Miniseries or Movie
"Great Expectations" (Masterpiece) (PBS) – David Roger, Production Designer; Paul Ghirardani, Art Director; Jo Kornstein, Set Decorator

Outstanding Art Direction for Variety or Nonfiction Programming
TIE: The 54th Annual Grammy Awards (CBS) – Brian Stonestreet, Production Designer; Alana Billingsley, Art Director; Matt Steinbrenner, Art Director
TIE: 65th Annual Tony Awards (CBS) - Steve Bass, Production Designer; Seth Easter, Art Director

Outstanding Costumes For A Series
"Game Of Thrones" - "The Prince Of Winterfell" (HBO) – Michele Clapton, Costume Designer; Alexander Fordham, Assistant Costume Designer; Chloe Aubry, Assistant Costume Designer

Outstanding Costumes For A Miniseries, Movie Or Special
"Great Expectations" (Masterpiece) – "Part 2″ (PBS) – Annie Symons, Costume Designer; Yvonne Duckett, Costume Supervisor

Costumes for a Variety Program or Special
Opening Ceremony of the XVI Pan American Games Guadalajara 2011 (ESPN) – Maria Rosario Mendoza, Supervising Costume Designer, and "The X-Factor, Pepsi Challenge Top 9 Elimination" (Fox) – Marina Toybina, Costume Designer, Grainne O'Sullivan, Costume Supervisor

Outstanding Prosthetic Makeup For A Series, Miniseries, Movie Or A Special
"The Walking Dead" - "What Lies Ahead" (AMC) – Greg Nicotero, Special Makeup Effects Department Head; Jake Garber, Special Makeup Effects Artist; Andy Schoneberg, Special Makeup Effects Artist; Kevin Wasner, Special Makeup Effects Artist; Gino Crognale, Special Makeup Effects Artist; Carey Jonse, Special Makeup Effects Artist; Garrett Immel, Prosthetic Designer

Outstanding Makeup For A Single-Camera Series (Non-Prosthetic)
"Game Of Thrones" - "The Old Gods And The New" (HBO) – Paul Engelen, Department Head Makeup Artist; Melissa Lackersteen, Makeup Artist

Outstanding Makeup For A Multi-Camera Series Or Special (Non-Prosthetic)
"Dancing With The Stars" - "Episode 1307″ (ABC) - Zena Shteysel, Department Head Makeup Artist; Angela Moos, Key Makeup Artist; Patti Ramsey Bortoli, Makeup Artist; Barbara Fonte, Makeup Artist; Sarah Woolf, Makeup Artist; Nadege Schoenfeld, Makeup Artist

Outstanding Makeup For A Miniseries Or A Movie (Non-Prosthetic)
"Hatfields & McCoys" (History) – Mario Michisanti, Department Head Makeup Artist; Francesca Tampieri, Makeup Artist

Outstanding Hairstyling for a single-camera series
"Downton Abbey" - "Episode 1″ (PBS) – Anne "Nosh" Oldham, Department Head Hairstylist; Christine Greenwood, Key Hairstylist

Outstanding Hairstyling for a movie or miniseries
"American Horror Story" (FX Networks) – Monte C. Haught, Department Head Hairstylist; Samantha Wade, Key Hairstylist; Melanie Verkins, Hairstylist; Natalie Driscoll, Hairstylist; Michelle Ceglia, Hairstylist

Outstanding Hairstyling for a multi-camera series or special
"Saturday Night Live" – "Host: Zooey Deschanel" (NBC) – Bettie O. Rogers, Department Head Hairstylist; Jodi Mancuso, Key Hairstylist; Inga Thrasher, Hairstylist; Jennifer Stauffer, Hairstylist; Cara Hannah Sullivan, Hairstylist; Christal Schanes, Hairstylist

Outstanding Stunt Coordination
"Southland" – "Wednesday" (TNT) – Peewee Piemonte, Stunt Coordinator

Outstanding Music Direction
The Kennedy Center Honors (CBS) – Rob Berman, Music Director; Rob Mathes, Music Director

Outstanding Music Composition for a series (original dramatic score)
"Downton Abbey" - "Episode 6″ (PBS) – John Lunn, Music by

Outstanding Music Composition for a Miniseries, Movie or Special
"Hemingway & Gellhorn" (HBO) – Javier Navarrete, Composer

Outstanding Original Music and Lyrics
65th Annual Tony Awards (Song Title: "It's Not Just For Gays Anymore") (CBS) - Adam Schlesinger, Music by; David Javerbaum, Lyrics by

Outstanding Original Main Title Theme Music
Page Eight (Masterpiece) (PBS) - Paul Englishby, Music by

Outstanding Choreography
Joshua Bergasse, Choreographer – Smash (NBC) – Routines: "National Pastime" / "Let's Be Bad" / "Never Met A Wolf"

Outstanding Voice-Over Performance
Maurice LaMarche as Clamps, Donbot, Hyperchicken, Calculon, Hedonismbot, Morbo ("Futurama" -"The Silence Of The Clamps")

Outstanding Main Title Design
"Great Expectations" (Masterpiece) (PBS) - Nic Benns, Title Designer; Rodi Kaya, 3D Atrist; Tom Bromwich, Titles Producer

Outstanding Creative Achievement in Interactive Media — Original Interactive Television Programming
Dirty Work (rides.tv) – Fourth Wall Studios; Rides TV

Outstanding Creative Achievement in Interactive Media Enhancement to a Television Program or Series
The Team Coco Sync App (TBS) – John Wooden, Producer; Aaron Bleyaert, Producer; Conan O'Brien, Producer; Timothy Campbell, Producer

Outstanding Special Class: Short-Format Nonfiction Programs
DGA Moments In Time (dga.org) – Michael M. Stevens, Produced By

Outstanding Commercial
"Best Job" (Procter & Gamble Corporate Brand) – Wieden + Kennedy, Ad Agency; Anonymous Content, Production Company