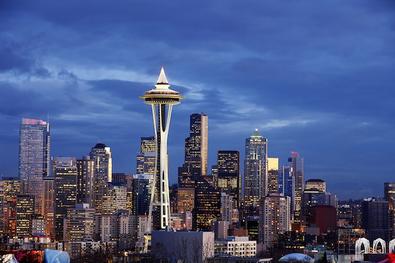 Portland and Seattle have the Pacific Northwest equivalent of the New York–Los Angeles entertainment industry dynamic. Portland, like a rainy L.A., is home to most of the region's TV and film production, while Seattle, the region's Big Apple, gets the commercials and has a robust theater scene.
It used to be the other way around. In the early 1990s, Seattle was hosting about six features a year and drawing professionals up from L.A. Casting director Jodi Rothfield moved there in 1992 to open her own office. "Within two weeks I was casting 'Sleepless in Seattle,' " she recalls. "That was quite a coup."
Her office only casts principal roles—at its heyday, even for film and TV productions that weren't shooting locally. "I guess the word got around that we kind of were fluctuating between being the third- or fourth-largest talent pool in the country at the time," says Rothfield. "We have a huge, rich theater market here. People were coming from all over to do theater here and that allowed people doing anything for the camera to pull those people in."
Rothfield said her office scouts talent in theater productions as far away as the Puget Sound. "There are very strong agencies that represent local talent," she says. "But our job is to find everybody and anybody, and not just sit and call the agents."
Seattle's halcyon days were cut short by the emergence of Vancouver, B.C., as a production center. "Washington kind of fell off the map for a little while," says Rothfield. "It was hard to keep our film office open. Now, I'm seeing people coming back. We still have the largest talent pool other than L.A. on the West Coast, and this has always been the indie capital of the country. Indie films have always been rich and full here."
When locals are cast in film or television productions, says Seattle-based casting director Amey Rene, "It's always going to be more of the day player roles that shoot in less than a week."
Rene also moved to Seattle after casting in Los Angeles and was surprised at the talent pool she found. "There are a lot of working actors who are available," she says. "It's a very tight crew here; everybody kind of works together and they travel from production to production."
Rene says she'll see talent from Portland, which is about a three-hour drive from Seattle. She can't see Canadian talent from across the border in Vancouver, though, because of the immigration issue.
"I think it's always better if you're in the room," she says. "However, if it's a commercial and they basically just need to see what you look like, I'm really big into taking self-tapes for the audition. But I think you should always be in the room for the callback."
Casting director Denise Gibbs, whose Seattle-based office mainly does background, says one of the problems she and other locals face is getting submissions from outside the region.
"We are local casting directors, so we're always looking for more local people," she says. "We do not cast for out-of-area people. If there's some casting going on in L.A. or New York, they hire specific casting directors for those areas. That's probably the biggest misconception."
Gibbs says there's no taboo on working background in Seattle, even for experienced performers.
"I get a mix of everybody: the experienced union actor who just wants to get on set all the way to the newbie," she says. "It's a very small film community. We all kind of know each other. When it's a decent commercial, even the actors don't mind coming on set, being an extra. They have fun, they get to visit all day and make new connections."
Inspired by this post? Check out our Seattle audition listings!