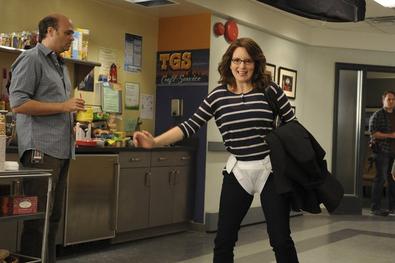 Production is about to begin on the seventh and final season of the NBC comedy series "30 Rock," starring Tina Fey, Alec Baldwin, and Tracy Morgan. Do you want to go to there? Here's your chance: Barbara McNamara Casting has begun casting background for the show's last 13 episodes.

Casting director Barbara McNamara and casting associate Arthur Dutkanic are seeking a variety of background types for the "30 Rock" Season Seven premiere episode, which shoots on or between Thursday, Aug. 23, to Wednesday, Aug. 29, in New York. They are specifically casting an experienced female makeup artist with a professional background who "must be the real deal"; an authentic, experienced female clown with her own costume; and a photo double for actor Paz de la Huerta ("Boardwalk Empire"), who should be approximately 5'8" with brown hair and dress size 4. Both union and nonunion talent will be accepted for the above roles.

McNamara is also casting a female SAG-AFTRA member between the ages of 25-65 with full Hasidic garb and an older female SAG-AFTRA member above the age of 50 who is comfortable wearing an oxygen mask for the premiere episode.

For the second episode of the season, which appears to be taking aim at the upcoming presidential election, the casting directors are seeking a tall union or nonunion male to be a photo double for Republican nominee Mitt Romney, and a union actor age 20-45 to portray a male political aide. They are also casting 18- to 30-year-old male and female SAG-AFTRA members of all ethnicities to portray club-goers in the episode, which shoots on or between Thursday, Aug. 30, to Thursday, Sept. 6, in New York.

For more information and to apply, view the full casting notices online at Backstage.com. Extras are required for at least one day of shooting for each episode; check each casting notice for detailed submission and availability requirements. Pay is provided for all roles.

A few lucky New York actors could be like Backstage readers Colin Buckingham and Bob Leonard, who have both appeared on episodes of "30 Rock" thanks to Backstage!

In addition to "30 Rock," Barbara McNamara will be casting extras for the upcoming FX series "Bronx Warrants." She has previously cast extras for FX's "Rescue Me," HBO's "Sex and the City," and feature films including "Hope Springs," "Baby Mama," and "The Devil Wears Prada."

The final season of "30 Rock" premieres Thursday, Oct. 4 on NBC.