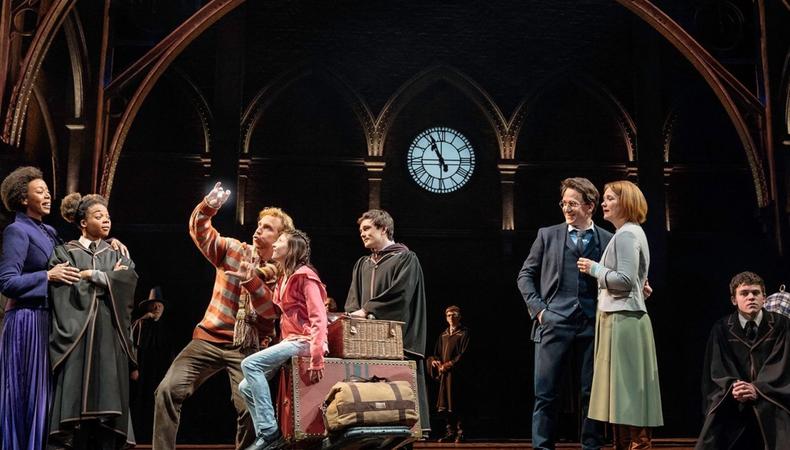 This week's round-up of opportunities across the country gathers together great roles in regional theater productions for both Equity and Non-Equity actors. "Harry Potter and the Cursed Child" is casting Equity actors for a 2019 run in San Francisco, California. Berkeley will be the home for the musical comedy "The Great and Glorious Mr. Toad," and is looking for non-equity actors with singing skills. And "The North Pool" is coming to Portland, Oregon courtesy of Bread and Butter Theatre Productions and is casting a young non-equity actor. Other roles include singing and/or performing in a winter wonderland in Doswell, Virginia for the fall season.
"HARRY POTTER AND THE CURSED CHILD"
The hit show "Harry Potter and the Cursed Child" is casting a new production in San Francisco, California. The play follows the next generation of Potters, the offspring of the characters from the book series. The show is casting Equity actors for the all roles, including Harry and Ginny Potter, and Hermione Granger. Male and female talent, aged 8 and older, is sought for the open parts. Auditions take place Oct. 16–18 in Berkeley, California. Rehearsals begin in the summer of 2019, with a fall 2019 run at the Curran Theatre. Actors with be signed to an Equity Production (League) Contract and paid a minimum of $2,095 a week. Apply here!
WINTERFEST 2018
Kings Dominion in Doswell, Virginia is casting Non-Equity actors for WinterFest, an enchanting winter wonderland. The show is seeking singers who move well, costume characters, technicians, and ushers. Actors should have dynamic personalities and be able to connect with audiences. Experience working at a theme park, cruise ship, or in children's theater is a plus. See the original casting notice to learn about audition requirements for singers, actors, and technicians. The production is seeking male and female performers, aged 18 and older. Auditions take place at an open casting call on Oct. 13. The show rehearses from Nov. 9–12, with clusters of performing dates between Nov. 23 and Dec. 31. Performers will be paid a minimum of $90. Housing is available as well. Apply here!
"THE VISIT"
A new production of the play "The Visit" in San Francisco, California is casting lead and supporting roles. The show explores the ramifications of ICE visiting a domestic violence shelter. Three women must choose between confronting their abusers or deportation. Roles include Addy, for Latina or Hispanic female talent, aged 18–26, raised in California as a "Dreamer" by Mexican parents only to discover her undocumented status. Nadege, for an African American female actor, aged 35–45, is a Haitian woman who has been teaching English in the States for three years. Zeynab is for Middle Eastern female talent, aged 30–40. She's an engineer from Tehran who has worked as a journalist in the U.S. for the past ten years. Additional roles are available for male and female actors of different ethnicities and ages. All roles are Non-AEA only. Principal roles will receive a stipend of $400 and supporting roles will receive a stipend of $100. Rehearsals begin in late October for a short run from Dec. 20–22. Apply here!
"THE GREAT AND GLORIOUS MR. TOAD"
A musical comedy adaptation of "The Wind and the Willows" is coming to the East Bay and Berkeley, California area. The production is currently casting actors with singing skills for lead and supporting roles. Parts are available for female and male talent, aged 18–75. Roles include Mr. Toad, Rat, Mole, Badger, and Mrs. Hedgehog. The show is also casting actors for ensemble work. Auditions take place by appointment on Oct. 18 and 21. Rehearsals begin Jan. 15, for a run from Feb. 21–April 4. Actors will be committed to the show through April 7. The show pays a total stipend of $450–$700. Apply here!
"TIGERS BE STILL"
The Studio NW in Portland, Oregon is casting an upcoming production of the play "Tigers Be Still." The dark comedy deals with themes of overcoming depression and rejection. The show is casting two male actors to play supporting roles. Zack, for talent, aged 18–22, is a teenage boy dealing with anger issues after the death of his mother. Joseph, for talent, aged 50–59, is Zack's caring father who is terrified of tigers. There will be auditions by appointment on Oct. 13. The production is set to rehearse from May to June, with a run from June 6–23. Roles pay $500. Apply here!
"THE NORTH POOL"
Bread & Butter Theatre Company is casting a production of "The North Pool." The story follows Khadim, a high schooler, as he visits the vice principal's office and is caught in a series of lies about crimes. The show is casting a male actor of color to portray Khadim, a Middle Eastern high school student. Actors should be aged 18–26 and able to portray a teenager. Rehearsals take place in December and January with a short break for the end of the year. The show runs from Jan. 10–20 at Potrero Stage in San Francisco, California. The role pays $600. Apply here!