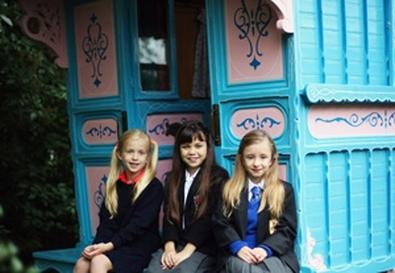 The Royal Shakespeare Company's Olivier Award-nominated "
Matilda The Musical
," based on the book by Roald Dahl and currently running on London's West End, is coming to Broadway in 2013.
Nora Brennan Casting
("Billy Elliot the Musical") will hold auditions in April for the title character and other child roles.
Matilda, the lead character, is described as "a fiercely clever child living in an abusive household" who "escapes into books and her imagination." Lavendar is a quirky young girl who is "in awe of Matilda and has decided that she is Matilda's best friend," and Bruce is a boy who is forced to eat a whole chocolate cake by headmistress Miss Trunchbull. The casting directors are also seeking boy dancers who can sing and act for the children's ensemble. Children's roles, including the title character, will be shared by multiple young actors performing in rotation.
An Equity chorus call for boys will be held on Saturday, April 21, and Equity auditions for the principal roles of Matilda, Lavendar, and Bruce will be held on Wednesday, April 25 in New York. For more information and audition details,
view the full casting notice at BackStage.com
. (Subscription required.) These auditions are for children only.
Equity principal auditions for adults
were held in March in New York. Equity chorus calls for child singers and girl dancers will be announced at a later date.
These open calls are for Equity members, but nonunion performers may be seen if time permits. According to Actors' Equity, "If casting personnel wish to see non-Equity actors, these actors will sign a waiting list, and will be seen after all Equity members have been seen or at any time during the auditions that no Equity member is auditioning or waiting to audition."
The book for "Matilda The Musical" was written by British playwright Dennis Kelly, with music and lyrics by Australian comedian and musician Tim Minchin. The musical is directed by Tony Award winner Matthew Warchus ("Ghost the Musical," "God of Carnage," "The Norman Conquests") and choreographed by Peter Darling. Dahl's novel about a girl with extraordinary powers was published in 1988. Danny DeVito directed a 1996 film adaptation, starring Mara Wilson as Matilda.
A Broadway theater, performance dates, and other production information for "Matilda The Musical" have not been announced. The West End production has been extended through February 17, 2013.