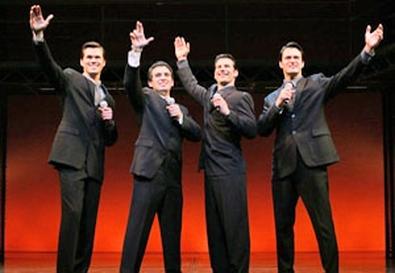 The long-awaited feature film adaptation of "Jersey Boys," the Tony Award-winning Broadway musical about Frankie Valli and the Four Seasons, has begun casting its lead roles. Jon Favreau ("Iron Man," "Elf") is directing the film, which will shoot in New York City beginning January 2013.

Casting director Ellen Lewis and casting associate Amelia McCarthy are casting four lead male singer-actors to portray Frankie Valli, Bob Gaudio, Tommy DeVito, and Nick Massi of the Four Seasons.

Frankie Valli is a small, scrappy kid from a tough neighborhood who is talented, hardworking, and determined to succeed; this role requires a tenor with an unusually high and clear falsetto who is 5'8" or shorter. Bob Gaudio is the boyish and fresh-faced keyboardist who is smart and savvy beyond his years; keyboard skills and the ability to sing tenor or baritenor in tight harmony are a plus for this role. Tommy DeVito is a handsome and charismatic hustler with a quick temper; guitar skills and the ability to sing tenor or baritenor in tight harmony are a plus for this role. Nick Massi a steady, lumbering man of few words, with a police record and a strong musical talent; bass guitar skills and the ability to sing bass or baritone in tight harmony are a plus for this role. All four characters are Italian Americans in their 20s to early 30s.

Open calls will be held Saturday, Aug. 18, in Philadelphia and Saturday, Aug. 25, in New York. For more information and audition details, view the full casting notices online at BackStage.com. Actors who cannot attend these auditions may upload an audition tape to be considered. The deadline to submit an online audition video is Aug. 22.

Auditions for other roles in the film have not been announced. It is unclear whether actors from the Broadway or touring productions of "Jersey Boys" are being considered for the film version of the musical.

Ellen Lewis is a CSA member who has cast dozens of feature films, including "Extremely Loud and Incredibly Close," "The Devil Wears Prada," "The Birdcage," and many of director Martin Scorsese's movies such as "Hugo," "The Departed," "Gangs of New York," "Casino," and "Goodfellas." Upcoming films include "Hyde Park on Hudson," starring Bill Murray as FDR, and Scorsese's "The Wolf of Wall Street," which is currently in production.

"Jersey Boys" is scheduled to be released in 2014. Graham King's GK Films ("Hugo," "Dark Shadows," "World War Z") is producing, with Frankie Valli and Bob Gaudio serving as executive producers.