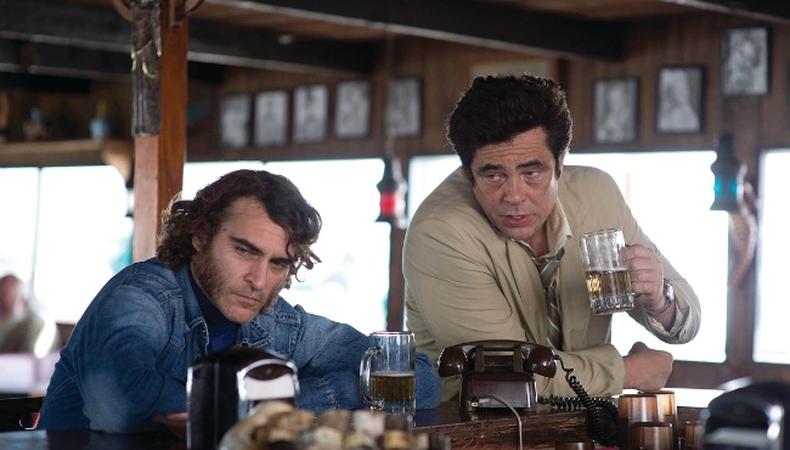 For casting director Cassandra Kulukundis, putting together a group of actors for Paul Thomas Anderson's crime dramedy "Inherent Vice" was a real trip. The 1970s-set film based on the novel by Thomas Pynchon follows Joaquin Phoenix as detective Larry "Doc" Sportello as he investigates the disappearance of an ex-girlfriend in drug-fueled Los Angeles.
"This film is not about who did what with who, you start here, you end there," says Kulukundis. "Is there a mystery? Who knows! Everything you're seeing is from a guy who's, like, blitzed out of his mind.
"It's a fun ride," she adds, noting she's been working on the film for years.
Even before Anderson's 2012 film "The Master" came out, Kulukundis recalls the director "tossed me [Pynchon's] book and said, 'You need to read this.' So as far as this movie, it was years and years ago I knew he was doing it. He had both scripts ready to go before 'The Master' went and then it was just, Let's do 'The Master,' then, Let's do 'Inherent Vice.' "
Though the team behind "Vice" started thinking of actors who might play Doc years ago, it became clear while working on "The Master" that Phoenix was the perfect man for the job.
"It's kind of interesting to see how it played out this way, 'cause Doc is supposed to be this bumbling, lovable, small kind of guy who no matter how annoying or off or disorganized he is, you just can't not love him. And Joaquin playing in 'The Master' is a very different role; Freddy's very disturbed in many ways, but Joaquin in real life is just a sweetheart, so it was kind of like he was born to play Doc and we made him play Freddy first," Kulukundis explains, laughing.
With an ensemble of supporting actors that includes Reese Witherspoon, Josh Brolin, Owen Wilson, Benicio Del Toro, Maya Rudolph, Martin Short, and several others, it's hard to believe that neither Kulukundis nor Anderson set out to make this a star-studded film. The CD says she didn't realize the vastness of the ensemble until the New York Film Festival, when everyone was "gussied up and standing on the stage in a row."
"We had all these great characters, and they're so colorful and they're so lively. And if you've even read the book you're like, 'Well, how do we do these characters justice?' And so you start making lists. You get ideas for it, but you want funny, too," Kulukundis says.
"And Martin Short's a genius so it's like, 'Well yeah, he's gonna bring [Dr. Blatnoyd] to life….' Every character should be so interesting that you want to see a movie about them, and there's no doubt Martin Short should have a spinoff film as this dentist. I mean, hilarious. I would buy the ticket right now."
While the ensemble came together (mostly) seamlessly, it was Shasta, Doc's "femme fatale sort of girlfriend that you never get over," who proved difficult to cast. Played by Katherine Waterston ("Boardwalk Empire," "Robot & Frank"), Shasta is "somebody who hits you deep inside for everything that they have," according to Kulukundis. "I mean, sure she's gorgeous, but she's smart. She gets under your skin because she doesn't take your crap. She's that kind of girl to a guy.
"In a weird way, so many people have an idea of who Shasta is," she adds. "Every man has this woman who they'll drop their jaws and drool for."
In terms of advice for audiences, Kulukundis says, "It's not who did who and what's that person and how they connect to the other thing; the guy who's telling you the story doesn't know! Just watch the actors, 'cause they're stupendous.
"And if you've never done drugs before, congratulations! This is $14 and you'll be on a trip."
Inspired by this post? Check out our film audition listings!