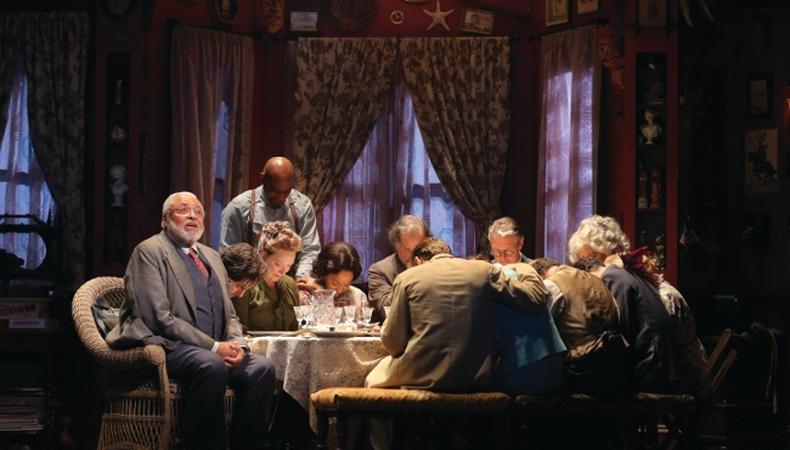 Even with big names attached to the show, six-time Tony-nominated Broadway director and Roundabout Theatre Company Adams Associate Artistic Director Scott Ellis knows that no single character is more important than the next when you're casting an ensemble production.
Such was the case with the Moss Hart and George S. Kaufman–written comedy "You Can't Take It With You," currently running at Longacre Theatre. With James Earl Jones and Rose Byrne (making her Broadway debut) on the bill as two of the featured characters, Ellis says the roles "were all important and all had challenges—mainly because they all had to be sort of perfect. If you're watching a show and it's all going along fine and then all of a sudden you introduce a new character and that character doesn't connect, then you get in a little trouble."
Premiering onstage in 1936, "You Can't Take It With You" centers on a young couple from different spheres of New York City. When Alice (Byrne), the only "normal" member of the eccentric but good-natured Sycamore family, falls in love with Tony Kirby, the son of her wealthy employer, the two attempt to make their families come together as they plan to wed. And despite each of the 19 characters' distinct quirks—Alice's sister Essie's (Annaleigh Ashford) deluded dreams of being a famous ballerina and her father's hobbies of making fireworks and playing with erector sets, for example—it was the two young lovers Ellis found most difficult to cast.
"They were tough because they're more of the straight guys, but they have to have their own quirkiness—especially her, because she's part of the Sycamore family," he explains. "So you have to find an actress who can play those two worlds—and in a sense, Tony (Fran Kranz, "Death of a Salesman") also. And you have to love them and care about them and not just wait for the other family to come onstage."
Aside from the difficult process of casting, Ellis had the daunting task of preparing the show in just five months. Earlier this year in March, Ellis says, "I had just pulled out of a film I was going to do where there were some problems with the budget or something. I had just literally three days earlier said, 'I don't think this is gonna work out. I'm gonna have to pass.' So I was lucky that I had happened to make that decision, and four or five days later I got the call asking if ['You Can't Take It With You'] was something I'd be interested in.
"So much of this business is timing and how the cards line up," he adds.
For many reasons, Ellis was thrilled to take on the project—his love for actors being one of them. "I looked at this play and said, 'Oh my God, there are 19 actors in here. That's a huge challenge and yet how exciting for me to be in a room with really talented actors and be able to create something,' " he says.
Moreover, Ellis (who's also directing the upcoming Bradley Cooper–starring "The Elephant Man" and "On the Twentieth Century" with Kristin Chenoweth) says he always loved "You Can't Take It With You," noting he used to talk about it often with his good friend, the late Broadway director Nicholas Martin, for whom the show was a favorite.
And while he loves watching the audience react to the quips and physical comedy, Ellis knows the message behind the production is a meaningful one. "It's [a play] about family and it's about accepting differences," he says. "That's a family where there's absolutely no judgment going on. And wouldn't that be nice, if we were in a place where there wasn't really any judgment and we're all different and we embrace those differences as something unique?"
Inspired by this post? Check out our theater audition listings!