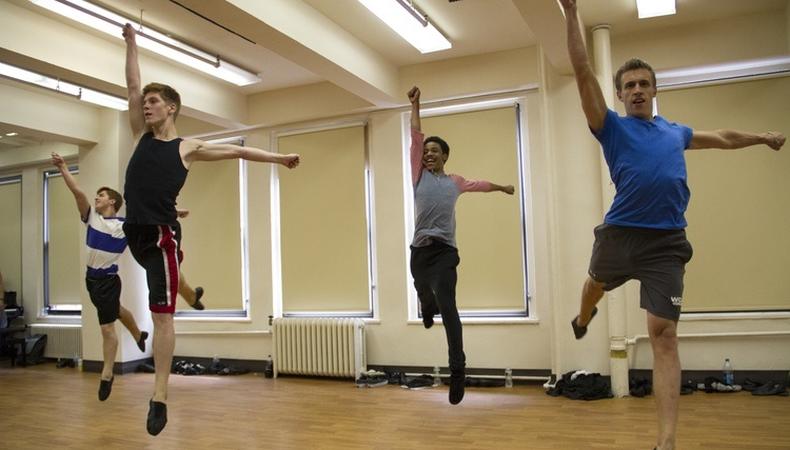 At the top of "Newsies," a weary Jack Kelly laments his New York life, and his faithful friend Crutchie argues, "But everyone wants
to come to New York!" While Kelly may not agree—at least initially—70 actors flocked to the Big Apple last week, gunning for their shot to be in the show.
"We've sort of exhausted our resources here in New York, so we have to go outside the city," said director Jeff Calhoun. "The bar has been set so high with the caliber of boys we had the first time that we have to maintain that degree of excellence. It's 
not just looking for people that are ready to open on Broadway today, but it's also helping groom the people for the future."
The auditions at Pearl Studios July 10 were the culmination of
a nine-city tour in search of the next members of the "Newsies" ensemble—whether on Broadway or in any future incarnations
of the show. Telsey + Company casting director Justin Huff
and associate choreographer 
Lou Castro saw about 350 male dancers and invited 70 to come to New York and perform for the original creative team.
"This is my first New York audition ever, and my first real professional audition," said Marco Ramos, 23, who first auditioned in Santa Clara, Calif. Other cities were Greenville, N.C.; Phoenix, Atlanta, Boston, Philadelphia, Denver, Louisville, Ky., and Meadowlands, N.J. "Just being in the room alone is really exciting."
That excitement permeated the room as 36 of the original 70 dancers—32 of whom are non- Equity—participated in final callbacks. "I always insist on seeing nonunion performers," said Calhoun. "How else are you going to find the next Jeremy Jordan?"
The performers learned the "Seize the Day" dance break and also showcased their tumbling, tapping, and singing skills. "The requirements for the newsies are the most stringent choreography on Broadway," said Calhoun.
That doesn't mean there aren't dancers out there. Choreographer Christopher Gattelli, who won a Tony for his work, said that at first, he was surprised by the level of talent out there.
"When we were making up the first combination, I put in a double tour, which is a very hard jump-turn for a male to do," he explained. "I put it in the combination because I was like, 'Well, let me see where the caliber is.' All these boys kept coming in, and they were nailing it."
Calhoun admitted he watched the boys on the sidelines,
"when they don't know they're being watched," to see what kind of team players they were. According to DeMarius R. Copes, 19, the environment was nothing but supportive.
"Some auditions, everybody's like, 'Forget you. Screw you. We're not friends. I want the
job. I'll punch you in the face,' " said Copes, who auditioned in Atlanta. "But all of these guys are really supportive.... It didn't matter if they'd called me back or not, because I'd already had so much fun."