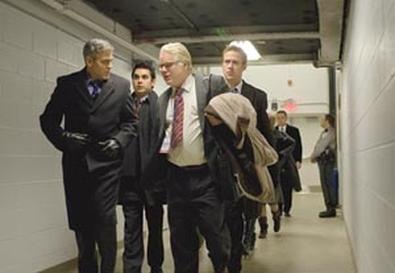 Ellen Chenoweth's first feature film as a casting director was "Diner," a classic ensemble picture of its era, with a cast that included Kevin Bacon, Mickey Rourke, Ellen Barkin, and Paul Reiser, all at or near the dawn of their careers. Since then, Chenoweth has cast some of the most acclaimed films of the last three decades, from "Six Degrees of Separation" to "No Country for Old Men." So how does her most recent—"
The Ides of March
," a George Clooney–directed political drama adapted from Beau Willimon's stage play "Farragut North"—stack up against its forebears? "It's like asking how your children stack up," Chenoweth says. "I'm definitely really proud of this one. I think it's really, really solid. I didn't cringe at all when I saw it, so that's a good sign." How often does she cringe when watching her films? "I can rip myself to shreds, particularly the first time I see something," she says. "It usually takes me about three viewings to kind of calm down. But I actually didn't go through that agony on this one."
Chenoweth didn't have to go through much agony in casting the project, either. At the time Chenoweth came aboard, Ryan Gosling was locked in as the lead, Stephen Meyers, a political staffer for an idealistic presidential candidate played by Clooney. Some supporting parts—Marisa Tomei as a driven political reporter, Evan Rachel Wood as a naive intern—were also already cast. But there was still plenty of work to do for Chenoweth, who worked with Clooney on his three previous directorial efforts and helped bring Philip Seymour Hoffman, Paul Giamatti, and Jeffrey Wright aboard for this one. "One of the great things was that just because [Clooney has] been doing this for a while and acting in so many things over the years, he knows so many actors," Chenoweth says. "So that's a real kind of asset. If you say, 'Oh, that guy who was on some TV show,' chances are he has seen it and probably worked with that person. It just makes my job a lot easier. Also, he has a really good eye for talent and knows what he wants. I find the hardest thing is when a director doesn't know what he wants. But he does, so you just have to zero in on it and help him find it."
Among the roles Chenoweth worked the hardest to cast was Ben Harpen, a young staffer who challenges Meyers. The role went to Max Minghella, but not before plenty of due diligence had been done. "It just became a part that all the young guys wanted," she says. "We had people sending us tapes from Australia, England. Even though we didn't cast them, we definitely saw a lot of interesting young guys."
Chenoweth also cast several supporting roles using local actors in Michigan, where much of the film's principal photography was shot. Because of a tight budget and a busy travel schedule, she reviewed prerecorded auditions from Michigan actors remotely in New York, then passed the best on to Clooney and producer–co-writer Grant Heslov in Los Angeles. Chenoweth credits Michigan's film and television production tax credit program with helping develop a rich community of actors from which she was able to draw. "We definitely had quite a few nice supporting roles come out of Michigan," she says. "I think because of all the production there, I even think people have moved back there from L.A. because there's so much work there. I had worked on [Clint Eastwood's] 'Gran Torino' a few years ago, which was one of the first things there after the big incentive kicked in. I think since then the talent pool has really improved a lot. It's really beefed up."
And with "The Ides of March," Chenoweth has beefed up her résumé—not that it needed it.
Casting Director: Ellen Chenoweth
Director: George Clooney
Writers: George Clooney and Grant Heslov and Beau Willimon, based on the play "Farragut North" by Willimon
Starring: Ryan Gosling, George Clooney, Paul Giamatti, Philip Seymour Hoffman, Evan Rachel Wood, Marisa Tomei, Jeffrey Wright
The Pitch: A young hotshot political staffer (Gosling) gets entangled in the backroom dealing of a high-stakes presidential campaign.

To read Back Stage's complete coverage of Awards Season, please get our FREE SAG Nomination Committee Guide. Or follow all our daily coverage with Back Stage's new online Awards Season section.