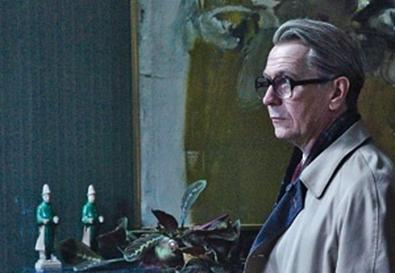 James Bond is glamorous, tech savvy, and catnip to women. George Smiley isn't. Created by John le Carré, this other iconic British spy is brilliant, talented, and deeply responsible, yet life has crushed him. He's now introverted, unprepossessing, and trying to disappear into late-middle-age retirement. And then, a young field agent learns the British intelligence service has a mole—a double agent working for the Soviets—and Smiley is suddenly and secretly called into active service.
Le Carre's mesmerizing novel "
Tinker Tailor Soldier Spy
" (indeed, he wrote a series of Smiley novels) also birthed the BBC's 1979 miniseries starring Alec Guinness as Smiley. And those who thought the casting of those episodes could never be improved upon must think again. In this new version, under the stewardship of director Tomas Alfredson and casting director Jina Jay, the individual actors were flawlessly selected and integrate seamlessly together to create the denizens of Britain's Circus—Le Carré's fictitious secret intelligence service that stands in for what is today known as MI6.
To cast "Tinker Tailor," Jay first explored with Alfredson and producer Robyn Slovo the individual characters and their specific feelings. Then Jay came up with a shortlist of suggestions, accompanied, she says, by "discussions on my favorite ideas for the role." Of the start of casting, she says, " 'Tinker' was a blank canvas from top to bottom. No one was attached, and no one had any agenda other than creatively casting the best possible talent for each role and the best possible ensemble for the world of the story."
Who better than Gary Oldman could create the unlikely hero? Oldman is the actor who can keep roiling emotions under tight wraps, who can make endlessly fascinating the stillness that forms the spine of the plodding George Smiley. Layer in that Smiley is quietly and deeply taking personally the betrayal of himself, of the Circus, and of the West, and Oldman again springs to mind to fit the intellectual and emotional bill.
At Smiley's side every step of this journey is young Peter Guillam—who could grow up to be Bond but meanwhile learns at the foot of the taciturn master. The bright, cool cookie Guillam is assayed by Benedict Cumberbatch, who burns the screen with piercing intelligence and a touch of gentility, and who stands strong against the best of British acting vets. Oh, what vets! The translucent John Hurt plays the man known only as Control—the ailing, pained, kicked-in-the-gut former head of the Circus. Mark Strong is menacingly strong indeed as British spy Jim Prideaux, physically and emotionally crippled by the mole's betrayal of him. The intensely masculine Ciarán Hinds is Roy Bland, the lumbering, workmanlike, chain-smoking head of the Eastern Bloc spies.
Swedish star David Dencik is Toby Esterhase, the Hungarian expat turned British spy, the unwitting courier of the "little sealed packets" containing the information and the misinformation that found their way back to Moscow. Kathy Burke is Connie Sachs, former devoted head of Research, who spent her life collecting and memorizing data in the pre-computer days and who is now called upon to regurgitate facts about a certain Russian living in London. The multihyphenate, ridiculously capable Simon McBurney is Oliver Lacon, the beleaguered member of the Cabinet Office. Cherished for his comedic chops, Toby Jones is Percy Alleline, the blinkered new head of the Circus. Tom Hardy is the fearlessly swaggering Ricki Tarr, who first hears of the mole's existence from a Russian spy with whom Tarr trysts. Add in the dishy, gentlemanly Colin Firth to play blithe Bill Haydon—the golden boy of Oxford University days and of the Circus, the jolly jokester, handsome enough to tempt Smiley's wife—and the alchemy of the film's casting is complete.
Jay says of her process for casting, "I read a screenplay and tend not to think of specific actors until after spending time with the director, listening to their interpretation of material and absorbing the world of the film they wish to make. Occasionally when I read material, my thoughts are dominated by a specific actor or actors, but until I fully appreciate what the director is trying to achieve, those initial responses may fall away." Of course Jay attends theater and cinema to observe actors, but, she says, "Watching plays and film feeds my brain: I love theater and cinema, and watching a beautiful production becomes a gift imprinted on my memory.
"To a certain extent, we started by talking about the actors whose work we most admired on film and onstage," Jay says of casting "Tinker Tailor." "It's an ensemble piece, so each and every actor not only needed to work for a specific role but also with each other. Tomas has this extraordinary facility to cut to the heart of an actor's soul—distill the essential elements and what potentially makes them so unique onscreen. He searches for what has not been seen before, a new collaboration."
Alfredson has said, "When Gary was suggested for the role, the reaction was 'Perfect!' Just look at this actor's career and how many characters he's played. Gary has all the star quality, yet he is also a chameleon; he doesn't have this voice that you would recognize through a wall."
According to Jay, she, Alfredson, and Slovo discussed Oldman's work, as an actor and as a film director—Oldman, after all, helmed (and wrote) "Nil by Mouth," which starred Burke and which probably enabled Oldman and Burke to spark the decades-long mutual admiration felt by Smiley and Sachs. Firth, says Jay, seemed the "immediate counterpoint" to Oldman's Smiley. As for the remaining roles, says Jay, "With each and every actor, Tomas and I worked closely together to build the Circus personnel. No one read for their part. Tomas simply viewed their previous work, and the 'interview' was simply a cup of tea with Tomas.
"Working on 'Tinker' with Tomas and Robyn was a joy, and I shall always feel blessed," says Jay. Because of the bleak story line, the experience of seeing "Tinker Tailor Soldier Spy" can't quite be described as a joy, but it can be described as a thrilling, simultaneously crushing and inspiring experience, helped immeasurably by the film's superb casting.
Casting Director: Jina Jay
Director: Tomas Alfredson
Writers: Bridget O'Connor and Peter Straughan, based on the novel by John le Carré
Starring: Gary Oldman, Colin Firth, Tom Hardy, John Hurt, Toby Jones, Mark Strong, Benedict Cumberbatch, Ciarán Hinds, David Dencik, Kathy Burke
The Pitch: The British secret intelligence service discovers it has for years been infiltrated by the Soviets through a double agent and calls upon the retired George Smiley (Oldman) to "do whatever is necessary" to identify him.To read Back Stage's complete coverage of Awards Season, please get our FREE SAG Nomination Committee Guide. Or follow all our daily coverage with Back Stage's new online Awards Season section.