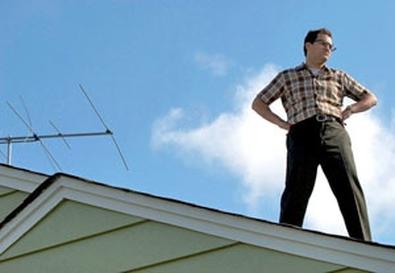 "A Serious Man" posed a serious, and welcome, challenge for Joel and Ethan Coen's longtime casting director, Ellen Chenoweth, and her partner on this project, Rachel Tenner, who had served as casting associate on the Coen brothers' last four projects. "They made it clear from the beginning that they didn't want anybody recognizable in the movie," says the L.A.-based Tenner of her bosses' directive.
"They just wanted the story to tell itself, and they wanted to be a little under the radar with the cast and not have that stand out as 'known' people. That was definitely our mission. And they were lucky enough to be able to make it without any big names attached," adds the New York–based Chenoweth, who in addition to working on seven pictures with the Coens has worked multiple times with such notable directors as Clint Eastwood, George Clooney, Tony Gilroy, and James L. Brooks. For "A Serious Man," Chenoweth concentrated on the East Coast talent pool while Tenner auditioned actors in L.A., Chicago, and Minneapolis, where the film was shot.
Finding the right leading man to play Larry Gopnick, an Everyman down on his luck, was not an easy task, according to Chenoweth: "It was tricky to get a guy of that age to carry a movie who's not a movie star. There wasn't an obvious candidate for it. So it definitely took some digging."
The Coens eventually selected Michael Stuhlbarg, a relative unknown in the film world but a respected Tony-nominated stage actor. Says Chenoweth, "I had seen Michael in a lot of things, but I think I first realized his true genius when I saw him in 'Pillowman' on Broadway and he played Billy Crudup's mentally challenged brother. He was brilliant. I started having him in for everything, and I made him do a regular audition, and then I would make him do that audition as the guy in 'Pillowman,' including when I had him in for the lead when I was working briefly on the John Adams HBO miniseries. He's one of the most inventive, transformative actors I know."
Many other roles in "A Serious Man," including Larry's wife and teenage children, went to local talent in Minneapolis. All the kids in the film were cast from an open call that drew 600 children. None of the kids, except for one, had professional experience prior to being hired, according to Tenner. For Larry's wife, Judith, the Coens tapped Sari Lennick, who had earned her MFA in acting from the Actors Studio at the New School and had been pursuing her career in New York when her husband had to relocate to Minneapolis. Lucky for Lennick, she was in the Midwest when the Coens came to town.
Tenner entrenched herself in the Minneapolis talent pool, getting familiar with clients at the local agencies and attending functions within Minneapolis' Jewish community. Says Tenner of her time in Minneapolis, "They have a great talent pool there. They have the Guthrie. They have a really rich theater community. I just didn't think we would be able to find so many of the roles. I thought we'd still have to import."
There are a few recognizable "imports": Richard Kind as the off-kilter Uncle Arthur, Adam Arkin as Larry's lawyer, Fyvush Finkle as the prologue's "Dybbuk," and Fred Melamed, who has appeared in numerous Woody Allen films, as cool-cat wife-stealer Sy Abelman. There are also a couple of "repeat customers," as Chenoweth refers to alumni of Coen brothers movies: Katherine Borowitz ("The Man Who Wasn't There") as Larry's friend at the park, and Stephen Park ("Fargo") as the father of a disgruntled student.
As for what the Coens appreciate in actors, Chenoweth admits that's difficult to sum up, but a few things stand out. "They like a kind of dry delivery. And they like a good face. Sometimes they'll say that an actor 'made a meal of that,' meaning that a little too much was done with it, a little more than they like," says the CD, who is currently casting the Coens' remake of "True Grit," which she reveals will have a few name actors but, like "A Serious Man," offers opportunity for lesser-known talent, including a role for a 13-year-old girl and lots of "cowboy types."
Casting Directors: Ellen Chenoweth and Rachel Tenner
Writer-Directors: Joel Coen and Ethan Coen
Starring: Michael Stuhlbarg, Richard Kind, Fred Melamed, Sari Lennick, Aaron Wolff, Adam Arkin
The Pitch: Set in the 1960s in a Midwestern, Jewish suburb, the story follows the adventures and travails of Larry Gopnick (Stuhlbarg), a physics professor and family man, who suddenly finds his stable, albeit mundane, life uprooted.