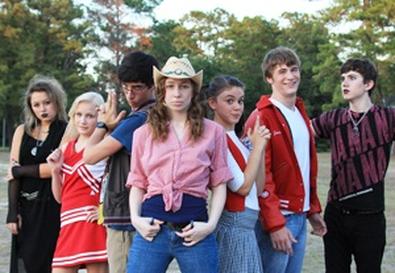 After premiering in New York in 2011, a new high school musical is moving from the stage to the screen.
Houston-based radio personality and singer-songwriter Chance McClain wrote the book, music, and lyrics for "
Kissless
," an original musical about an awkward misfit who is forced to live with a jock and his quirky family over summer break. An inconvenient love develops, threatening the rigid social structure of Forest Glen High School.
According to a statement from the producers, "A professional regional production of the new musical will be filmed at a secret location during the summer of 2012. Through an exclusive and innovative arrangement with Chat Productions, a nationwide search for the cast of 'Kissless' kicks off in April. The cast of 15 will descend upon a small town for four weeks of rehearsing, recording, and relaxing and then Hollywood professionals will film the show before a live audience."
The
world premiere of "Kissless"
at the 2011 New York Musical Theatre Festival featured a cast of Texas teens from the Houston Family Arts Center (HFAC) Actors Academy. (It was the first time in NYMF history that a theater in Houston performed in the festival, and "Kissless" was the only full production in the 2011 NYMF that was not cast in New York with professional actors.) In a
NYMF Q&A
last fall, McClain described the show as a "sneaky, tricky, clique-centric, John Hughes-esque teen comedy that somehow meets Aristotle's criteria for a Greek tragedy."
The new production is casting teens and adults to play high school students and their parents. The cast of characters includes "Abercrombie jocks, misfit Goths, brainy nerds, and backwards rednecks." A more detailed
breakdown is available online
, where each character is compared with both a Broadway type and a character from a John Hughes film. Minors are welcome to apply for teen roles, but they "will be treated as adults and are expected to behave as adults" if cast.
Auditions will be held by appointment only on Thursday, April 26 and Friday, April 27 in New York City. For more information and to schedule an audition appointment,
view the full casting notice on BackStage.com
. (Subscription required.) The deadline for submissions is Thursday, April 19. Auditions will also be held in Houston in early May, and video auditions will be accepted from performers nationwide.