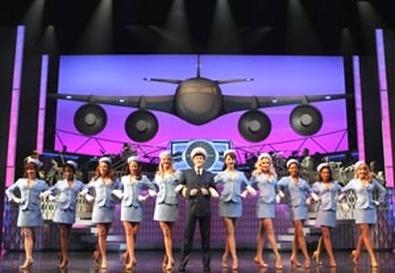 Buried somewhere under all the 1960s TV variety-show flash and trash, there's an interesting story struggling to get out in the new musical "Catch Me If You Can." Unfortunately, the show's creators, much like its teenage con man anti-hero, seem fixated on surfaces. Particularly damaging is that those excellent "Hairspray" songwriters, Marc Shaiman and Scott Wittman, whose idea this was, have found no compelling reason for these characters to sing. The result is a busy, empty, by-the-numbers musical comedy that has to rank as the Broadway season's biggest disappointment to date.
Based on Steven Spielberg's 2002 film, the show tells the real-life story of 16-year-old Frank Abagnale Jr., who fled a broken suburban home to live off his wits in New York City. Young Frank successfully impersonated an airline pilot, a doctor, and a lawyer while passing more than $2 million worth of bad checks before he was finally caught by FBI agent Carl Hanratty after a three-year chase.
We're in trouble right away. Beginning with Frank's capture in an airport, the authors allow him to strike a ludicrously unbelievable bargain with Hanratty: telling his story to the bystanders. Frank quickly conjures the trappings of a 1960s TV variety show, complete with sexy dancers and an onstage orchestra. There's nothing organic about the conceit, which only distances us from the characters. Indeed, book writer Terrence McNally (who reportedly had unbilled assistance from "Next to Normal" scribe Brian Yorkey) drops it whenever it's inconvenient, such as for scenes to which Frank could not have been privy. Mostly what it does is allow Shaiman and Wittman to pastiche the music of the period, particularly the swinging kind of macho pop that was the stock-in-trade of singers like Dean Martin and Frank Sinatra. In keeping with that oeuvre, the songs are emotionally shallow and mostly confined to a single idea, which is death to the furtherance of plot or the exploration of character.
When Shaiman and Wittman do dig in and write a character-based book song, they get it wrong. The quiet first-act closer, "My Favorite Time of Year," is shared by Frank and Hanratty after the lonely young man telephones to "apologize" to his Javert on Christmas Eve. Frank drives the scene, but it's Hanratty, also lonely, who begins the song. It's unbelievable. Frank's need for company is greater than the detective's. If Hanratty is to sing first, it should come out of his desire to keep Frank on the phone as long as possible in order to glean more info about him, not his loneliness.
Under Jack O'Brien's impersonal direction, the talented cast works hard to make an impression. As Frank, Aaron Tveit has stage presence, sings powerfully, and dances with pizzazz, but he's unpersuasive as a teenager and misses the character's vulnerability. The role of Hanratty has been retooled to fit Norbert Leo Butz's wonderfully shlumpy eccentricity, and the actor brings all his formidable musical comedy skills to bear on it, but even the heroic Butz can't transcend the synthetic material. As Frank's downward-spiraling father, Tom Wopat sounds the evening's sole notes of genuine humanity but can't finesse a final exit of extreme bathos. In the too little, too late role of Brenda, a young nurse Frank falls for, Kerry Butler offers her trademark ditziness and is saddled with the painfully pointless "Fly, Fly Away," a misguided attempt at a late
Act 2 showstopper.
David Rockwell's two-dimensional cutout set, lit stridently by Kenneth Posner, relies awkwardly on downstage trapdoors and places the orchestra on a constantly moving platform that crimps Jerry Mitchell's choreographic style. On the surface, everybody seems to be on the same page: a show for the tired businessman. But I have a hunch that even undemanding audiences will feel vaguely unsatisfied with "Catch Me If You Can," because it keeps pretending to be more than that.
Presented by Margo Lion, Hal Luftig, Stacey Mindich, Yasuhiro Kawana, Scott & Brian Zellinger, the Rialto Group, the Araca Group, Michael Watt, Barbara & Buddy Freitag, Jay & Cindy Gutterman/Pittsburgh CLO, Elizabeth Williams, Johnny Roscoe Productions/Van Dean, Fakston Productions/Soshay Productions, Patty Baker/Richard Winkler, Nederlander Productions, and Warren Trepp, in association with Remmel T. Dickinson, Paula Herold/Kate Lear, Stephanie P. McClelland, Jamie deRoy, Barry Feirstein, Rainerio J. Reyes, Rodney Rigby, Loraine Boyle, Amuse Inc., Joseph & Matthew Deitch/Cathy Chernoff, Joan Stein/Jon Murray, and the 5th Avenue Theatre, at the Neil Simon Theatre, 250 W. 52nd St., NYC. Opened April 10 for an open run. Tue., 7 p.m.; Wed.–Sat., 8 p.m.; Wed. and Sat., 2 p.m.; Sun., 3 p.m. (877) 250-2929 or www.ticketmaster.com. Casting by Telsey + Company.