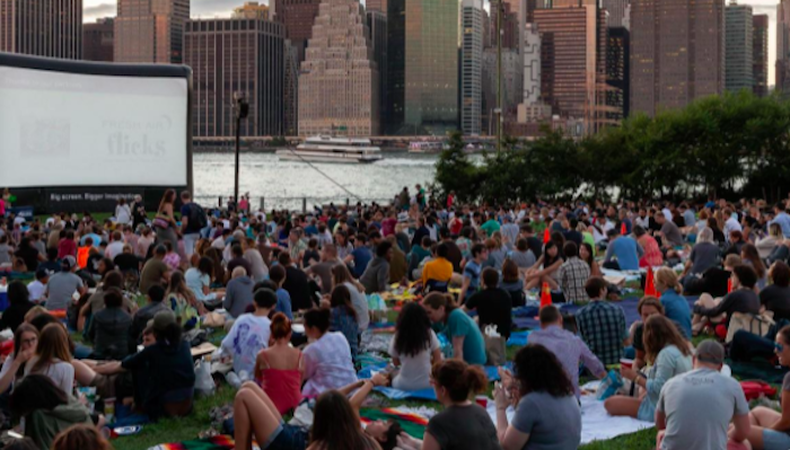 New York is the city that never sleeps, and with so many events and activities each week across all five boroughs, it can be hard to know what's actually worthwhile. Here are the events New York City actors should have on their radars this week.
"Movies With a View" returns with a female gaze.
Movies With a View, the annual outdoor screening series, returns to Brooklyn Bridge Park beginning July 12, with a decidedly 2018 point of view. More specifically, every film selected for the series will be directed by a woman, beginning with the Susan Seidelman-helmed "Desperately Seeking Susan." Ongoing through Aug. 30 every Thursday evening, other flicks include "Paris Is Burning," "Bend it Like Beckham," and "Wonder Woman." (Free)
Spend Thursday in the park with Broadway.
There is but one time of year during which Broadway and the outdoors come together and it's back beginning July 12. Broadway in Bryant Park, which annually lures performers from some of the biggest currently-running Broadway shows to the Midtown park for free concerts, kicks off with "Chicago," "SpongeBob SquarePants," and "Waitress." Performances will take place every Thursday afternoon through Aug. 16 and feature the likes of "Come From Away," "The Band's Visit," "Frozen," "Wicked," and more. (Free)
Cool off with the Met's Shady Ladies.
Allow the Metropolitan Museum of Art to shield you from the scorching summer sun with shade—in both the figurative and literal senses. The Met's "Shady Ladies Tour" walks visitors through many of the museum's most scandal-prone, feisty women lining its walls, breaking down the person inside the persona. The two-hour tour will cover women from the first-ever female subject of a nude statue in ancient Greece to a Venetian courtesan who gained acclaim for publishing books of poetry and so many more. You can catch the tour on July 8, as well as every following Sunday afternoon through Aug. 12. (Tickets start at $39)
Katharine McPhee will sing for her supper.
Well, more accurately, you can have your supper while Kat McPhee sings. The "American Idol" runner-up and current "Waitress" star will descend to the Feinstein's/54 Below stage on July 9 for back-by-popular-demand Charlie Rosen's Broadway Big Band. Also on hand to croon with the 17-piece jazz band will be "Summer" Tony nominee Ariana DeBose, "Bright Star" alum Hannah Elless, and Gerard Canonico of Off-Broadway's upcoming "Be More Chill." (Tickets start at $35)
Relax among the stars with Molly Shannon.
Fresh off its SXSW run, the dramatic comedy "Wild Nights With Emily" will be the selected feature for the July 12 installment of Rooftop Films. The film, which stars SNL alum Molly Shannon as Emily Dickinson (yes, really), will be screened at Greenwood Cemetery. The screening will also be followed by an after-party sponsored by Kettle One Vodka, as Ms. Dickinson would have intended, probably. ($16)
Looking for your next gig? Check out Backstage's NYC audition listings!