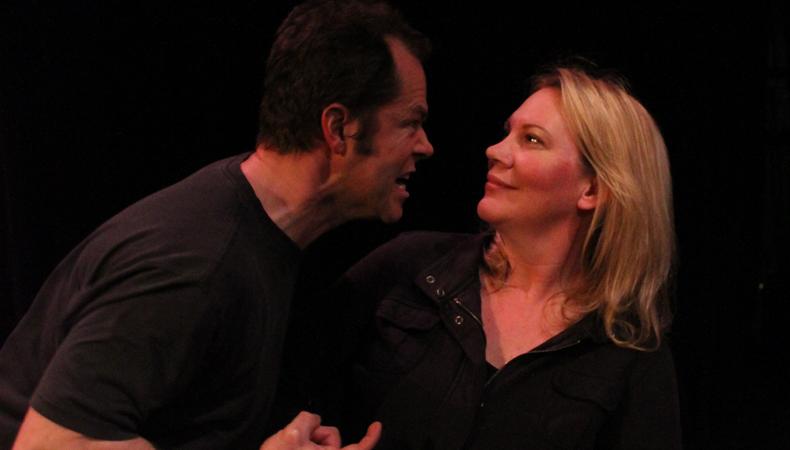 "Catching the Butcher," Adam Seidel's dark look at the inner life of a serial killer, goes where most playwrights wouldn't take such a subject—into black-comedy territory. It's a daring approach, but Seidel largely pulls it off.
The playwright succeeds by formulating a mutual relationship, at first entirely unexpected, between Bill (Derek Long), "The Butcher of Harbor Park," who has so far killed 11 women in several small Texas towns, and Nancy (Karen Wray), his latest victim. The first surprise hits Bill (and us) when Nancy, after having been abducted, held in his basement, and prepared for a gruesome death, shows no fear. After calmly interviewing the killer, she reveals that she's been following his exploits through the newspapers and has always wanted to meet him. After he inflicts a serious wound to her hand, then dresses it and sets her free, Nancy doesn't want to leave. She accurately psychoanalyzes him, lets on that she has "nothing left to lose" in a so far eventless and disappointing life, and declares her love for him. An intimate relationship develops through Nancy's tugging at the terse, reluctant Bill, and in short order they're playing house and having petty squabbles, just like any long-married couple. Seidel throws us several more curves before his two troubled souls regress into the personalities and behavior patterns that have gotten them this far.
Seidel's dialogue is often brilliant, and his script is skillfully funny but not frivolous, raising questions about emotions, addictions, self-image, fate, destiny, and the nature of romance and love. Director Chrisanne Blankenship-Billings brings out two distinct tones: the cold darkness of the opening and closing sections and the lighter, more satirical feel of the middle scenes, in which the couple attempt to live the "normal" existence of wedlock. As the psychotic Bill, who uses his medical knowledge and training as a doctor to inflict maximum pain upon his victims, Long creates an almost schizophrenic persona. His murderer moves slowly and deliberately and is animalistic in a simian way, speaking in a low growl. His typical spouse is overly solicitous of Nancy while also a parody of cheerful husbands of 1950s TV, comically characterized by the sappy daily greeting "Honey, I'm home!" Wray's performance is more consistent throughout and also more layered, encompassing a calm, sweet sadness tempered by a genuinely inquisitive nature, a brutal honesty, and an assertiveness when her new existence as a wife begins to devolve into drudgery. In a couple of brief scenes, Rebecca Taylor paints a garrulous neighbor whose curiosity about the couple next door triggers the downfall of their new relationship.
The production's technical and visual elements are minimalist, putting the focus on the performances and script. Pete Taylor's lighting gives Long a sinister look in the early scenes and a brighter, flatter appearance in the domestic ones, while his minimal set curiously uses only the area in front of the curtain.
"Catching the Butcher" is a striking piece of work, marking Seidel as an up-and-coming playwright to watch.
Presented by Panndora Productions and Long Beach Playhouse at Long Beach Playhouse, 5021 E. Anaheim St., Long Beach. Feb. 8–24. (562) 494-1014, www.lbplayhouse.org, or www.panndoraproductions.com.
Critic's Score: A-