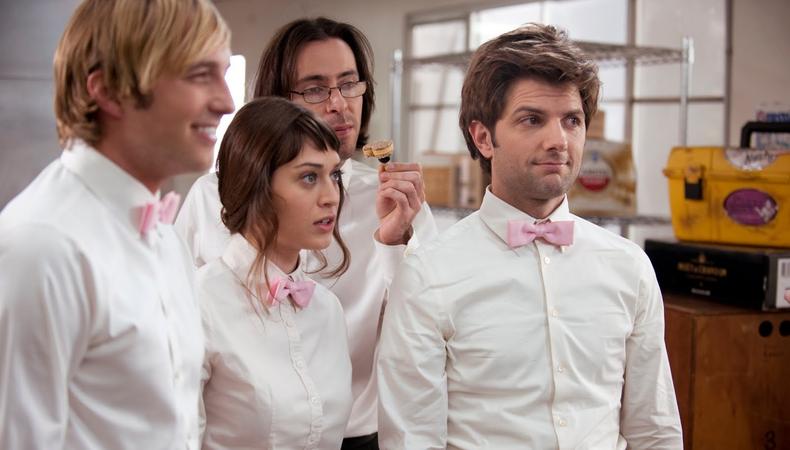 It's survival jobs week here at Backstage and you basically can't hear, say, or think the phrase without immediately shifting to catering. Catering gigs have been around since long before the digital boom and will surely outlast this and whatever eras come next. These are some of the best catering companies that all L.A. talent should keep in their back pocket, on hand for when they're needed.
The Party Staff Inc.
Where: Hollywood
The appeal: Established in 1989, the Party Staff has opportunities for cater-waiters as well bartenders and cooks, and services corporate events, residential parties, and more. Pay rates are "industry competitive" with gratuity provided on some events. The company prides itself on its wealth of "flexible, part-time income, and the opportunity to work fun and exciting special events."
Legends Hospitality
Where: Culver City
The appeal: At the precipice of where hospitality meets sports is Legends Hospitality, an award-winning food, beverage, and catering company that has serviced some of the most iconic venues in sports. The company's mission is simplified as the following: "From concessions to intimate special events, a farm-to-table, hospitality artisan culture drives our careful service of amazing flavors to each and every guest... And it all starts with our incredible employees."
Compass Group
Where: Hollywood
The appeal: Compass Group is the world's sixth-largest employer in the food industry and, as such, is omni-hiring. Comprised of a group of smaller companies that serve schools, museums, hospitals, private events, and more, Compass also emphasizes environmental sustainability so you can feel even better about making some extra income while also doing right by Mother Earth.
Patina Catering Group
Where: Pico-Union
The appeal: Patina Restaurant Groups does not mess around, nor does its catering branch. Best known for catering the Emmy Awards' Governor's Ball, the company also services small events all the way down to private dinners. PCG is unsurprisingly fast-paced and requires employees who are able to keep up while maintaining an exceptional eye for fine-pointed detail.
Bay Club
Where: Santa Monica, Manhattan Beach, West Hollywood
The appeal: With multiple locations throughout L.A., the Bay Clubs bill themselves as an escape from the urban bustle of Los Angeles, and expects its staff to uphold an atmosphere that is both organized but laid back. The clubs hold banquets several times throughout the year, providing employment opportunities on an as-you-need-it basis.
Don't miss Backstage's L.A. audition listings!