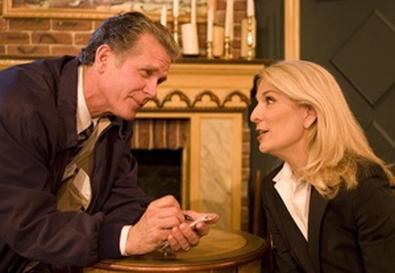 Catherine Russell almost takes in stride that on April 18 she will have starred in Warren Manzi's
"Perfect Crime"
since its first performance 25 years ago. In all that time, she has never taken a sick or vacation day "Though I did take four days off for my brother's and sister's weddings," she admits frankly. For this achievement, Russell has been inducted into the
Guinness Book of World Records.
"A long run is not for everyone," she asserts. "A lot of people get bored with it. But I like stability and I chose a field where there is not a lot of stability. Instinctively, I figured out a way to have it."
Now the longest running play in New York City theater history—and housed at the
Snapple Theater Center
on W. 50th Street, "Perfect Crime"—is a whodunit thriller about Harvard educated psychiatrist Margaret Brent (Russell) who is suspected of killing her British husband. The investigating detective is drawn to Margaret while trying to determine who murdered the husband, if in fact there was a killing at all.
During its historic run—"Crime" opened four months before the Broadway long-run champ "Phantom of the Opera"—Russell has shot 89 different men and kissed 57 others; more than 83,000 bullets have been fired onstage; 5,000- plus prop coffee cakes have been eaten; and the show has employed 237 actors.
One thing is for certain. When Russell was growing up in New Canaan, CT, dreaming about a career in theater, she wasn't fantasizing about playing the same role for a quarter of a century. In fact, when "Perfect Crime" was launched as a showcase she says she would have been grateful had the play run 25 performances. But within short order it found investors, moved to a mini-contract, and finally an Off-Broadway run. Along with the crime story's intrinsic appeal, Russell's perfect attendance record became a selling point in two years, subsequently word spread even further as she was featured on talk shows and in popular magazines.
But far more fun than the publicity was the opportunity to make each performance different, Russell says. It became a self-imposed challenge and wholly doable thanks to the evolving casts, audiences, and her own maturity.
"I was a little young for the role when I started," Russell reflects. "I was callow. Now 25 years later, I'm more mature and I hope my performance is deeper. I hope the sad moments at the end are infused with more than they were 25 years ago. I do not change the lines, but I incorporate into my performance what I felt during the day, what has inspired me.
"I've learned to act during this play," she continues. "I learned about stamina, timing, and using the energy you get from an audience without looking at them. It's ephemeral. You don't learn that in a classroom. Nor do you learn what it's like to be comfortable enough on stage so that the character can emerge. For me, knowing that I've had a job eight nights a week has been very freeing creatively."
Wearing Many Hats
"Perfect Crime" is only one of Russell's gigs. She teaches acting at NYU and English at Baruch College; and is an impressive entrepreneur. When the venue that previously housed "Perfect Crime" was sold and the play found itself homeless, Russell built a new theater for the play in a former beauty school and is now a 20,000-square foot entertainment complex, housing two state-of-the-art theaters and two large rehearsal studios. One theater presents "Crime" while the other plays hosts to the latest production of the world's longest running musical, "The Fantasticks." Russell singlehandedly secured a sponsorship deal from a well-known beverage company, making the Snapple Theater Center the first corporate sponsored Off-Broadway theater in history.
Russell serves as general manager, company manager, casting director, and emergency repair woman for "Crime" and "Fantasticks" and can often be seen in the box office five minutes before she has to go onstage. "There is no preparation for my performance," she says. "I just jump into character and go on."
Russell continues to be fascinated by the play's longevity and the demographics of its audience. "We attract tourists, people from the tri-state area, and often blue-collar people," she notes. "I know this is the first play some people have seen. We offer affordable tickets and that's appealing in this economy. I also get school teachers because they know I'm a teacher and they relate to me and my work ethic. I love that."
Still, one wonders what roles she's lost because of "Perfect Crime." Russell states she's appeared in several films during the days and a few plays on her nights off or after hours. Interestingly, her role in "Perfect Crime" has paved the way for her getting other offers. "People are curious about me," she says.
At the moment she has no intention of leaving the show, admitting that when she had her first night off in 20 years because of the recent hurricane, it was bizarre and she was not quite sure how to handle it.
"Perfect Crime" is playing at the Snapple Theater Center, 210 W. 50th St., NYC. Box office: 212-921-7862 or 212-307-4100 www.ticketmaster.com

Outtakes
—Is planning to build several new Off-Broadway theaters in Times Square so that producers of commercial Off-Broadway shows will have more options and opportunities.
—Her venture, The Clementine Company is named after her late dog, a lab/shepherd mutt, who accompanied Russell to the theater every night until the animal's death in 2002.