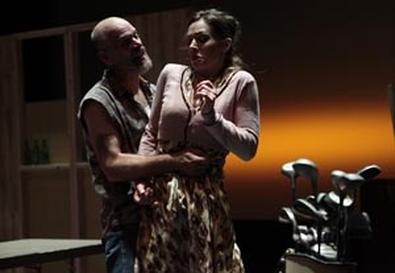 A disturbingly dirty redrafting of the 1888 August Strindberg tragedy "Miss Julie," "Cattywampus" is an unsettling yet riveting look at the combustive power of sexual heat fueled by social-class differences and psychological instability. However, while the Strindberg classic is driven by the manipulative qualities of its complex upper-crust title character, in "Cattywampus," as written and directed by Robert Cucuzza, the spotlight shifts to Donnie, her low-class conquest.
Updated to the present, overloaded with crude language, and relocated to a Pittsburgh car dealership's going-out-of-business party, the play follows the tempestuous seduction of detailer Donnie by his boss's wife, Julie, who ultimately comes to a horrific end. But as Julie is unpersuasively portrayed in a bland, stiff, prim, and emotionally superficial performance by Jillian Lauren, the production derives its lifeblood from D.J. Mendel's tour de force turn as the gritty blue-collar worker.
While Cucuzza's astute dialogue captures the rhythms, idioms, and uneducated syntax of Donnie's working-class speech in a fashion that is both frighteningly real and entertainingly comic, Mendel's alarming physicality, exploding with rough, sudden moves, fleshes out the role with raw brilliance. Underneath Donnie's brutish exterior lie a common-sense intelligence and moral awareness that are captivatingly revealed through Mendel's nuanced acting and Cucuzza's shrewd direction. By the end of the show, we both abhor and respect Donnie, yet we have little concern for or interest in Julie's tragic fate.
Aiding immeasurably in conveying the play's dramatic essence is the eerie, often foreboding country-rock music that plays almost like underscoring throughout much of the 70-minute show. Composed for electric guitar and synthesizer by Juli Crockett with Michael Feldman and played live by Jacob Loeb and Mike Iveson under the musical direction of Loeb, the atmospheric score is terrifically chilling, particularly during the play's key offstage sex scene, when an exciting musical passage assumes the storytelling responsibilities.
Also integral to the show's theatrical force are Jenny Greer's sympathetic performance as Donnie's downtrodden fiancee and brief dance interludes choreographed by Jordana Che Toback, in which Mendel clogs, jitterbugs, and slow dances with convincing spontaneity and emotionality.
Presented by Incubator Arts Project as part of Other Forces at St. Mark's Church in-the-Bowery, 131 E. 10th St., NYC. Jan. 5–21. Tue., Thu.–Sun., 8 p.m. (No performance Tue., Jan. 10.) (212) 352-3101, (866) 811-4111, www.theatermania.com, or www.incubatorarts.org.