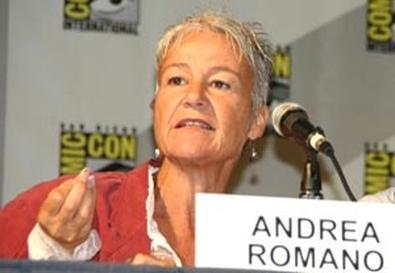 More than likely, Andrea Romano is responsible for some of your fondest childhood memories -- even though you've probably never heard of her or seen her face. Her impressive list of voiceover casting and directing credits reads like the 1980s and '90s inductees of a hypothetical Saturday morning cartoon Hall of Fame.
Romano has worked behind the scenes as a voiceover casting director and voice director for hit animated fare as varied as Hanna-Barbera cartoons,
The Smurfs, Batman
:
The Animated Series, Tiny Toon Adventures, Animaniacs, Avatar
:
The Last Airbender, The Boondocks
, and more. In a career spanning 25 years, Romano has 18 Emmy nominations and six wins. Most recently, Romano has cast and directed the voiceover work for Warner Bros.' series of successful direct-to-video titles based on popular DC Comics superhero properties, including
Batman
and
Wonder Woman
.
The latest,
Green Lantern
:
First Flight
, will be released July 28 and features the voice talents of Christopher Meloni (
Law & Order
:
Special Victims Unit
) and Victor Garber (
Alias, Milk
) as hero Hal Jordan and villain Sinestro, respectively, as well as Michael Madsen, John Larroquette, and Kurtwood Smith. (A
Wonder Woman
DVD, released earlier this year, stars Keri Russell as the titualr heroine, with Nathan Fillion, Alfred Molina, Rosario Dawson, and Virginia Madsen rounding out the cast).
Romano is currently attending the annual Comic-Con International: San Diego, where she will host panels and present screenings of
Green Lantern
:
First Flight
, as well as a special all-musical episode of the new WB animated series
Batman
:
The Brave and the Bold
(with Neil Patrick Harris providing the voice of the villain the "Musical Meister").
Blog Stage had the chance to speak with Romano before her appearances at Comic-Con.
READ Q&A WITH ROMANO ON BLOG STAGE