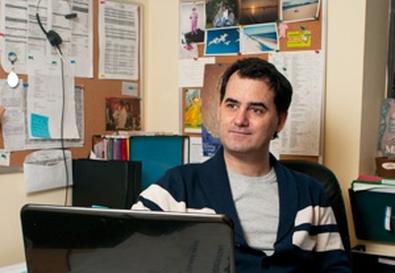 "Actors are artists," says New York casting director David Caparelliotis, who is also a former actor. "You have to understand how hard and intense it is, and you have to respect the talent. There are times when you're sitting and watching an audition, when you go, 'I fucking love actors. I love what I do.'" He adds that his career as a casting director has given him "an amazing opportunity to bring a group of artists together with the same goal" for every Broadway, Off-Broadway, or regional theater project he works on.

Caparelliotis cast the Broadway productions of "Fences" with Denzel Washington, "The House of Blue Leaves" with Ben Stiller and Edie Falco, and "Bengal Tiger at the Baghdad Zoo" with Robin Williams, as well as the Broadway revival of "Death of a Salesman," starring Philip Seymour Hoffman and Andrew Garfield.

Backstage asked Caparelliotis about putting big names on Broadway, why he loves casting regional productions, and how actors can get to know more casting directors.

What are the pros and cons of "name" casting on Broadway?
Getting plays produced, in a lot of cases, is predicated on getting a star. It's a risk to put a play on Broadway now. I didn't cast "How to Succeed in Business," but Daniel Radcliffe employed a lot of actors for a year, and that's amazing. I'm not saying necessarily that's a negative thing.

But I find the more I'm doing this, the more satisfaction I get from smaller theater companies and regional theater companies, because it's casting in its purest form. I just cast "Long Day's Journey Into Night" for the Arena [Stage in Washington, D.C.]. There was no discussion of bringing in names. I got to bring in 20 to 25 of the best male actors between ages 25 and 32, and that's my dream. I could not be happier. I love casting the Broadway stuff, totally enjoy it, but I love being able to bring in 20 guys that I think are just fantastic, and who are going to rise or fall on their own merit. That becomes more rewarding to me. The luster of the job or the venue doesn't matter as much to me anymore.

How else is casting for regional theater different from Broadway?
The director's not going to be familiar with the actors' work. That is when a casting director really becomes important. I've seen the majority of the actors' work in New York, because I see theater four or five times a week. These directors that are coming in from the Stratford Festival, or Chicago, or wherever they're coming in from, are only going to see what the actor's doing in front of them.

Smart actors should really pay attention to the EPAs for the regional theater companies, and they should be going in for those. That is actually going to be where you're going to meet a lot of casting directors. And especially go to the ones that maybe don't seem like the best jobs in the world, because that's the one where you're probably actually going to be seen, especially if you're nonunion.

How else can actors meet more casting directors?
Young talent shouldn't be leapfrogging over the assistants or the interns. They should actually be courting them as much as the casting directors, because 15 years ago I was an intern. I can remember seeing Tony Hale, who was in "Arrested Development," in a shitty little showcase of "The Misanthrope," and I loved him in it. So way before he was famous, there was this crazy dude that I loved, and I called him in before he was famous because I was an intern and saw that thing. You get a little feeling of – not ownership, but you're sort of like, "Cool, I worked and saw that guy in that showcase." After that, I thought he was awesome and I would call him in for two or three years, based on seeing him in that little showcase.

I probably wouldn't go to that showcase now, to be very honest with you. I just don't have enough time anymore. So I am going to send someone else to see it, but that person is going to get as excited about the next Tony Hale as I was then.
Looking for more active advice? Check out this video: