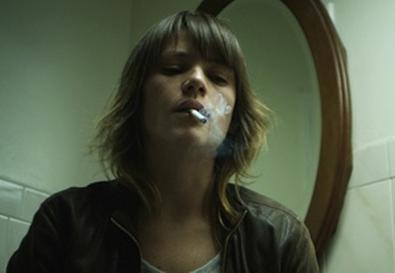 In the darkly comic psychodrama "Nancy, Please," Will Rogers stars as Paul, a PhD candidate at Yale who is struggling to complete his dissertation. But after moving in with his girlfriend Jen (Rebecca Lawrence), Paul realizes that he left his vital copy of Dickens' "Little Dorrit" at his last apartment. He grows increasingly desperate as he tries to retrieve the book, which he needs to finish his thesis, from his casually sinister former roommate, Nancy (Eleonore Hendricks). Rising Broadway star Santino Fontana ("Billy Elliot," "The Importance of Being Earnest") plays Paul's friend Charlie.

"Nancy, Please" is the first feature by writer-director Andrew Semans, a Brooklyn-based filmmaker who graduated from the School of Visual Arts in New York. The world premiere will be held Saturday, April 21 at the Tribeca Film Festival.

"I was of course really thrilled, particularly because it's Tribeca," casting director Rori Bergman says of the film's inclusion at TFF. "To have it premiere here in New York, where the whole team who worked on it can be a part of this next step, is especially exciting."

Bergman has worked as a casting associate on feature films such as "Our Idiot Brother" and "Synecdoche, New York" with Jeanne McCarthy, "I'm Not There" and "Definitely, Maybe" with Laura Rosenthal, and "Tower Heist" and the upcoming "World War Z" with Kathleen Chopin. "I have been ridiculously lucky to work with some of the most wonderful women in casting," she says.

Bergman was also a founding member of the New York Theatre Experiment, where she served as co-executive producer and director of casting for all NYTE productions and programming from 2004 until the end of 2011, when NYTE ceased operations.

Back Stage spoke with Bergman about casting independent films and finding the remarkable cast of newcomers in "Nancy, Please."

Back Stage: What was it like working on a writer-director's first feature film?

Rori Bergman: Andrew is incredibly smart and incredibly astute. He has strong opinions, which was great, because it was much easier to focus the conversation around each role. I loved that when we would talk about the prototype for a role, he would never bring up someone current. His touchstones were all from his favorite classic films from the 1970s, and I'd have to go running home to download whatever movie he had mentioned so I could try to get at the essence of what he was referencing.

Back Stage: Is there a difference between how you approach casting an independent film like "Nancy, Please," versus one with a larger budget and "name" actors?

Bergman: I love working on independent films. Everyone is pulling together for the shared purpose of pushing this boulder up a hill, and when it succeeds, it's incredibly rewarding.

So often the greenlight for a film–whether it's backed independently or by a studio–is "cast contingent," and the level of "name" you get determines the amount of money you're going to have to make the movie. What was amazing about "Nancy, Please" was that there were no mandates for casting at all. It was a really exciting place to start from, and because Andrew is such a fan of his peers' work, he came to the table with a lot of fun, fresh ideas about his favorite up-and-coming actors.

Back Stage: The majority of the cast of "Nancy, Please" has New York theater experience. Did you intentionally begin your search for actors in New York's theater community? How do you typically find new actors for a film?

Bergman: Find me an actor that doesn't have theater experience, and I'll tell you that actor is probably not based in New York. I think it's one of the great, empowering things about being an actor here. There's so much theater, and it really does provide limitless opportunities both large and small for actors to stay creative and plugged in and present. I love going to see a show and seeing a new, exciting face, or seeing someone I've known for years take on a completely unexpected role.


Will Rogers as Paul in "Nancy, Please"


Back Stage: Can you tell us about each of the principal actors in "Nancy, Please," and why they were the best fit for their roles?

Bergman: Will Rogers has long been one of my favorite young actors in New York, and I think as soon as he walked into the room, we knew he'd be Paul. He just has this charmingly earnest quality that allows Paul to be all of these conflicting things at once–desperate, needy, unstable, funny, dark, neurotic—without ever losing his humanity, or the audience's empathy.

Santino Fontana is just deliciously sharp. If you've ever seen him on stage, you know that he's a totally brilliant chameleon. We talked a lot in casting the role of Charlie about how he is an instigator, the kind of guy who likes to stir up trouble just for the fun of seeing what adventure comes out of it. And that's where Santino really excels. I think he finds this great dichotomy in Charlie—the highly intellectual, brilliant guy who is also completely sophomoric, and who acts as the sort of scheming devil on Paul's shoulder, throwing fuel on the fire.

Rebecca Lawrence booked the role of Jen off of a self-taped audition she sent from L.A., and it was just about perfect. She is thoughtful and real and straightforward, and there's an overwhelming underlying compassion that just makes you love her.

Eleonore Hendricks is just a super cool gal, and Andrew always had her in mind for Nancy. She's like Lisbeth Salander and Sissy Spacek wrapped in one fragile, beautiful, dark, messy, fearless, complicated package, and I think Eleonore is really fearless in the character she creates here.

"Nancy, Please" premieres Saturday, April 21 at 9 p.m. as part of Tribeca's World Narrative Competition.



For the full 2012 Tribeca Film Festival schedule and to purchase tickets, visit TribecaFilm.com.