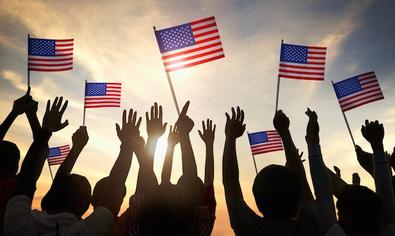 Kick off the holiday weekend with a bit of hopeful audition searching, and take the extra time to help yourself prepare. Here are nine upcoming auditions, including two for cruise lines, a short film, and television series for USA Network and Fox. Have a happy Fourth of July!
"THE FOUNDER"
Producers are seeking background actors based in Atlanta, Ga., for this Michael Keaton and Laura Dern-starring film centered on Ray Kroc, the founder of the fast food chain McDonald's. Some pay will be provided and the production shoots July 8 on location.
"MILLION DOLLAR QUARTET"
Eight actors are being sought to fill the roles for this theatrical production based in Las Vegas, which follows Johnny Cash, Jerry Lee Lewis, Carl Perkins, and Elvis Presley, and the man who discovered them all, Sam Phillips.
"GRACELAND"
Producers are casting background actors for this USA Network drama starring Daniel Sunjata and Manny Montana about undercover police officers living the titular beachside residence. It's a paid position based out of Ft. Lauderdale, Fla.
"THE DIVERGENT SERIES: ALLEGIANT PART 1"
Got a mane of hair worthy of the big screen? Producers are seeking female extras with medium-long length luscious locks to show off in this Shailene Woodley, Ansel Elgort, Naomi Watts-starring sequel film. This Atlanta-based gig is paid and will be shooting July 8.
"LIMBO"
Producers are casting the two leads for this short film shooting tentatively in Berlin, Germany in early September. Centered on a grieving father, the film follows him as he role-plays with his dead daughter's doppelganger, a pay-per-minute webcam worker. The father Danny and his wife Margo are being sought.
"SCREAM QUEENS"
This new Fox series is seeking a photo double based in New Orleans, La., available from July 14 through November. The series, about a slew of college campus murders, stars Jamie Lee Curtis and Emma Roberts.
PRINCESS CRUISE LINES
Open calls for dancers and singers looking to jump onboard with Princess Cruises will be held in Williamsburg, Va., and Seattle, Wash., on July 14 and 17, respectively. Shows on the cruise line's upcoming slate include Broadway's "Wicked" and "Pippin," in addition to "Magic to Do" and "Godspell."
"AMERICAN GRACE"
Two leading roles and three supporting are being sought for a neo-noir feature film shooting out of Toronto, Canada. The film follows the classic disgruntled detective who finds himself in the thick of his city's crime-riddled underbelly while pursuing the disappearance of a young woman. Meals and overnight accommodations will be provided along with a modest daily rate. The film is shooting from Sept. 16–Oct. 8.
Inspired by this post? Check out more of our audition listings!