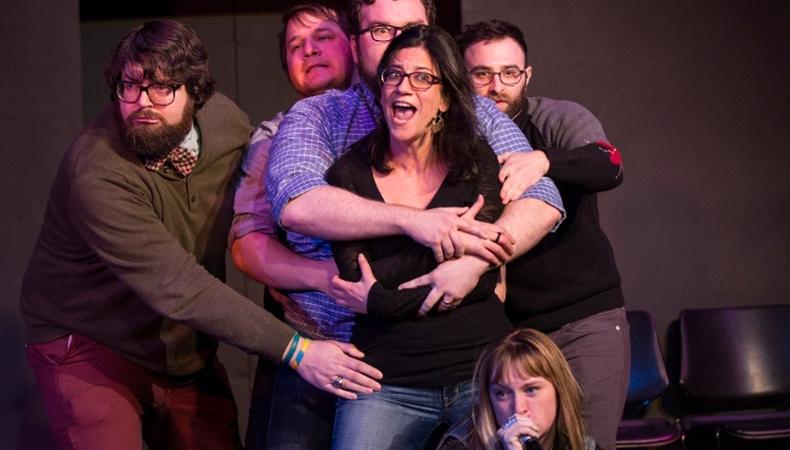 The Peoples Improv Theater will show its LGBTQ pride alongside the rest of New York City come June 26–28. So if you're looking to celebrate Pride Weekend by watching talented comedians, improvisers, and oddballs take the stage, look no further than the first-ever QueerCom.
"We're calling it Pride Weekend's unofficial LGBTQ Comedy Festival, since we don't have any technical affiliation with Pride Weekend," Kevin Laibson, artistic director of the PIT, told Backstage. "It's a three-day festival of all kinds of comedy from all kinds of LGBTQ comedians." There will be straight comedians, too, he adds—"but every act is geared toward highlighting specific queer comics rather than the comedy."
What is queer comedy, exactly? Regardless of how you define the genre, said Laibson, the important thing is that its most active proponents and artists are given their chance to shine. "Everybody else, all the arts scenes, make such a huge cry for that [recognition]," he pointed out. "The Queer Arts Festival, the BC/EFA movement; every other area of performing arts seems ready to say, 'Hey, we're a minority and we want to go out of our way to be celebrated.' "
Although there are plenty of prominent LGBTQ artists who fall under the umbrella of comedy, there has yet to be a specific festival spotlighting that particular community.
Receiving almost 500 applications, Laibson and his team narrowed the festival down to about 50 performances over the three days, from first-time PIT performers to some of the theater's most popular regulars.
Among the highlights of the 2015 schedule will be the premiere and launch party of Web series "Spooners" from comedians Walter Replogle and Ben Lerman; the first solo show of gay comedian Lucas Hazlett; and "The Kennedy Center Honors Rihanna" from musical sketch comedy troupe Pop Roulette.
Jay Malsky will bring his famed impression of the late, great Elaine Stritch to the stage in a cabaret show featuring duets with other LGBTQ actors impersonating music icons, including Amy Winehouse, Lenny Kravitz, and Judy Garland. "I heard Elaine and Judy Garland rehearsing together," said Laibson with a laugh.
Another event of note is a panel of LGBTQ guests moderated by Hazlett that will parody the controversial all-male panel on female birth control. As Laibson said, "We figured it's our business to really address the problems of straight people in comedy by the experts: the gay people in comedy.
"I grew up here and was born in the early '80s so I didn't really know the city before Pride," he added. "Certainly in the last five years it's become such an enormous benchmark. It's a major cultural event and I wanted to make sure that comedy had a place in that.... It's Pride Weekend, goddammit! And I'll be damned if we're not going to be part of it."
For more information on all the fabulous events of QueerCom, visit thepit-nyc.com.
Want a career in comedy? Learn how to refine your comic persona!