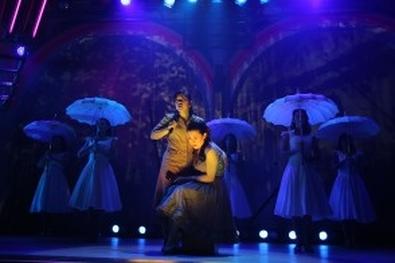 "I hate that Off-Broadway is defined as not Broadway," said Michael Cerveris. "It's just theater." Truth. In fact, the consensus from the theater community is that Off-Broadway is the apex of innovation, groundbreaking performances, and artistic integrity. Actors, producers, and writers alike echoed this sentiment as they flocked to the intimate NYU Skirball Center Sunday night May 4 for the 29th annual Lucille Lortel Awards.
The Lucille Lortel Awards are exclusively a celebration of Off-Broadway theater—unlike the Drama Desk Awards or Outer Critics' Circle Awards, which encompass Off-Broadway and Broadway. This year marks the first year of four additional categories, due to the separation of honors for performers in plays and musicals. Hosted by couple Megan Mullally and Nick Offerman—currently starring together in Off-Broadway's "Annapurna"—the duo deftly kept the evening moving while taking time for some ad-libbed humor. (After a TelePrompTer malfunction, Offerman recited his lines while Mullally covered his eyes, proving he had memorized his script.)
Mullally and Offerman weren't the only jokesters. Steven Boyer won for outstanding lead actor in a play ("Hand to God") and took to singing his thank-yous when the band tried to play him off. Veteran funny man Jeremy Shamos began his acceptance speech for outstanding featured actor in a play ("Dinner With Friends") by addressing his fellow nominees. "I'm proud to be a peer of yours, well, I was. I'm a bit of a notch above now."
"The Open House" walked in with four nods and walked away with the award for outstanding play. Frontrunners "Here Lies Love," "Natasha, Pierre & The Great Comet of 1812" (11 noms each), and "Fun Home" (nine nominations) each took home three awards. Costume designers Clint Ramos ("Here Lies Love") and Paloma Young "Great Comet") even tied for outstanding costume design.
Lucas Steele ("Great Comet") and Judy Kuhn ("Fun Home") won featured actor and featured actress in a musical and Ruthie Ann Miles ("Here Lies Love") and Cerveris ("Fun Home") took home statues for lead actress and actor in a musical. "Fun Home" took home the big prize for outstanding musical, a production as successful among voters as it was with the audiences who converged upon its multiple extensions this past winter.
The "Fun Home" writer and lyricist Lisa Kron also won outstanding featured actress in a play ("Good Person of Szechwan"). The Public Theatre production also took home this year's title for outstanding revival. Alex Timbers earned the title of outstanding director for his immersive theatrical experience "Here Lies Love," also from the Public.
Richard Nelson was inducted to the Playwrights' Sidewalk after nearly 50 years of writing for the theater. In a touching moment, Sarah Paulson presented the lifetime achievement award to acclaimed producer and personal mentor Robyn Goodman. Responsible for such hits as "Avenue Q" and "In the Heights"— both of which began Off-Broadway—Goodman paved the way for new, exciting, and inventive art to reach audiences. As a highlight of the night, original cast members from "Avenue Q" sang a mash-up of the show's theme and a re-write of "It Sucks to Be Me," more aptly sung as "It's Great to Be You"—complete with a Robyn Goodman puppet.
The evening evidenced the quality of theatrical craft singular to the Off-Broadway community. More than ever, actors and creative teams are showing their appreciation for the freedom that Off-Broadway provides by pushing boundaries and creating award-worthy work. As Goodman told Backstage, "We can't lose Off-Broadway. That's where all the seminal work is happening."
Inspired? Check out Backstage's NYC theater auditions right now!