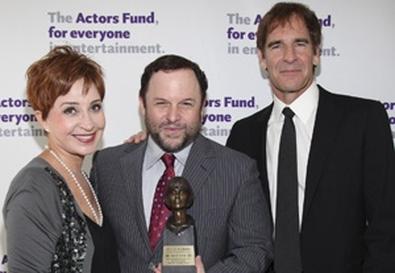 Jason Alexander wasn't up for a Tony Award this year, but he still collected an honor Sunday night in Los Angeles.
The veteran performer took home the Julie Harris Award for Lifetime Achievement at the Actors Fund's annual Tony Awards party. Though Alexander is best known as George Costanza on "Seinfeld," his career accolades include several memorable performances on Broadway in musicals such as 1984's "The Rink," which co-starred Chita Rivera and Liza Minnelli as a feuding mother and daughter, and the 1989 "Jerome Robbins' Broadway," for which he won a Tony.
Alexander praised the sense of camaraderie with other actors that comes with appearing in a stage production.
"There's that thing that happens as you're all prepping together backstage," he said in an interview. "That communal energy starts to form. That, to me, is the reason to get up and do a live piece."
Attendees at the Skirball Center were treated to a live stream of the awards ceremony from New York and the evening was punctuated with moving tributes and appeals for donations to The Actors Fund, which helps needy members of the entertainment industry afford things like utilities, major surgery, and job training.
Before Annie Potts took the stage to introduce Alexander, Lorna Luft led the audience in a rendition of "Happy Birthday" as tribute to her mother, Judy Garland, who would have celebrated her 90th birthday on Sunday.
Potts, meanwhile, recounted accidently sending Alexander an email detailing her compensation package for appearing in the black comedy "God of Carnage" on Broadway. He wrote back a mischievous reply that included in the postscript what he was paid for "Seinfeld." It was a number "so large, so unfathomable, it literally took my breath away," Potts said. "And all I can say, Jason, is that you are worth every fucking cent."
Alexander was reportedly making $600,000 an episode -- then a record -- by the time the show's final season aired in 1998.
In addition to his television and stage work, Alexander's film credits range from "Pretty Woman" to "The Adventures of Rocky & Bullwinkle." He's also appeared as the voice of animated characters -- who can forget "Duckman"? -- produced and directed, sung and danced. And when he teaches acting students, he tells them not to tone down their performances if they transition from stage to screen as he's done.
"I teach that there are technicalities between the mediums, but technique does not change," he told Back Stage. "[Students] are told you have to bring things way down to get on film. I go, 'Think of every Academy Award-winning performance you've seen in the last 50 years, how many of them were small?' You need to find the size of performance that's appropriate to the material, appropriate to the shot, or appropriate to the scene."
Actor Scott Bakula played host for the evening's festivities, which also featured appearances by "Two and a Half Men" star Holland Taylor, Bryan Cranston of "Breaking Bad," Bryan Batt of "Mad Men" fame, and James Karen, a member of the Fund's Western Council.