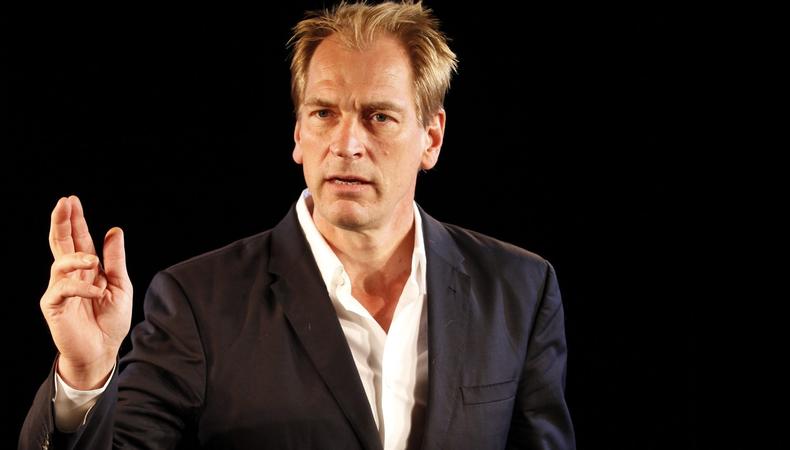 Mention Harold Pinter to a knowledgeable theatergoer, and he or she will likely think of the Nobel Prize–winning author of such dark masterpieces as "The Caretaker," "The Homecoming," and "Betrayal." But in "A Celebration of Harold Pinter," currently running at the Irish Repertory Theatre's tiny downstairs space, the actor Julian Sands remembers him as a good friend, a cricket enthusiast, an introspective poet, and a tender husband. Assembled by Sands from conversations, letters, Lady Antonia Fraser's memoir of her marriage to Pinter, and selections from the trove of poems Pinter wrote throughout his life, this one-man show fondly reveals an engaging and at times vulnerable side of the famously prickly playwright.
Sands became friends with Pinter when the writer, weakened by the cancer that ultimately killed him, engaged the actor to recite some of his poems at a public event. After Pinter's death, Sands created the show in homage to his friend, and in 2011 he and the actor John Malkovich, serving as director, premiered it at the 2011 Edinburgh Fringe Festival, where it became a hit and embarked on a tour that wound through Britain, San Francisco, and Los Angeles before arriving in New York.
"A Celebration of Harold Pinter" is not a play, nor does it feature an impersonation of Pinter in the way that Hal Holbrook re-created Mark Twain in "Mark Twain Tonight!" It consists of Sands standing alone onstage for approximately 100 minutes telling us what he knew and loved about his friend, occasionally quoting from a letter or a poem. There is no drama, conflict, or character arc. Nuggets of biographical information are dropped in, but the emphasis is not on Pinter the historical figure. Instead, Sands focuses on Pinter the man and especially his deep love of Fraser.
Though Sands' performance appears straightforward, it's actually a quite subtle one, filled with impeccably timed pauses that comically recall the famously ominous ones used by Pinter in his plays. "A Celebration of Harold Pinter" marks Sands' New York stage debut, and I hope it's not the last one by this warm, witty, and thoroughly winning actor.
Both devotees of Pinter and his work and those simply looking for an entertaining 90 minutes of theater will find much to enjoy. Personally, hearing Sands recite the following poem, written in 1990 and dedicated to Fraser, was almost by itself worth the price of admission.
"What sound was that?/I turn away, into the shaking room./What was that sound that came in on the dark?/What is this maze of life it leaves us in?/What is this stance we take,/to turn away and then turn back?/What did we hear?/It was the breath we took when we first met./Listen. It is here."
Presented by the Irish Repertory Theatre, in association with Nick Brooke Ltd. and Pleasance, at the Irish Repertory Theatre's W. Scott McLucas Studio Theatre, 132 W. 22nd St., NYC. Oct. 16–Nov. 30. (212) 727-2737 or www.irishrep.org.
Critic's Score: A-