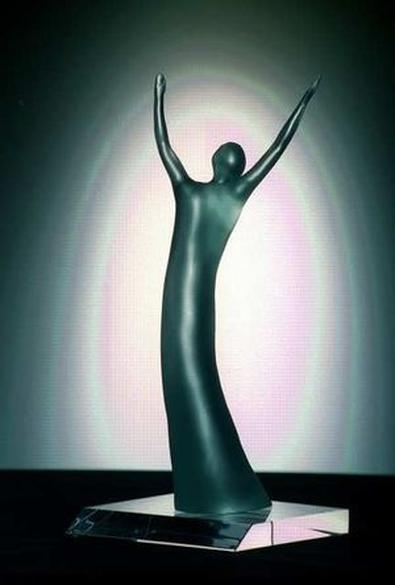 Celebration Theatre's musical production of "The Color Purple" saw the buzz its run generated turned into a glittering haul of statues at the Ovation Awards Monday.
"Purple" took home six of the L.A. Stage Alliance's honors, including best production, acting ensemble, and featured actress (La Toya London as Shug Avery) in a musical (intimate theatre)
Center Theatre Group was the overall winner of the night, bringing in five awards alone for "Waiting for Godot" at the Mark Taper Forum, including best production of a play.
It also won the night's top honor for best season.
In total, CTG took home 13 statues (one was an Ovation Honor for video design for Brian Gale). The decision to hand out honors instead of awards in certain categories had generated controversy in the lead up to the event.
But the ceremony was largely free of discord, except when "Mike & Molly" creator Mark Roberts wondered aloud, "How much is a teleprompter?" as he fiddled with a stack of cue cards.
And there will likely be more questions asked in the city's theater community after the Geffen Playhouse was shut out despite 11 nominations. Even Jane Kaczmarek, who starred in the Geffen's "Good People" and served as a co-host for Monday's ceremony, lost out to the CTG. For the "Malcolm in the Middle" star, that meant the trophy for lead actress in a play went to Pascale Armand in "The Convert."
It just wasn't the Geffen's year, said Brian Kite, producing artistic director of La Mirada Theatre for the Performing Arts.
"The Geffen obviously is one of the anchors of our whole community," Kite, chairman of the LA Stage Alliance's board of governors, told Backstage. "They win sometimes, sometimes you don't. It switches around. That's how it goes. We all know they do great work over there."
Musical Theatre West was third in the total count with four, including one for featured actor in a musical, which went to former "American Idol" contestant Todrick Hall in his first acting role as Seaweed J. Stubbs in "Hairspray."
Meanwhile, Celebration's win for "Purple" could mean more musicals will be in the offering from the LGBT playhouse. "L.A. wants more musicals," said Michael Kricfalusi, Celebration Theatre's executive director. "This was the most expensive show we'd ever done. Now, our new musical, 'Justin Love,' is even more expensive. But we're getting more money to be able to deliver shows. We're putting the money into the right places, into the actors, into the directors, into the talent that make the show."
The awards, which are the city's only peer-judged theater honors, were given out at the historic Los Angeles Theatre, one of 12 so-called movie palaces that line South Broadway in downtown. A total of 191 nominations were made for 77 productions. The 2011–2012 theater season in Los Angeles included 400 Alliance-registered productions by 173 companies.
Below is a full list of last night's winners:
BEST SEASON
Center Theatre Group
BEST PRODUCTION OF A PLAY (INTIMATE THEATER)
"Peace in Our Time," The Antaeus Company
BEST PRODUCTION OF A PLAY (LARGE THEATER)
"Waiting for Godot," Center Theatre Group: Mark Taper Forum
BEST PRODUCTION OF A MUSICAL (INTIMATE THEATER)
"The Color Purple: A Musical," Celebration Theatre
BEST PRODUCTION OF A MUSICAL (LARGE THEATER)
"Forbidden Broadway: Greatest Hits, Volume 2," Musical Theatre West
BEST PRESENTED PRODUCTION
"War Horse," Center Theatre Group: Ahmanson Theatre
ACTING ENSEMBLE FOR A PLAY
The cast of "Waiting for Godot," Center Theatre Group: Mark Taper Forum
MUSIC DIRECTION
Gregory Nabours, "The Color Purple: A Musical," Celebration Theatre
BOOK FOR AN ORIGINAL MUSICAL
Isaac Laskin, "Hey, Morgan!" Black Dahlia Theatre
LYRICS/MUSIC FOR AN ORIGINAL MUSICAL
Parmer Fuller and Michael Kramer, "Stations: A Los Angeles Holiday Story," Ensemble Theatre Company and Boom Kat Dance Theatre
PLAYWRIGHTING FOR AN ORIGINAL PLAY
Andrew Dolan, "The Many Mistresses of Martin Luther King," Ensemble Studio Theatre-LA
DIRECTOR OF A MUSICAL
Michael Matthews, "The Color Purple: A Musical," Celebration Theatre
DIRECTOR OF A PLAY
Emily Mann, "The Convert," Center Theatre Group: Kirk Douglas Theatre
CHOREOGRAPHY
Janet Roston, "The Color Purple: A Musical," Celebration Theatre
LEAD ACTOR IN A MUSICAL
Davis Gaines, "Man of La Mancha," Musical Theatre West
LEAD ACTRESS IN A MUSICAL
Susanne Blakeslee, "Forbidden Broadway: Greatest Hits, Volume 2," Musical Theatre West
LEAD ACTOR IN A PLAY
Alan Mandell, "Waiting for Godot," Center Theatre Group: Mark Taper Forum
LEAD ACTRESS IN A PLAY
Pascale Armand, "The Convert," Center Theatre Group: Kirk Douglas Theatre
FEATURED ACTOR IN A MUSICAL
Todrick Hall, "Hairspray," Musical Theatre West
FEATURED ACTRESS IN A MUSICAL
La Toya London, "The Color Purple: A Musical," Celebration Theatre
FEATURED ACTOR IN A PLAY
Hugo Armstrong, "Waiting for Godot," Center Theatre Group: Mark Taper Forum
FEATURED ACTRESS IN A PLAY
Zainab Jah, "The Convert," Center Theatre Group: Kirk Douglas Theatre
LIGHTING DESIGN (INTIMATE THEATER)
Luke Moyer, "Deathtrap," LA Gay & Lesbian Center
LIGHTING DESIGN (LARGE THEATER)
Lap Chi Chu, "The Convert," Center Theatre Group: Kirk Douglas Theatre
SOUND DESIGN (LARGE THEATER)
John Zalewski, "A Wrinkle in Time," MainStreet Theatre Company
COSTUME DESIGN (INTIMATE THEATER)
Shon LeBlanc, "I Love Lucy Live on Stage," Rockahan, LLC
COSTUME DESIGN (LARGE THEATER)
Paul Tazewell, "The Convert," Center Theatre Group: Kirk Douglas Theatre
SCENIC DESIGN (INTIMATE THEATER)
Tom Buderwitz, "Peace in Our Time," The Antaeus Company
SCENIC DESIGN (LARGE THEATER)
Daniel Ostling, "The Convert," Center Theatre Group: Kirk Douglas Theatre
SOUND DESIGN (INTIMATE THEATER)
Veronika Vorel and John Zalewski, "The Children," The Theatre @ Boston Court
COMPOSITION FOR A PLAY
Ryan Johnson, "Stoneface: The Rise and Fall of Buster Keaton," Sacred Fools Theatre Company
FIGHT CHOREOGRAPHY
Andrew Amani, "Hearts Like Fists," Theatre of NOTE
PUPPET DESIGN
Susan Gratch, "The Children," The Theatre @ Boston Court
VIDEO DESIGN
Brian Gale, "Waiting for Godot," Center Theatre Group: Mark Taper Forum