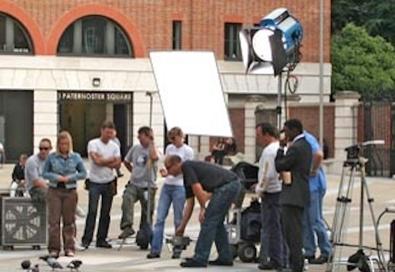 This week's feature focuses on dance and five of its well-known choreographers. But I'd like to turn the spotlight over to someone whose whole life has been dedicated to dance and the related arts, and who has been writing for Back Stage since its very first issue, on Dec. 2, 1960. It goes without saying that Back Stage's longtime dance editor, Jennie Schulman, is one passionate lady about dance.
If you regularly read Jennie's weekly column, "Dance Diary," you can tell for yourself that she writes from a vast experience. Jennie has studied just about every form of dance, she's read practically every book written on the art form, and is always attending dance performances and dance-related exhibitions.
While Jennie has written for Back Stage for 38 continuous years, this year she celebrates her 50th anniversary as a dance reviewer, and this past Monday evening the International Committee of the Dance Library of Israel inducted Jennie into its Hall of Fame for her "quality writings in the promotion of dance and its artists, and her devotion to the Library." Inducted along with Jennie were dancer-performer Bertram Ross, who, in earlier years, danced with Martha Graham, and dance patron Hannie Gilman.
The evening was thrilling‹not only for Jennie, but for me, since I got to introduce Jennie and present the certificate of achievement to her before a very crowded room filled with dancers, former dancers, and dance enthusiasts alike, at Scaletta's restaurant on West 77th Street. It was wonderful to see so much attention being paid to Jennie by some of the very people that she usually devotes all her attention to in her writings. (In 1994 Jennie received the Vaslav Nijinsky Medal, another high point in her long career.)
I once asked Jennie what it was that first attracted her to dance. She told me that it was a picture of Anna Pavlova that she saw as a teen growing up in Brooklyn, on the front cover of a now-long-gone dance magazine. "There was just something about her that hooked me right in," Jennie told me. She held on to that picture for years. From that point on, Jennie began reading everything she could on dance‹on Anna Pavlova and her company, on Diaghilev, Nijinsky, Karsavina, the Ballet Russe. Then she became obsessed with taking lessons. She studied ballet with Michal Mordkin (Pavlova's partner), Natasha Branitska (who danced with Pavlova and the Diaghilev companies), and George Chaffee. She studied Spanish dance with Juan de Montalvo. She was one of the original modern-dance students of the New Dance Group when it was located at the old D.W. Griffith studio, on East 14th Street. She also took lessons in tap and East Indian dance.
Right after the war, her writing career began to take shape. She became the American correspondent for the Dutch dance magazine Dans Kroniek. She wrote reviews and did interviews for a short-lived Music Forum & Digest. She contributed to Dance News, a monthly journal, and then in the 1950s through 1964 worked as a reviewer for Louis Horst's Dance Observer.
What's so remarkable is that Jennie took classes, and saw and reviewed dance performances, while she was working a full-time day job and taking care of her mother as well. She admitted to me that she actually fell asleep during one of her dance classes; everyone in the studio thought she had passed out.
Jennie's trouper spirit still exists today, when she comes into the Back Stage office every Thursday afternoon‹rain, snow, sleet, or hail‹to deliver copy, pick up the mountain of mail she gets weekly, return messages, and send out tearsheets to all the dance companies that she wrote about that week.
Jennie's association with Back Stage did begin with our first issue, for which she wrote a column called "Dance Events." I inherited Jennie when I joined the paper in January 1977, and in 1978 we expanded her column and renamed it "Dance Diary." She reviewed dance and wrote about dance events in her column but for the next few years reviewed theatre and small opera companies for us, too.
Jennie and I, when we first met, hit it off right away and she practically became family to me. We began going to dance events together and Jennie taught me to appreciate dance and really sharpened my skills as a dance observer, something which I'll always hold in gratitude to her.
Jennie has two other passions in her life which rank just below‹but not too below‹dance. One is her love for cats. Jennie lives on the ground floor of her apartment building and is known for feeding‹every day‹all the stray cats in her neighborhood. One day, one of the cats came into her house through the window‹and stayed for the next 22 years. That was Odette-Odile, named after the Swan Queen in "Swan Lake." Pengie was Odette's kitten, and Jennie loved these two animals as any mother would love her children.
Jennie's other passion is books. I've never seen anyone read as many books as Jennie does on a weekly basis. It's her fondness for books that brought her into her association with the Dance Library of Israel. She would donate to them all the books on dance that she read and reviewed, along with programs and photos of the performances she attended.
By the way, the Dance Library of Israel is the world's second largest public resource for dance scholars. Founded in 1975, and based in Tel Aviv, it houses over 800 hours of video tapes and films, more than 4,500 slides, several thousand books and publications, research papers, photographs, posters, letters, costume and theatre design sketches, and other dance memorabilia from many existing cultures. It's open to those who study and do research in Israel, but very shortly one will be able to learn about its sources on its website. In the meantime, for more information on this very valuable research center, you can write c/o 645 W. 44th St., Suite 211, New York, NY 10036; phone and/or fax: (212) 581-6456; E-mail: ICDLI aol.com
One of the highlights of my week is on Thursdays when Jennie, after she's finished going through her mail and everything else, comes into my office and we sit and talk about‹well, almost anything. She routinely goes through all the books that I've received during the week, hungry as she is for good reading material, then she proceeds to tell me what she's seen that was terrific, what she's scheduled to see, any cocktail parties that she attended and if the food was okay or not, perhaps a little bit of political chat, personal chat, and then she's off and running to her next event. I think dance keeps everyone filled with energy and on their toes.