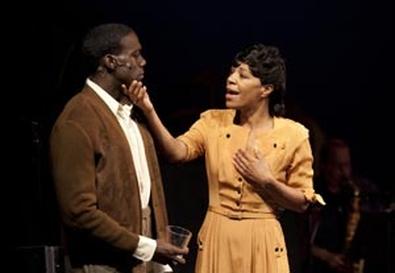 South Central Los Angeles in the 1940s provided a rich, if now largely forgotten, milieu for black jazz musicians at the cusp of the swing era. The giant one-names, Dizzy, Duke and Bird may have been elsewhere, but they were much emulated there. The African-American L.A. musicians still had to get out of town to make it big no matter how good they were since they could only get minimal work in the Hollywood movie industry. Neighborhoods, nightclubs and even musicians' unions were segregated. Amalgamation and rhythm and blues were still a ways away, but the drug culture was already very much in play.
This complex tableau is well served in the musical "Central Avenue Breakdown" by Kevin Ray's impressive outpouring of music (some 30 songs, two-thirds of them in the first act!), played by an estimable sextet and arranged by musical director and pianist Justin Hornbeck. Samuel Froeschle's set design and Janell Berte's costumes contribute an authentic overall look to the production.
It's the lyrics (also by Ray) and the libretto (by Ray and Josh Sohn, with additional story by Suellen Vance) that are a letdown. There are simply too many themes to contend with in a two-and-a-half-hour musical, and too little character development. The plot is somewhat predictable—or it's telegraphed. The lyrics are too often banal—or inaudible, thanks to a sound imbalance between singers and the band. That band can drown out any singers it wants to and still be worthy, especially the all-important saxophone players Mike Migliore (alto sax) and Anthony Ware (tenor sax).
The storyline concerns two sons of a failed Chicago musician who has moved with his family to L.A. for a fresh start. The brothers are only a year apart but play vastly different styles of music on their saxes and have very different notions of self-discipline. Bill, the elder, is dogged and determined and plays every note as written; Jim is heavily into modern jazz, riffing and improvising on music as he does in his life. They start out as a duo, but inevitably split up, with one going to New York and becoming a star, the other staying in L.A. in a downhill spiral. Guess which is which. Because of the lack of subtlety in the show itself, it's the subtle performances that stand out, particularly Ken Robinson as Bill, Nicole Powell as their mother, Josh Tower as the club owner whose place is the main scene of the action, and Rebecca LaChance as a white movie star who at first seems to be slumming for action but turns out to be a caring human being.
Presented by Moldy Fig Productions in association with Dennis L. Franklin and Royanth Productions as part of the New York Musical Theatre Festival at the Signature Theatre Company's Peter Norton Space, 555 W. 42nd St., NYC. Oct. 11–16. Remaining performances: Thu., Oct. 13, 9p.m.; Fri. Oct. 14, 5 p.m.; Sat., Oct. 15, 9 p.m.; Sun,. Oct. 16, 1 p.m. (212) 352-3101 or www.nymf.opg. Casting by Jamibeth Margolis.