When it comes to making it in Hollywood, Chad Stahelski has had one of the most interesting—and action-packed—journeys out there. The director of the "John Wick" franchise cut his teeth doing stunt work on low-budget films, eventually gaining a reputation as one the industry's go-to guys for fight choreography and action design. Ahead of the March 24 release of "John Wick: Chapter 4," Stahelski takes us through his time in the industry and offers his best advice for early career directors.
How did you get your start in Hollywood?
I was interested in martial arts, watching Bruce Lee movies with my dad, [who] was in the fire department with a former judo instructor. I ended up taking judo from the age of 10 on, and then got into karate and all these other martial arts. When it was time to apply to colleges, I applied to UCLA and USC because they were close enough to Marina del Rey, where I could study with one of Lee's students. That's where I met Brandon Lee. Believe it or not, [writer-director] Albert Pyun got me my SAG card for the movie "Cyborg." I went to an audition, and they thought I was the right size and height and had some of these weird martial arts skills that they needed, and they hired me. Cut to three years later, Brandon gets "The Crow" [in which Lee died in a filming accident], and they hire me to be one of the stunt doubles.
"If your dreams are mountainous, you'd better love the climb. Don't be consumed with the victory; be consumed with the fight. "
How did you transition from stunt work to filmmaking?
I was called in to do an audition in Burbank, [but I wasn't] really sure what it was for. Turns out it was with Keanu Reeves, and it ended up being "The Matrix"—and I spent the next eight years of my life with the Wachowskis. Of course, after "The Matrix," everybody wanted martial arts choreography, and there weren't a lot of guys in Hollywood that could do that. We had this team that could drive the cars and do the choreography and do the editing. So we bought this little warehouse complex in Inglewood and put together martial arts stunt teams. And that's what we've been doing for the last 20 years.
How do you balance violence with humor and levity in the "John Wick" films?
I like rhythm. I like oscillation in a fight scene. Some people call it escalation, but I don't really think that's an accurate term. By oscillation, I mean you've got to go up and down, right? I've talked to so many soldiers and fighters and police officers that have to deal with extreme action—or you [could] call it extreme violence. Human beings react in some insane ways when they're angry, hurt, or scared. I think the interesting thing is to do the cool moves, to do the cool environments, to have the reactions. That's why in "John Wick," you'll see all different kinds of blood patterns. You'll see the cartoonish splat—"power mists," we call them. Then you'll see real-world wounds. I link it to emotion. If I want you to feel for John Wick, I'm going to make that action as realistic as possible. When I feel I want to have fun, I'll add something like the knife fight in "Chapter 3."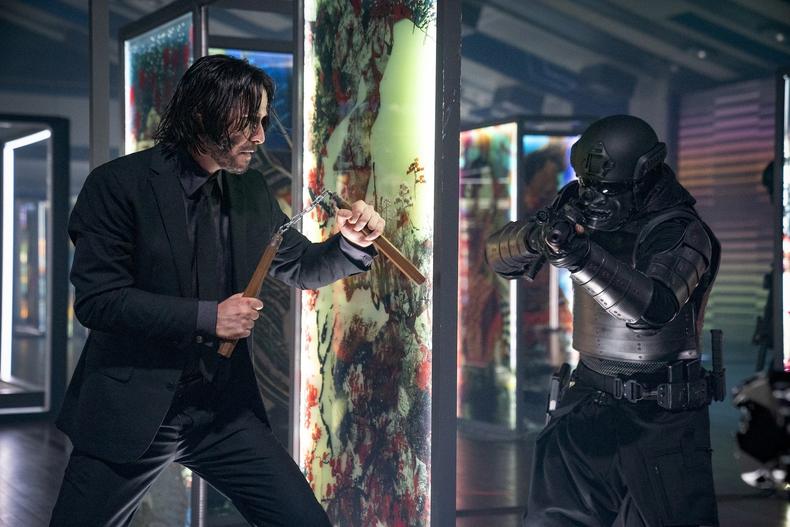 What can viewers expect from "John Wick: Chapter 4"?
Hopefully, you'll be able to look back at [each of the films in the series] and know that they're all different movies. The best thing you could tell me is: "Well, you got a little better. That looks better." [With] the writing, the characters, that's what we're trying to do: just keep escalating. We're not trying to redo the same movie four times. I'm not trying to do sequels. That's what I hope you get out of "Chapter 4"; you look at it and go, "Wow, I didn't expect that."
What do you look for when assembling a team for one of your films?
When you're putting together collaborative partners, you find people with the same interests. One of the first people we met for "John Wick" was Willem Dafoe. We went to lunch with him in New York and didn't say a word about the job. He finishes his lunch at his favorite Italian place, and he's just like, "All right, I like you guys. I like what you're thinking. This is really interesting. Let's do it." Those are always the ones we work with—they know what we're trying to do. They know that we're kind of making fun of ourselves and at the same time are trying to create a little art piece. They know that they can have fun, and they know that we're serious about our craft.
What's your advice for those trying to break into the industry?
If your dreams are mountainous, you'd better love the climb. Don't be consumed with the victory; be consumed with the fight. If all you think about is calling yourself a director or sitting in coffee shops and going to premieres, you're in the wrong gig. It's like [being] an artist, right? You want to paint, and it doesn't matter who you paint. If you have an iPhone, you can direct. Don't wait for the call. Go out there. You should be directing your ass off.
This story originally appeared in the Mar. 2 issue of Backstage Magazine.