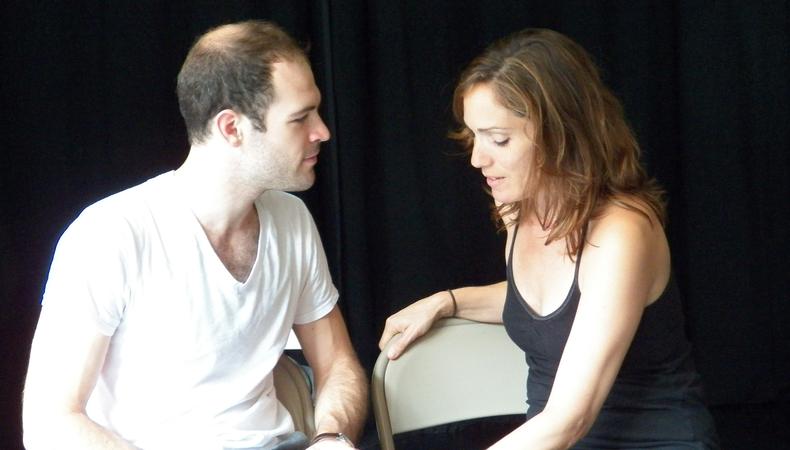 The events behind the creation of the atomic bomb practically beg to be put on stage. There's J. Robert Oppenheimer's moral struggle with his deadly creation, Edward Teller's surrender to his inferiority complex, and Niels Bohr's reconnection with his son, thousands of miles from home. But in conveying these stories, Jonathan Alexandratos' "Chain Reaction" never settles on a tone, resulting in a puzzling mix of farce, meta-comedy, and overwrought sentimentality.
The production's identity crisis is compounded by Chyrsta Naron's unimaginative direction, which highlights the disjointed nature of the play and hobbles the arc of the plot. Despite this lack of continuity, several players manage to deliver standout performances, notably Dustye Winniford, as the gruff General Leslie Groves. Michael Selkirk and Gary G. Howell share moments of genuine tenderness as Bohr and his son Aage. Juggling several roles, the comic duo Gregory Kostal and Mary Catherine Wilson show that building the bomb can be a rollicking good time.
Presented by Playsmiths as part of the New York International Fringe Festival at the Kraine Theater,85 E. Fourth St., NYC. Aug. 11–26. Remaining performances: Fri., Aug . 17, 5:45 p.m.; Thu., Aug. 23, 2 p.m.; Fri., Aug. 24, 8 p.m.; Sun., Aug. 26, noon. (866) 468-7619 or www.fringenyc.org.
Critic's Score: C-