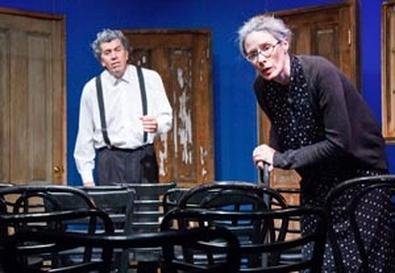 An old couple sleeps, snoring loudly. The husband awakens first and looks at his wife. He gazes at her with love, tenderness, fear, a lifetime of memories—and the audience is quickly engaged. In whatever way one interprets the enigmas of the script—and many scholars have tried—the couple in this production seems as real as any. Each adores the other, each is happily familiar with the other's faults, and in the hands of actors Cynthia Mance and Bo Roberts they are an odd delight.
Eugène Ionesco's script, translated by Donald Allen—did we catch a fleeting reference to the Internet?—is a magnificent gift to actors and to the audience. As with the best of couples, Mance is the physical comedian—turning the wife into a lively, clowning companion—while Roberts makes the husband the true romantic, fully real in his quiet adoration of his wife and a former flame. Portraying the Orator, Garth Whitten silently greets the "guests," bemusedly eyeing the extremely tall couple, then delivers Ionesco's intentionally unintelligible oration. The set, designed by Charles Duncombe, has the melancholic feel of a Van Gogh room.
At first one wonders why Frederíque Michel put her couple in gray hair, when this play is so abstract that nothing else is spelled out. But by the play's end, when the husband and wife are bounding across the stage in the great ballet of the chairs, the hair serves as a reminder to us that the characters are indeed old—and yet eternal.
The audience will work hard to stay with this piece. It's only fair; the actors and director did so for weeks before putting Ionesco's words into action. But we are also graced with the production's surprising emotional impact—a rare treat in an increasingly absurd world.
Presented by and at City Garage, 1340-1/2 Fourth St. Alley, Santa Monica.
July 24–Sept. 13. Fri.–Sat., 8 p.m.; Sun., 5:30 p.m. (310) 319-9939. www.citygarage.org.