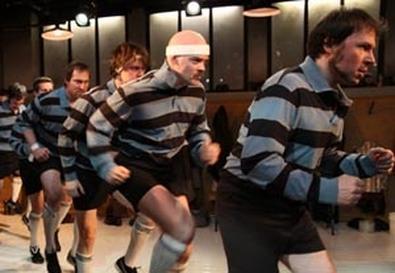 David Storey's "The Changing Room" opened on Broadway in the same season as Jason Miller's "That Championship Season" and was one of its competitors for the 1973 best play Tony Award.
Both were critically acclaimed dramas concerned with the hypermasculinity of sportsmen, but "Room" could only manage 192 performances, while "Season" racked up 700, in addition to sweeping the major best-play awards.
It's not surprising that Miller's self-conscious melodrama of the American dream's dark side would best Storey's very English exploration of class and camaraderie. Nevertheless, nearly 40 years on, after seeing them back to back, it's clear that Storey's slice-of-life look at a North Country rugby team is the play that has endured.
Set solely in the titular room and virtually allergic to anything resembling a plot, Storey's drama simply turns a lens on its characters. Act 1 observes the men as they arrive, banter and bicker while suiting up, have injuries taped up and muscles massaged, and finally head out to the field for the match. Act 2 is set during the match, and Act 3 chronicles its aftermath.
Surprisingly, the lack of narrative drive doesn't impede interest. Storey's combination of vivid characters and their acutely observed interactions, almost documentarylike in its detail, meshes into a hypnotic whole, weaving a fascinating behavioral mosaic.
Thanks to its challenging accents and swaths of class-based patois, "The Changing Room" is a difficult play to pull off, so it's a tribute to director Terry Schreiber and his talented actors that they largely succeed. Featuring a cast of 22, it's a play that needs a bit of room, something it doesn't get in the tiny Gloria Maddox Theatre.
Despite Hal Tiné's excellent set (you can almost smell the room), the unforgiving proximity undermines the naturalism a bit, particularly when one becomes aware of Schreiber's carefully orchestrated staging (the show is much too self-conscious about its full-frontal nudity, for example) or the too-contemporary gym-chiseled bodies of some of the actors. But Schreiber pitches the performances at just the right level, and he elicits strong work in a number of the roles.
Edwin Sean Patterson is a commanding Walsh, a brawling bruiser with more cockiness than the rest of his teammates combined. Matt Watson accentuates Patsy's fastidiousness and dandyism. Eric Percival is cheerfully dense as Barry, the English version of a good ol' boy. Lowell Byers emphasizes Fielding's quiet but sharp observation.
Leajato Amara Robinson gives Trevor, a math teacher, a strong sense of intelligence and otherness, here accentuated by his being the only black member of the team (a touch not in Storey's script). Nick Fesette's Clegg is an intriguing mixture of pout and lout. Mike Dazé is an appropriately polished and apple-polishing team captain, just slightly apart from his teammates.
In the role of Kendal, for which John Lithgow won a Tony for best supporting actor, Joshua Sienkiewicz is a sweet-natured big lug in Act 1, then scores strongly in Act 2 when Kendal's nose is broken and he's brought into the changing room covered in blood and writhing in dazed animalistic distress. As young Frank, Kendal's replacement on the field, Brian Podnos is suitably callow, eager, and a bit awed by his chance.
Among those not playing rugby, Peter Judd's Harry, the changing-room custodian, stands way out. Judd is exceptional as this crusty codger who longs for the past and warns darkly of the coming hegemony of communism. Randy Miles is a properly focused, no-nonsense Luke, the team masseur; Edward Franklin, as team owner Sir Frederick Thornton, mixes a lightly patrician air with convincing feints at being just one of the boys; and Rick Forstmann's edgy Mac, the club secretary, is always on guard and just a little too solicitous of his boss.
As most of the cast are Schreiber's students, "The Changing Room" stands as a testament to the quality of teaching at T. Schreiber Studio.
Presented by and at T. Schreiber Studio and Theatre, 151 W. 26th St., 7th floor, NYC. March 4–April 3. Thu.–Sat., 8 p.m.; Sun., 3 p.m. (212) 352-3101, (866) 811-4111, www.theatermania.com, or www.tschreiber.org.