Michelle Yeoh on the cover of a magazine to highlight her most recent film's inclusion in the awards conversation is a gleaming example of what's changing in Hollywood. At 56, the longtime action film star's role in the wildy successful "Crazy Rich Asians" amplifies what can happen when "diversity" becomes more than just a buzzword.
While Yeoh, one of the most well-known actors in the wuxia martial arts genre, is accustomed to appearing in films with castmates who share her ethnic background, joining "Crazy Rich Asians" as Eleanor Young, the matriarch of its central Singaporean family, and seeing what a U.S. studio telling a contemporary story with an entirely Asian cast meant for a broader, international audience was a new sort of empowerment for the industry vet. "That's validation," she says. "It's a very big deal. It says, 'Your story matters to us.' "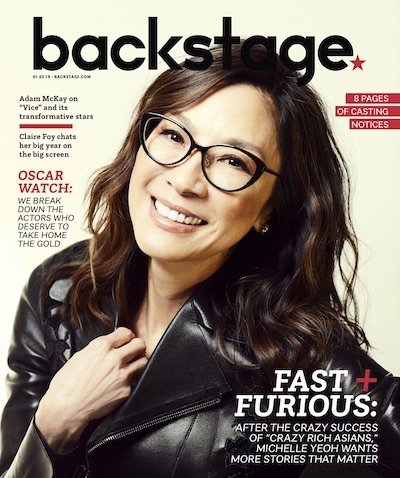 By the end of 2018, Warner Bros. Pictures' "Crazy Rich Asians," also starring Constance Wu, Henry Golding, Gemma Chan, and Awkwafina, grossed more than $174 million domestically, making it the highest-grossing romantic comedy in more than a decade. (That it garnered SAG Award and Golden Globe nominations in a year that also saw the awards success of other films featuring diverse casts—"Black Panther" and "BlacKkKlansman" in particular—made it all the more satisfying.)
"We are saying that times have changed so much that you are not just a token," Yeoh says of the shifting landscape. "Don't just put us in the film to complete the rainbow, you know? You have to give us a story, you have to give us a life. You have to give us ambitions, dreams; the character must have all these kinds of things, otherwise it's just cardboard." Despite a long-standing lack of imagination from directors, writers, and producers, with the smash success of the film, it seems the right conversations are finally being had, the right scripts are finally being commissioned, and Yeoh is here to bear witness.
A trained ballet dancer, the actor's physical presence doesn't convey the doggedness or grit upon which her international legacy—spanning three decades—has been built. The former Miss Malaysia has been hard at work since she was 23; her career kicked off in Hong Kong before opportunities stateside saw her cast in 1997's Bond film "Tomorrow Never Dies."
"I didn't work for about two years until I did 'Crouching Tiger, Hidden Dragon,' " she remembers of the four-time Oscar-winning film that premiered in 2000. "Unfortunately, at that time, the roles that came were originally for a very stereotypical Asian woman. It was not right, but sometimes you have to just do the work. You don't always have the luxury of saying, 'No, thank you.' I was fortunate that I could say no."
Yeoh believes, though, that "the harder you work, the luckier you get."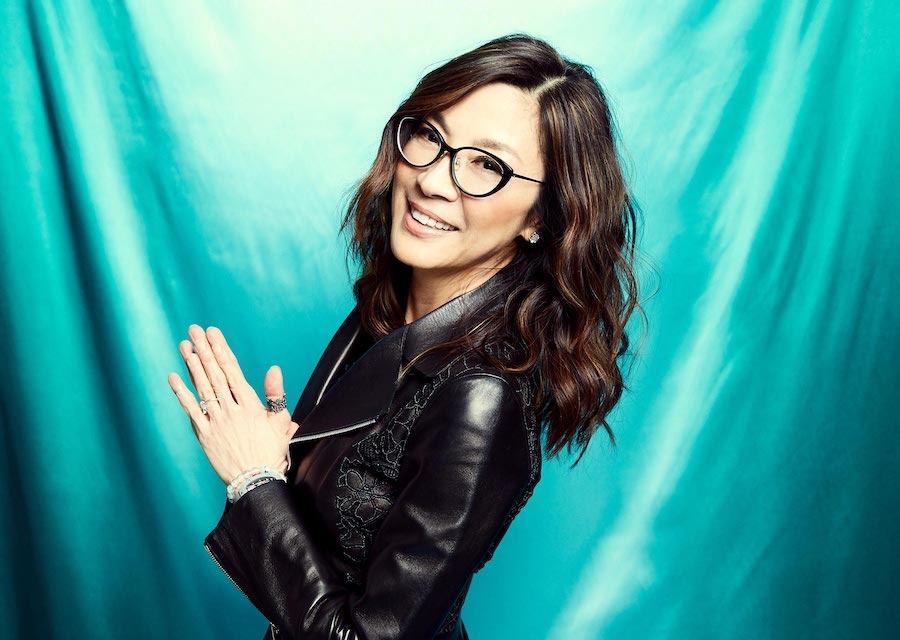 And nothing seems to sum that up more than the runaway success of the film adaptation of Kevin Kwan's best-seller, the first in a trilogy, about a 1-percenter family from Singapore who must learn to deal with what they view as their prodigal son Nick's (Golding) less-than-satisfactory romantic tastes.
To prepare for the role of Eleanor, Yeoh drew on both Kwan's novel and notes from co-screenwriter Adele Lim. She also tapped into her training as a dancer. "The first thing you notice about Eleanor is her grace. Every part of her is very well thought out," Yeoh says. "The less you move, the more composed you are. When you move less, you have to figure out how to draw attention to you. That's something you have to choreograph as well. I had to make her glide. This woman is not just walking in. She is very specific. She wants and deserves your respect."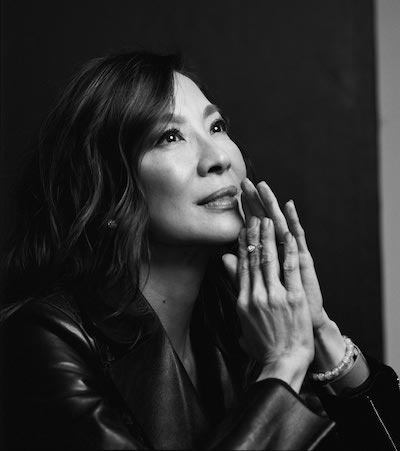 Yeoh's specificity perfectly conveys the deeply conflicted loyalties of a character running an empire while dealing with a prospective daughter-in-law who's unprepared to take on such a vast inheritance and responsibility. It's a tension further aided by director John M. Chu's visual depiction of traditional Chinese motherhood; he maps, for instance, Eleanor's first meeting with Nick's girlfriend, Rachel, in the kitchen, the culture's traditional center of power for women.
"In Asia, you're taught that the needs of your family come before your own. Your parents always live with you. My parents still live with us," Yeoh says. Playing Eleanor was "a great opportunity for me to pay homage to all the mothers in the world, because I truly believe that for most mothers, their motivation for whatever they do for their children is out of love. They want their kids to be happy. Maybe they don't know how to show it or say it the proper way—it can come out as being too stern or not in the proper context—but I truly believe the motivation is love."
Context is the most important part of this love story for Yeoh, because while it seems redundant to point out that "Crazy Rich Asians" is a rom-com with a hunk of a leading man in love with the beautiful girl next door, Yeoh says, "Just think about it: Have you ever seen two Asian characters kiss? In America, Asians are so integrated. Why have they always been written separately?"
From familiar tunes performed in Chinese on the movie's soundtrack, marrying traditional Asian cultural norms with the Asian-American experience, to the way Yeoh's Eleanor, Rachel (Wu), Astrid (Chan), and Peik Lin Goh (Awkwafina) represent what Yeoh calls "the depth of the ever-changing faces of the women of Asia," the actor hopes her work on the film is just one step toward the next summit of her already astounding career.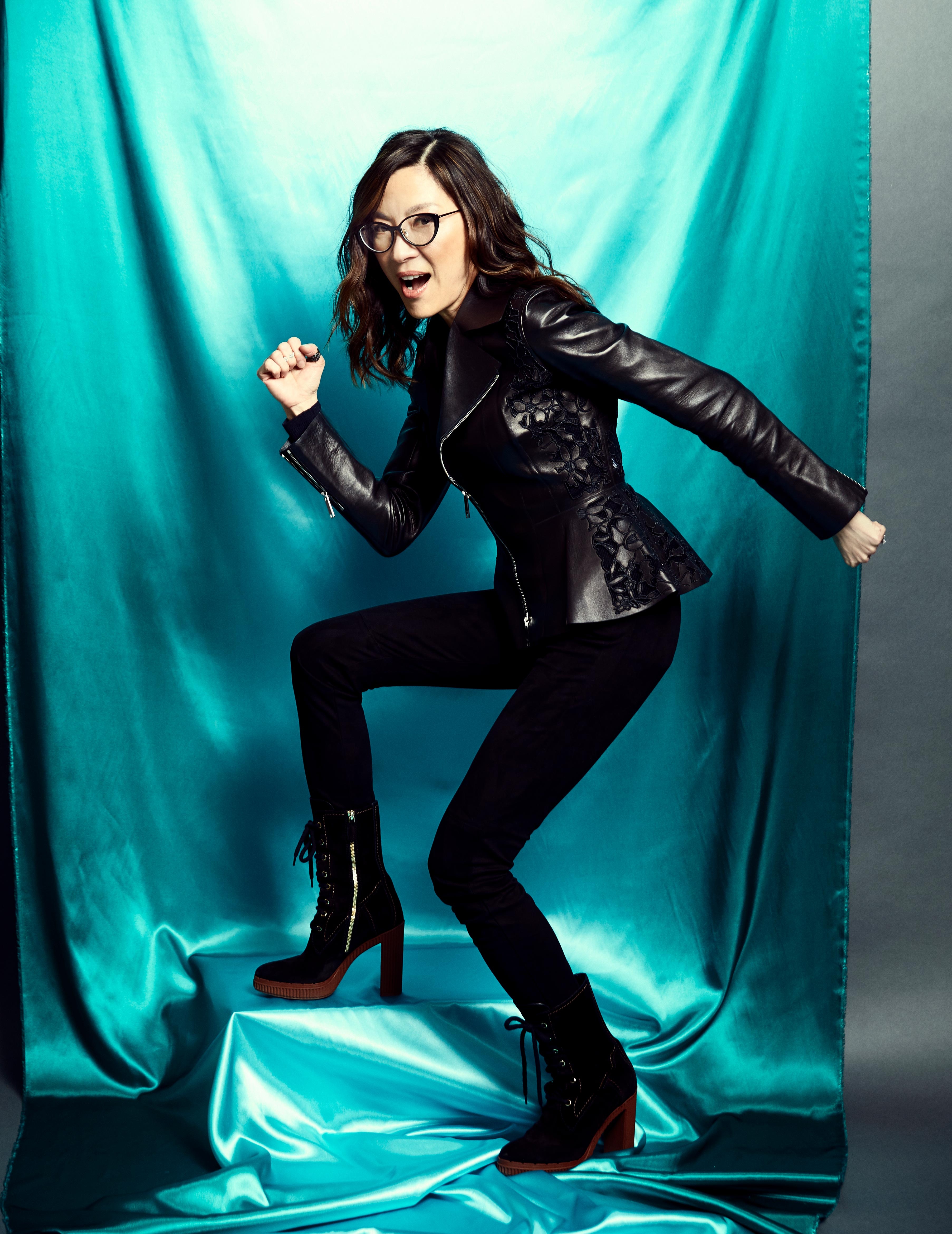 This year, she'll continue her work on the second season of CBS All Access' "Star Trek: Discovery," where she does many of her own stunts. ("She can move 20 times quicker than my eye can focus, and I'm meant to look like I'm keeping up with her," said her co-star Jason Isaacs in an interview about fighting opposite her.) Yeoh stars as Capt. Philippa Georgiou, a position of power that's usually played by white men, in a show that she says is a choice, like all the roles she decides to take on, made special by loving the work and the direction it's taking her.
"If you truly love what you do, 30 years goes by so quickly. I mean, I can't imagine I've been in the business that long. It's been so rejuvenating. I've been very blessed with so many different kinds of roles—from dramatic roles to very action-oriented roles to very empowering, very strong female roles. Making that choice takes me away from the people I love, spending time with my family, so...I need to make it count and give it 100 percent."
Time Flies
"Thirty years have gone by, but I don't dwell on age and numbers and this kind of thing," says Michelle Yeoh. "I look for the opportunity and the roles I can play, because there are so many out there I haven't ventured into. This is a golden age; a golden period where things are coming up fast and furious. Acting is hard work and it is long hours, and yes, you are paid sometimes to wait for hours on end. But it is also just a great experience. It's very empowering, to have people, even non-Asians—but especially Asians—tell you your work has made a difference. I hope I still have a lot more to do, but this feels good that I'm seeing this moment happen."
Photographed by Stephanie Diani on November 30 in NYC