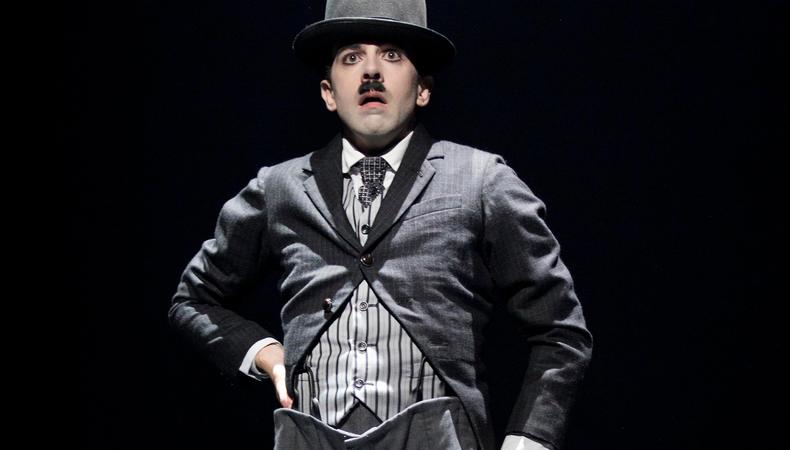 It's hard to know where to begin with "Chaplin," the dismally dull musical by Christopher Curtis (book, music, lyrics), with an assist from Thomas Meehan (book), based on the life of perhaps the cinema's finest auteur, Charlie Chaplin. The most the writing aspires to is mediocrity, which it rarely if ever achieves, something Warren Carlyle's busy direction and choreography can't disguise. The one performance of note comes from the extremely gifted Rob McClure in the title role, but the show's relentless shopworn sentimentality erodes even his fine work. Nobody escapes "Chaplin" unscathed.
Biographical musicals are hard to structure, as life doesn't observe the niceties of Aristotle. Curtis and Meehan's first mistake is to try to tell Chaplin's entire story. As he lived to be 88, it's far too much to cram into one show and has the effect of reducing nearly everyone who is part of it to a crude caricature. The authors' heavy emphasis on Chaplin's trauma about his mother's mental illness is simplistic, and because they have so sanitized her experiences (somehow the words "syphilis" and "prostitution" never crop up), it's also unpersuasive. "Chaplin" merely dashes from notable event to notable event with nary a thought to why the story is being told. The show squanders huge hunks of stage time on nonessential numbers—the long Act 1 finale portrays a Charlie Chaplin look-alike contest for no dramatic purpose I could discern—that further hamper the development of plot and character.
Curtis' largely pastiche music is a pale imitation of better and more original composers, while his lyrics never met a cliché or a false rhyme they didn't like (my favorite was "Chaplin"/"happen"). McClure is a charismatic triumph whenever inhabiting Chaplin's signature character, the Little Tramp. But when stuck belting Curtis' wincingly banal 11 o'clock number, "Where Are All the People?," sung after Chaplin's exile from the U.S. thanks to McCarthy's Red Scare (something else never mentioned), McClure becomes just one more performer struggling to maintain some semblance of emotional truth.
Two first-rate singing actors, Christiane Noll and Jenn Colella, are wasted as Chaplin's mother and evil gossip columnist Hedda Hopper. In a fairer world they'd be compensated handsomely for the excellent work they were just doing at the York Theatre Company in Maltby and Shire's "Closer Than Ever" rather than for roles unworthy of their talents. Wayne Alan Wilcox at least handles the part of Chaplin's older brother, Sydney, with an attractive understatement, and Zachary Unger, so good last season in the Encores! concert of "Merrily We Roll Along," once again displays formidable ability as both young Charlie and child star Jackie Coogan.
Surprisingly, Jon Driscoll's video and projections too often fail to register on Beowulf Boritt's basic soundstage-evoking set. Indeed, Carlyle tries in some sequences to re-create the magic of film, showing us Mack Sennett shooting a comedy and Chaplin filming "The Kid," but they remain earthbound.
I left the Ethel Barrymore Theatre humming Jerry Herman's score for "Mack & Mabel." "Chaplin" makes that famously flawed musical look like "My Fair Lady."
Presented by Rich Entertainment Group, John and Claire Caudwell, Roy Gabay, Viertel Routh Frankel Baruch Group, Chunsoo Shin/Waxman-Dokton, and Broadway Across America at the Ethel Barrymore Theatre, 243 W. 47th St., NYC. Opened Sept. 10 for an open run. Tue. and Thu., 7 p.m.; Wed., 2 and 7:30 p.m.; Fri., 8 p.m.; Sat., 2 and 8 p.m.; Sun., 3 p.m. (No performance Tue., Sept. 11.) (212) 239-6200, (800) 432-7250, or www.telecharge.com. Casting by Telsey + Company/Patrick Goodwin.
Critic's Score: D-