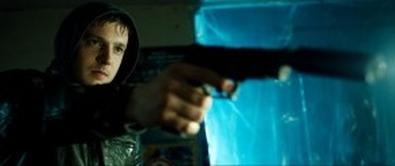 The Brits have jumped on America's TV-to-movie bandwagon with "The Sweeney," based on a popular 1970s U.K. crime drama. This breathless, gunblazing roller coaster introduces us to the cops of the Sweeney—a hardcore London special force agency—while leaving open plenty plot lines begging for sequels.
Bullish detective Jack Regan (Ray Winstone) leads his merry band of crime-fighting rogues—including cheeky reformed criminal George Carter (Ben Drew)—as they hunt down the creeps committing a jewelry heist, bank robbery, and random murder. True to modern spins on the genre, the vague details of the crime plot are full of bullet holes as we're distracted by a fusillade of white-knuckle shoot-outs, car chases, and dramatically underscored helicopter shots over skyscrapers.
While the details of the crime whiz by too fast to piece together, Jack Regan's knotty love triangle gets plenty of disproportionate screen time. When he's not hunting baddies, he's schtupping a fetching female team member, Detective Constable Nancy Lewis (Hayley Atwell), who is the wife of an internal investigator, Ivan Lewis (Steven Mackintosh). Lewis and Regan despise each other; one will be destroyed. The testosterone-pumped pissing contest is also mild middle-aged fantasy: loads of badass gunplay and a pretty, much younger woman salivating for a paunchy silver daddy.
Nonetheless, old-school thrills and compelling character drama add up to a helluva good time in large part to director Nick Love's mastery of pace and tension. Sitting through the film is like being buckled into a convertible catapulted off a mountaintop, knowing you'll somehow hit the ground and survive, but fearful your heart will give out first.
Ray Winstone's Regan relishes flaunting the law and swaggering across moral boundaries. The character's arrogant thuggery could be distasteful, but Winstone sculpts a relatable man made of solid quicksand who realizes he has no identity without his career or his woman.
Ben Drew, more famous as U.K. rapper Plan B, brings sexy young virility to the role of protégé Carter. His performance is of stoic intensity, capturing the steely essence of an ex-criminal balancing a life upholding the law via lawless tactics.
Here's a shout-out to Allen Leach—now famous as the swoon-inducing chauffer Branson on "Downton Abbey"—who has a bit part as a fresh-faced copper.
Depending on how "The Sweeney" fares at the box office, a sequel is imminent. While the main plot is neatly wrapped up, there are enough open-ended, but intriguing character-based storylines used as dangling carrots to entice a return visit.
Critic's Score: B
Directed by Nick Love
Casting by Gary Davy
Starring Ray Winstone, Ben Drew, Hayley Atwell, Steven Mackintosh