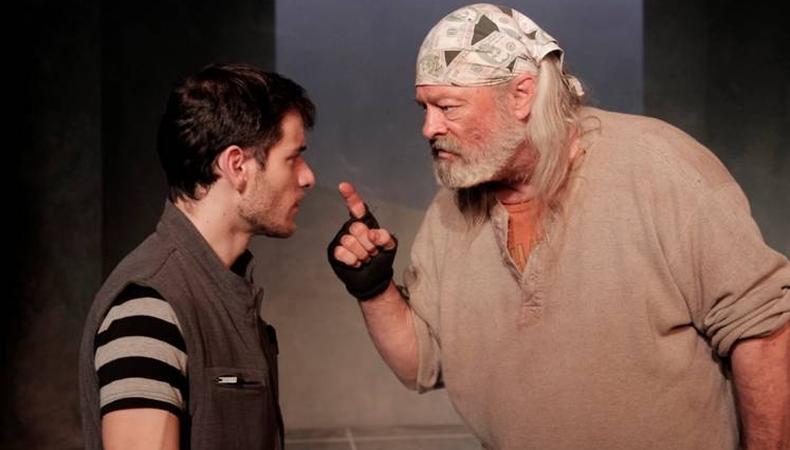 In recent years, Chance Theater has combined resident designers and production personnel with new, outside directors, creating an environment that nurtures and brings out the best in everyone. Snagging solid, well-written scripts, of which Brian Nelson's satirical black comedy "Overlooked" is typical, completes the process, along with casting the best performers. While some may quibble that Nelson is treading on ground already broken by "Pygmalion"/"My Fair Lady" and Preston Sturges' classic 1941 gem "Sullivan's Travels," no one can deny that he has transferred ideas and concepts from those stories to the world of art dealers and gallery owners while creating an accurate presentation of Southern California/Los Angeles in the early 21st century. Even more crucially, Nelson skillfully generates laughter just by presenting human nature at its worst.
The story starts with the homeless Rail (Brandon Sean Pearson) and Farrell (Lewis R. Crouse II) competing for the rights to exclusively panhandle a prime stretch of freeway off-ramp. The younger, savvier Rail wins, which means he's there when Cooper K (Jackson Tobiska), a hip, upscale, successful young artist, arrives. He asks Rail to come to his gallery and do his panhandling there. Rail will be paid for his time and given shelter and food. Cooper, meanwhile, hopes that by putting a real homeless man on display as an installation in his current show, he'll recapture the media attention lost a few years earlier.
In the show's world-premiere staging, director Marya Mazor and her cast know the material so well that they honor it by underplaying every scene. Not forcing things generates realism as well as laughs, the latter attributable to (or perhaps in spite of) the script's sophisticated style, tone, dialogue, and characters. Despite the sleek, chic look of visual elements, it's Mazor's quintet of actors, and what she does with them, that get this darkly cynical comedy flying high. All five characters have depth and breadth, and the actors must appreciate Nelson's knack for penning good, tight scenes with effective payoffs and inventive dialogue that has a real-world sound.
As British Elise, a wealthy, classy art collector, Jane Noble's cheerful façade and megawatt smile hide a dark agenda. Alex Bueno shines as Gail, Cooper's attractive, young, hip gallery owner. Crouse expresses the anger and bitterness of Farrell, a Vietnam War vet and longtime Los Angeles-area panhandler. And Pearson and Tobiska are outstanding. Each is like a crafty chess master trying to outwit an opponent he respects yet whom he must conquer. The scruffy Rail surprises everyone in the art world with his shrewd self-protection, intellectual and emotional depth, conversational abilities, and understanding of human nature. Nelson creates an arc for him (unspoiled here) that alone is worth the price of admission. Tobiska's Cooper is cynical and can be devious, but is also a charming, articulate, natural-born salesman.
Like its characters, "Overlooked" is slick, glossy and professional, yet comprised of elements far more substantial—and therefore more thought provoking for us.
Presented by and at the Chance Theater, 5552 E. La Palma Ave., Anaheim Hills. Sept. 28–Oct. 21. (714) 777-3033 or www.chancetheater.com.
Critic's Score: A+