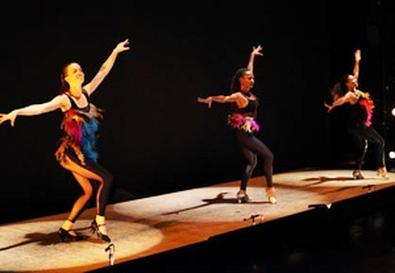 Whoever said that when bebop replaced swing, jazz ceased to be America's popular music, because no one could dance to the complex rhythms of the new form clearly never saw Chloé Arnold, Michelle Dorrance, and Dormeshia Sumbry-Edwards. Three of the biggest names among the current crop of female rhythm tappers, they form the stellar cast of "Charlie's Angels," a new 60-minute tap-dance revue conceived, directed, and choreographed (in collaboration with the performers) by tap luminary Jason Samuels Smith. The show has nothing to do with the popular television series; the Charlie in this case is revolutionary jazz saxophonist Charlie Parker, whose sophisticated bebop music inspired and accompanies the production's awesome dancing.
A stimulating attempt to devise terpsichorean interpretations of Parker's challenging bebop, "Charlie's Angels" also represents a gracious gesture on the part of Smith. A ferocious performer in his own right, he makes no appearance on stage but lends his choreographic ingenuity to spotlighting these three women, who prove to be major forces in an art form traditionally dominated by men.
The evening starts off with a bang. The lights go up and the trio bursts immediately into fast and furious tapping. While the dancers' unison work is flawless, the show's choreographic essence develops out of the profound contrasts among the terps' highly individualistic approaches to their solo interactions with Parker's rhythms. Arnold is an astounding technician, racing neck and neck with the music, while Sumbry-Edwards puts forth an authoritative voice, situating her strong, solid sounds intelligently within the musical phrases. With her round-shouldered posture, Dorrance exudes a get-down feel. But her snappy energy, quirky isolations, and tomboyish quality give her encounters with Parker a lighthearted appeal that borders on the comic.
Smith's entertainingly crafted choreography keeps the pulse rate up yet knows when to breathe, with surprising soft flourishes used to punctuate the rhythmic density. Imaginatively costumed by Gingie McLeod/Dindi Designs and evocatively lit by Sue Samuels, the show also features live saxophone solos by Stacy Dillard and spoken words by Craig "muMs" Grant that conjure the images, milieu, personalities, and ideas that drove the invention of bebop.
Presented by and at the Kitchen, 512 W. 19th St., NYC. Oct. 22–24. Thu. and Fri., 8 p.m.; Sat., 3 and 8 p.m. (212) 255-5793 or www.thekitchen.org.